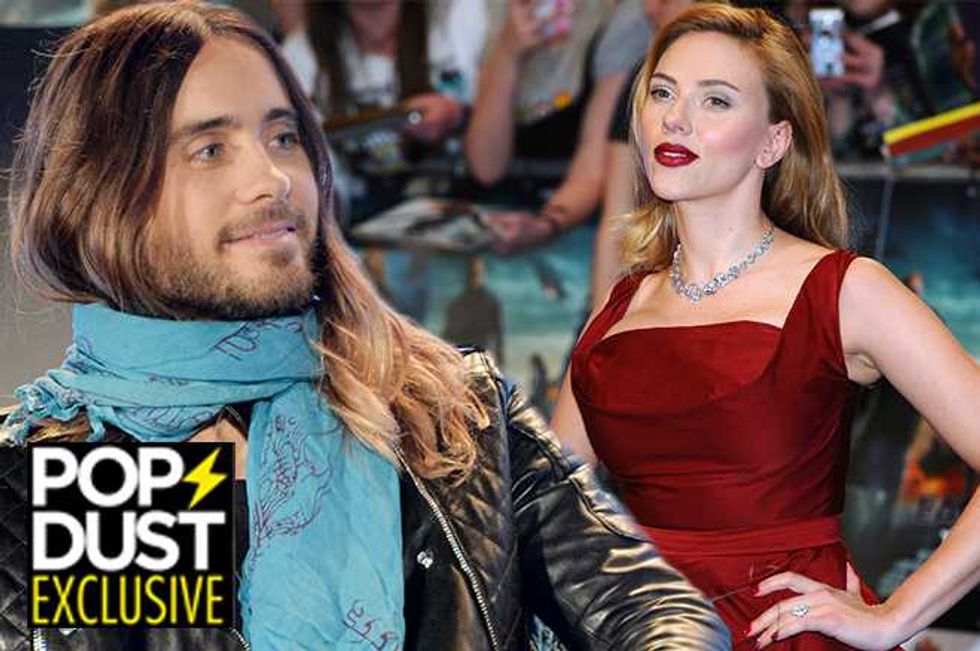 Jared Leto can have any woman he wants, (and he's had most of them) but it's Scarlett Johansson who stole—and still retains—the Oscar winner's heart.
The talented twosome dated in 2004 but despite going their separate ways ten years ago, Jared still pines for The Avengers beauty.
"Jared was really crazy about Scarlett and those feelings are still with him even up till today," a source tells Popdust exclusively. "He always wears the pants in every relationship....he's always the one in control, but with Scarlett, even though she was barely 20-years old and he was 31, she was in the driver's seat. Jared was the one waiting on her calls and text messages, and she was calling the shots."
Jared and Scarlett have remained close in the past decade, but secretly Jared has always hoped for a reunion, so it was bitter sweet learning that Scarlett was expecting a baby with fiance Romain Dauriac.
"Jared will always love Scarlett and he wants her to be happy. He knows she will be an amazing mother, but part of him was disappointed to hear she was pregnant," the source says. "He's really not in a place right now to settle down and have kids, but he could always see himself doing that at some point in the future with Scarlett."
Leto and Scar-Jo stirred up a buzz in 2012 at the Democratic National Convention when they held hands and whispered into each other's ears—but they remain "just friends"… at least as far as Scarlett is concerned.
"They still have insane chemistry when they're together. How could they not?" the source says. "They're both so beautiful! But Scarlett is officially off the market now and even if she wasn't she would have no interest in getting involved with Jared again—they're just very different people."
Other A-list beauties in Jared's past romantic roster include Cameron Diaz, Dita Von Tesse, Lindsay Lohan, Paris Hilton, and Isabel Lucas.
Scarlett was married to Ryan Reynolds and dated Sean Penn, Justin Timberlake, and Jude Law, among others.
Looking for 30 Seconds To Mars tickets?