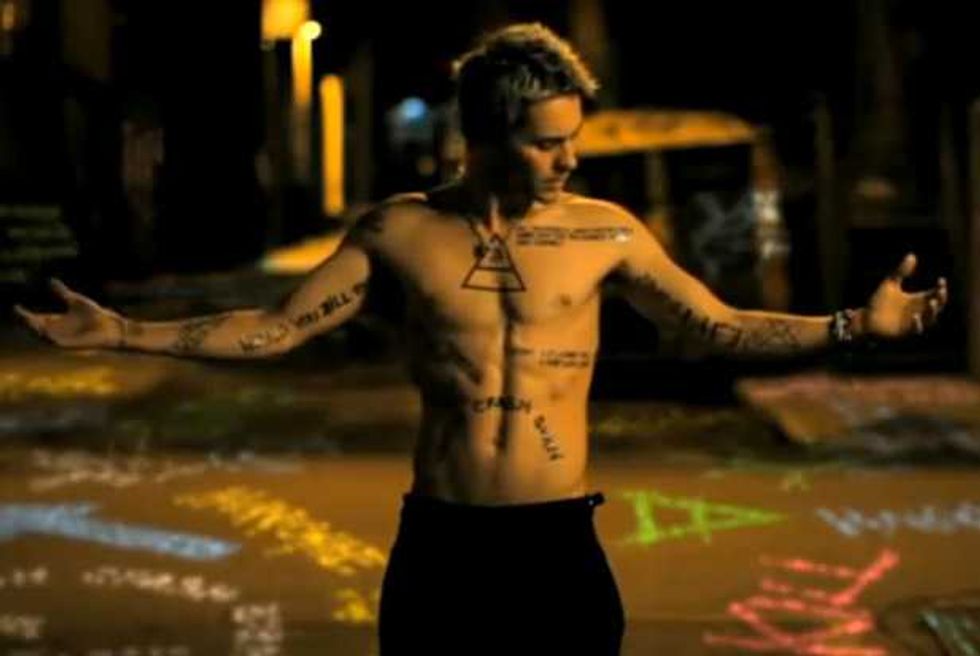 The always serious Thirty Seconds to Mars would like to remind fans that they've fought the evil censorship lords long before Lady Gaga became a target of criticisms from the Catholic church. And while their band elicits screams from female (and male) fans alike, they're still focused on freedom of expression that comes with their precious art work. In perhaps a move to make Focus on the Family leaders all kinds of uncomfortable, the band invited its fans to a screening and discussion of their controversial video/short film "Hurricane" at the Museum of Sex in New York City on Tuesday, an entirely appropriate setting given its graphic depictions of bondage, domination and sexual violence.
The max capacity crowd filled in every available inch of the museum's lobby, with a few unlucky ones stuck outside sadly watching through the doors. "If there's a fire, I'm taking a chair and throwing it through the window," one astute observer announced. Projector problems delayed the film's start, making the rowdy fans—dressed for the occasion in leather and platform heels—wait, yet the building's series of erotic wall sculptures ("Please don't mount") and two full bars was enough to keep them satisfied occupied (and drunk).
After nearly an hour, the band's Pitbull-esque hype man instructed everyone to "give it up" for Jared Leto, and the first sighting of that unmistakable hair ignited a crazed reaction from the crowd. Leto briefly introduced the film with a profanity-laced speech instructing those in the back to "shut the f*ck up," before gifting the audience with a flash of his taut abdominals, setting their already bubbling hormones over the edge. But sadly it was only a tease, and a surprising moment of restraint from the man who boasts 13 minutes of gratuitous ab shots in the video.
As the lights went down, fans actually dutifully listened to their leader, and the space was silent save for some nervous laughter around particularly dicey butt shots. Multiple networks balked at the explicit imagery within the 13-minute film when it was released in November, which forced the band to create a second edited version catering more towards TV execs' family values. "I think what freaked people out was basically the freedom of expression," Leto told the audience during the discussion that followed led by writer and renowned "pervert" Neil Strauss.
"Hurricane" is certainly explicit, and at times disturbing, yet also a delicious serving of self-indulgence. Leto doesn't shy away from his pinup days, flaunting his shirtless body throughout, and his chiseled torso was apparently inspiration to bandmate Tomo, who explained he lost 30 pounds when learning he'd be shirtless, too. (All in the name of art, of course.) "It was important for us because we're all sexual beings," Leto explained. (Cue girlish squeals, screams of "I f*cking love you," and one or two articles of clothing being thrown from the easily excitable crowd.)
"It's nothing you wouldn't see in an episode of Jersey Shore," Leto attempted to reason with the audience. Yes, Mike and Pauly D. may hookup with some questionable grenades, but there have not been any instances of bondage in Seaside...yet, despite what Snooki's club attire might look like. "[It's] just more tasteful," Tomo added. Okay, Situation: Rebuttle?
"People were more concerned with the sex than with the violence, and I think [the United States] is one of the only places in the world where [that's so]," he said. One person who surprisingly was not averse to the band's original vision was New York City Mayor Michael Bloomberg. (Really?) The video was shot around the city, with many iconic locations—from Central Park to the Chamber Street subway station—playing a major role in the story.
"Bloomberg and I sat down, I talked to him about the short film, of which he approved. He said, 'Well it sounds like a great thing for New York City and that means it's a great thing for me.' He [also] told me I may have a career in politics," the self described "organizer of chaos" explained. If only network executives could be more like Mike. Guess Bloomberg really is in tune with the real New York... one more term!
But forget about politics, Leto and his bandmates would still rather talk about sex. The discussion was very participatory, with the guys encouraging the sexed-up crowd to express themselves, even if I meant getting naked right then and there. "Who f*cked?" Leto asked after the film screened. And later, "Somebody's getting pregnant tonight!" Sharing of sexual fantasies accompanied each question (let your imagination run wild with that— everyone else certainly did.) and the band even managed to arrange a few dates after the show, thanks to help from a handful of adult entertainers and New York's premiere latex baroness.
In Leto's mind, we should all just wear our sexually proudly, without fear of judgment. "They were so uptight about the sexuality and protecting people—all of you youngsters out there—from something that has a sexual component," he explained. "I don't know what they think that people are going to do, wake up in the morning and cut their pricks off and then do something like run down the street naked and on fire? I don't know what they think is going to happen, [but] people certainly aren't going to stop f*cking." Oh that Jordan Catalano, speaking right to my soul.
Watch the unedited, very NSFW "Hurricane" short film below:
Thirty Seconds To Mars - Hurricane (Uncensored Director's Cut) www.youtube.com