Jared Leto Sues TMZ
A copy of a lawsuit obtained by The Hollywood Reporter has revealed that Jared Leto's company, Sisyphus Touring is suing TMZ for posting a private video in which he badmouths Taylor Swift.
One Girl's Sorry Tale Of Close Sexual Encounter With A BBQing Jared Leto Is Just Ugh..
According to the papers filed, the footage was shot by a videographer hired by Leto who then sold the clip to TMZ for $2,000.  The clip shows the Oscar winning actor with an engineer in his home recording studio critiquing some of the songs off Swift's 1989 album to try to find inspiration for his band, Thirty Seconds To Mars.  Towards the end of the clip he says;
"I mean, fuck her.  I don't give a fuck about her, it's whatever works best for us."
In your face TayTay!
Jared Leto Sent Suicide Squad Co-Star Margot Robbie A Live Rat!
According to Leto's complaint, TMZ tried to get the videographer to sign a document confirming he was the legal owner of the footage—but he refused.  The suit notes that Leto's team informed TMZ that the "footage was stolen" and that the website was "not authorized to disseminate, display, or publish the footage."
600lb YouTuber Jumoke Hill Lost 60lbs Dancing In His Viral Videos!
Apparently after the video went up on TMZ (which it did within fifteen minutes of Leto's assertion to them that it was stolen), the videographer contacted the site and made the status of the clip crystal clear ; "Do not post the footage. I do not own it.  I do not have permission".  TMZ still (at the time of writing) have the video live on their site.
Taylor Swift Flaunts Famous Friends And Spectacular Camel Toe
Leto later apologized to Swift via Twitter;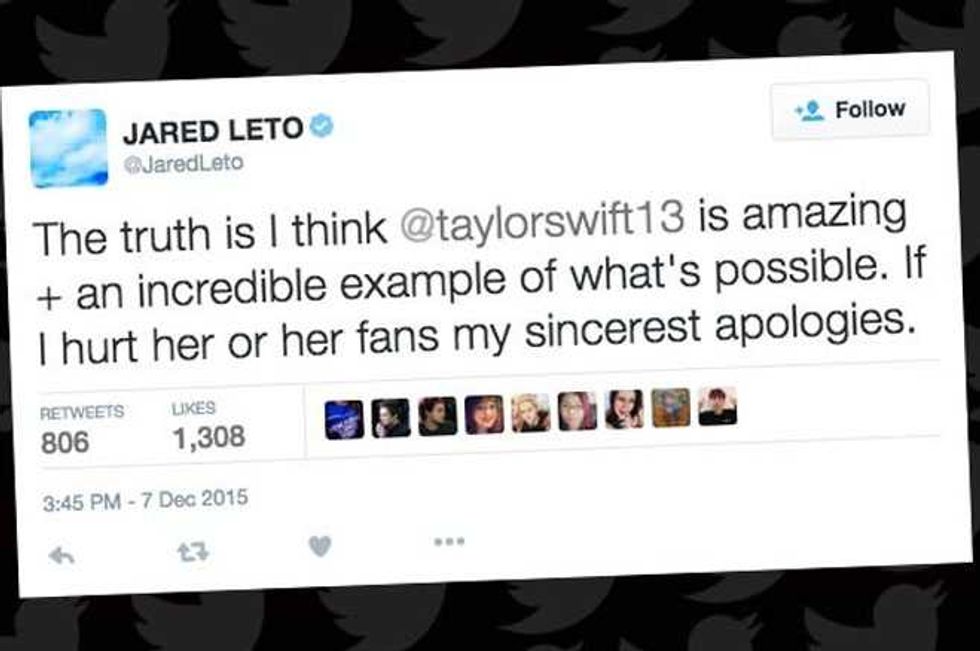 Jared Leto Sues TMZ
Taylor Swift Trademarks Are Totally And Utterly Ridiculous
Leto is fuming. The notoriously private actor and musician was recently filmed sprinting through an airport to avoid paparazzi who were yelling questions at him about his Swift bashing says of his complaint;
"I have chosen to file this lawsuit not because I want to, but in hopes it will encourage more people to stop trafficking in stolen goods, to follow proper legal procedure and so that it may motivate additional consideration for the harm these acts can create, especially when the only intention is to simply further the bottom line for the companies and corporations that commit these acts."
Sean Penn Files $10 Million Lawsuit Against 'Empire' Creator Lee Daniels!
Jared Leto Sues TMZ
Jared Leto Sues TMZ