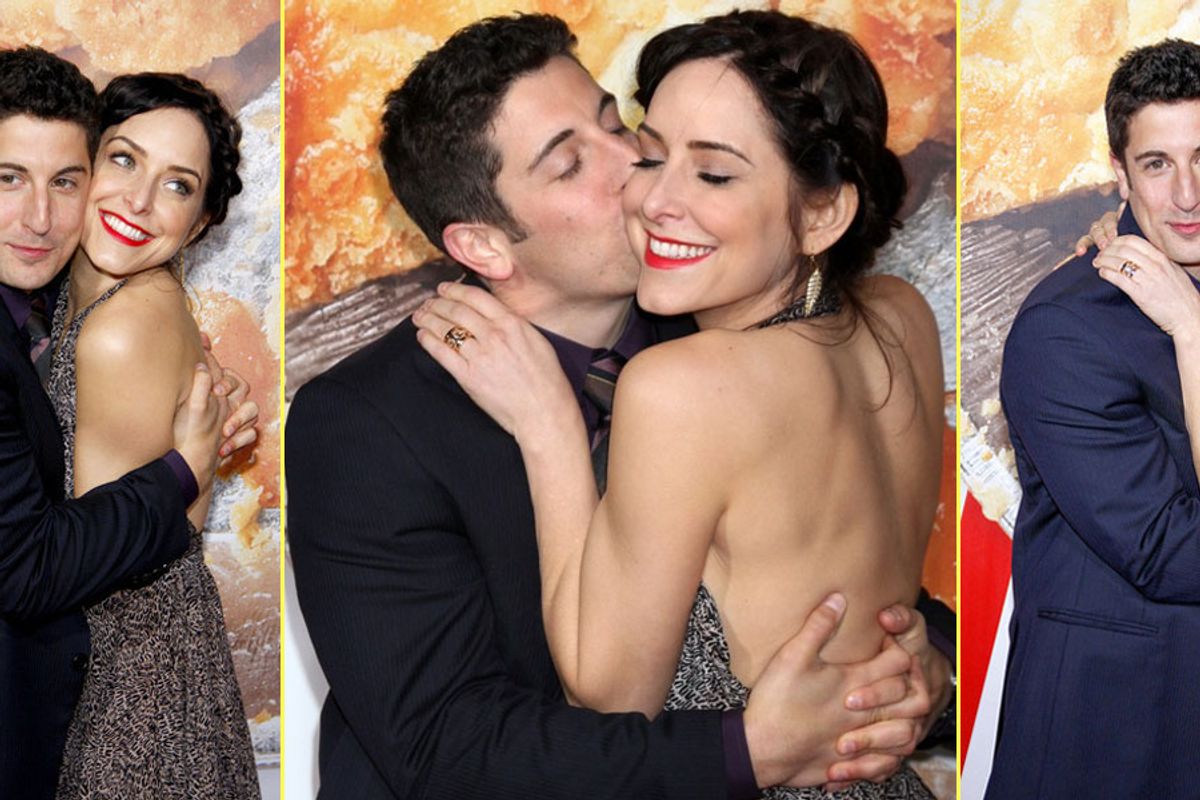 Jason Biggs found fame through his portrayal of a hapless virgin in the American Pie movies first released back in 1999.
He managed to shake the reputation of the guy who banged a dessert and moved onto serious acting roles including appearing on Broadway inThe Graduate and as Piper's fiance in Orange Is The New Black.
In 2008 Biggs married comedy actress and writer Jenny Mollen and it's their willingness to overshare about their marriage that has seen them hit the headlines ever since.
They couple are avid TV viewers and have been glued to the latest series of The Bachelorette. They are most definitely not fans of Jordan Rodgers—they think he's fame hungry and don't trust him at all!
The celebrity duo don't have high hopes for Jordan and JoJo's future—but what about their own marriage?
Check out these 5 facts about the Jason Biggs and Jenny Mollen marriage;
1. They met on a blind date. Luckily when they got together she hadn't seen any of the American Pie movies, which was obviously to his benefit as no-one really wants to go on a date with a clueless virgin.
Film history
2. They have a reversal of the traditional gender stereotypes in their relationship. He does all the cleaning and laundry and Jenny doesn't even have a clue how to turn on the washing machine. Biggs told Elle in 2012, that his wife thinks the "toilet paper fairy replaces the roll".
3. He knew she was "the one" on their first date. They'd had dinner and hit it off to such an extent that "two hours in we were comparing Zoloft prescriptions". The couple were struck by sadness when Jenny suffered a miscarriage in 2008, but the tragedy bonded them even more and they eloped a month later.
They followed it up with a less private ceremony in Napa in front of family and friends.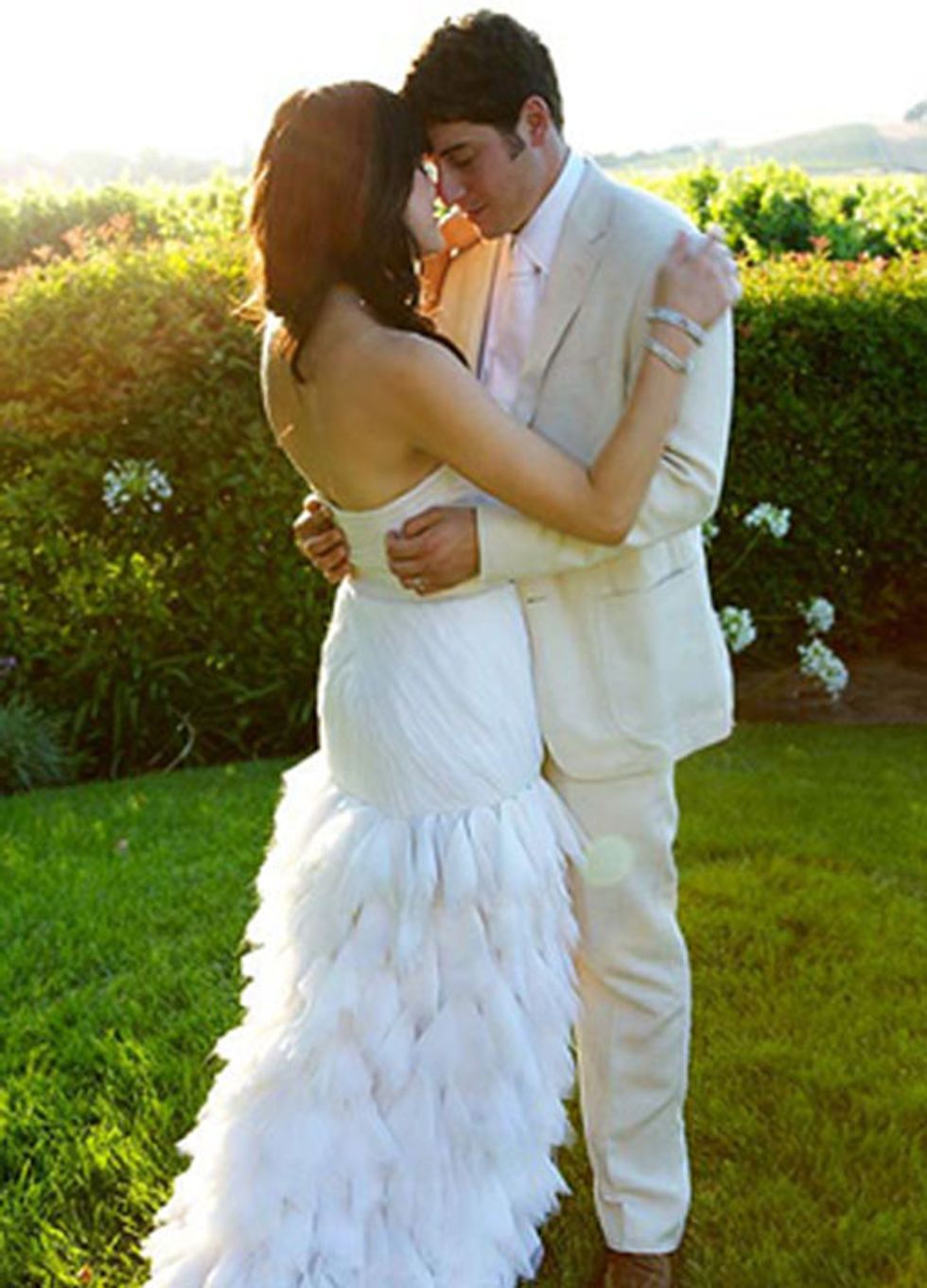 The romantic Napa wedding in 2008
4. Jenny famously hired her husband a hooker in Vegas for his birthday one year. She wrote a hilarious essay of how the whole episode went wrong in her book I Like You Just The Way I Am. Biggs appeared on The View to try to explain what happened (or didn't) and how Mollen sat in the corner eating chips and laughing at him, rendering him incapable of sealing the deal.
Jenny got a lot of criticism for her birthday gift, but Biggs defended his wife, saying;
"We are very open people, we are very real people. My wife is amazing. This is not a habitual thing on our part. We don't have a group of prostitutes who come in and out of our house on a regular basis.

We both work hard; we're very moral people. And for us, that fell into what we were comfortable with. If people disagree, f*ck them."
5. They believe that seeing a therapist is one of the secrets to a happy marriage. Biggs has said;
"You shouldn't be married and not have a therapist. You've got to do it as a preemptive strike."
His wife agrees;
"You need to have a representative to convey your thoughts for you sometimes. If it comes out of my mouth, sometimes it just sounds like I'm Jason's mom."
Well they seem to have this marriage thing licked! Biggs and Mollen have been married for eight years now and are proud parents of 2 year old Sid (whose birth they typically shared on social media).
---
READ MORE ABOUT WEDDING WEDNESDAY...
Wedding Wednesday—5 Facts About The Ashton Kutcher And Mila Kunis Marriage
Wedding Wednesday: 5 Facts About The Shante Taylor / Snoop Dogg Marriage
Wedding Wednesday: 5 Facts About The Kendra Wilkinson And Hank Baskett Marriage
Wedding Wednesday! 7 Of The Shortest Celebrity Marriages
Wedding Wednesday—5 Facts About Brad Pitt And Jennifer Aniston's Marriage
---