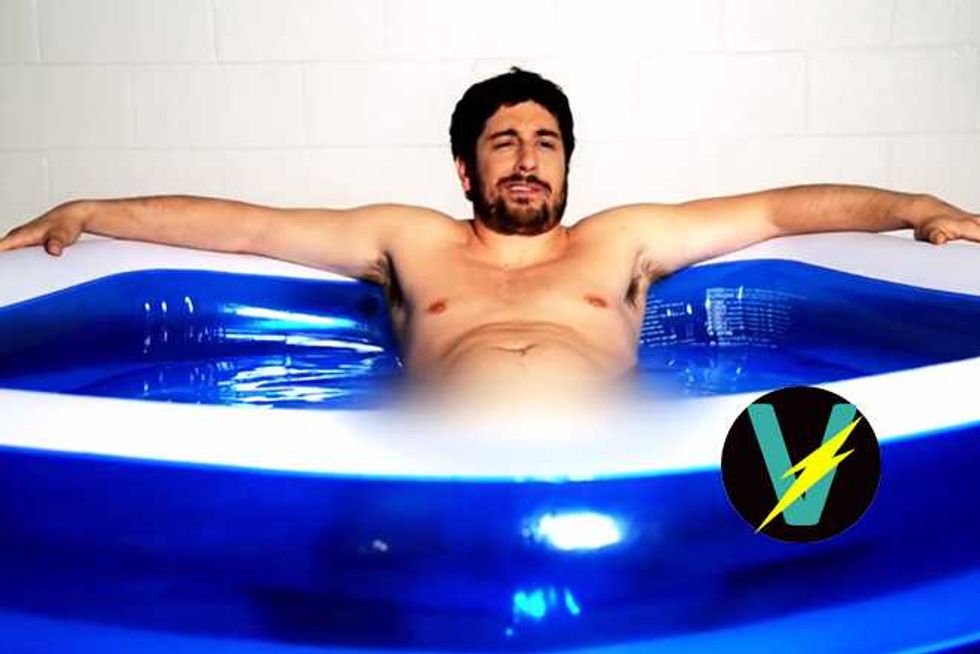 American Pie star Jason Biggs has much more compassion for Orca whales then he does for apple pies!
Using his signature tongue in cheek humor, the 36 year-old blows the lid on SeaWorld —revealing it is a far more sinister place than the family-friendly commercials would have us believe in a provocative new PETA video that covers forced masturbation, tiny tanks, and incest.
What might happen if Biggs ever shot a SeaWorld commercial?
We find out, as this PETA clip kicks off with Biggs trying to shoot an advert for the notorious amusement park, but begins to have trouble sticking to the script.
"Maybe [visitors will] get lucky—see one of the trainers get their legs ripped off," he says.
After a few dozen takes, Biggs leaves the "SeaWorld" set and heads to a PETA and finds himself cramped into a tiny kiddie pool.  The audience get a sense of the claustrophobic life these intelligent mammals are forced to endure…all in the name of "family fun."
The Orange is the New Black star has been vocal about his disdain for the theme park ever since he saw the hit documentary Blackfish, which reveals how inhumanely SeaWorld treats these majestic creatures, especially the babies.
Biggs also objects to the way Orcas have their sperm collected and used to impregnate their own daughters and sisters.
Fortunately Hollywood is taking notice: Tommy Lee, Bob Barker, Eli Roth, Cloris Leachman, No Doubt's Tony Kanal, Joan Jett, Alec Baldwin, and Kathy Najimy have all teamed up with PETA to end this atrocity.
Watch the video below and learn how you can lend your support here