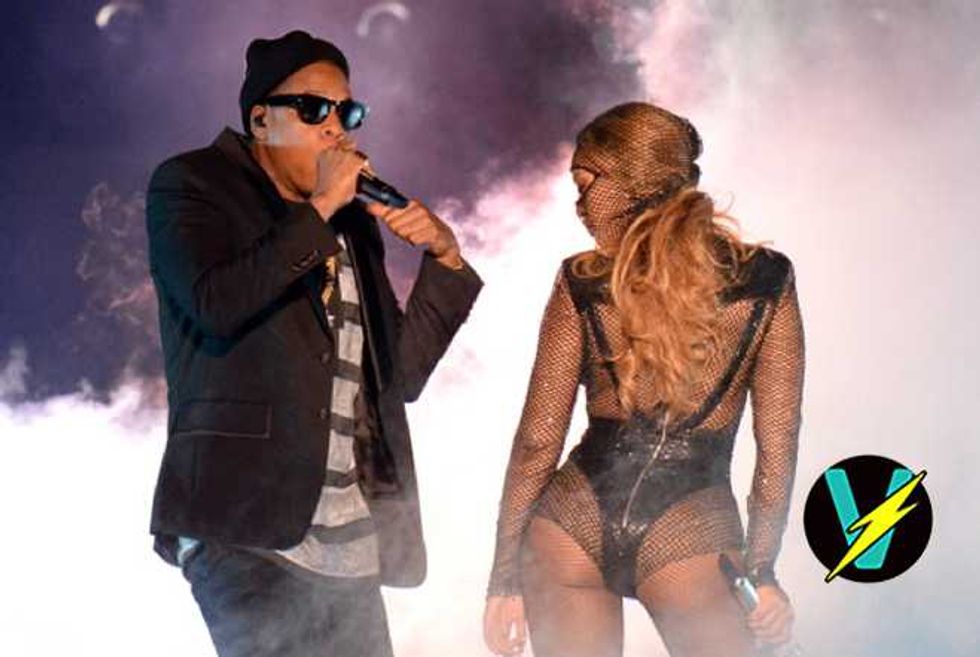 Beyonce and Jay Z's On The Run Tour is most definitely a family affair.
The two kicked off their 16-city musical fest last night at the Sun Life Stadium in Miami with a rousing rendition of Bonnie and Clyde—bursting onto the stage through clouds of smoke, Beyonce clad in super sexy fishnet jumpsuit and matching balaclava.
But the crowd went really wild during a mash-up performance of Jay's Forever Young and Bey's Halo, as a montage of clips from home videos showing off their daughter Blue Ivy, along with never before seen footage from their top-secret 2008 wedding played on the giant overhead screens.
"There were videos of Blue in the pool with her mom, walking holding hands with her parents, Jay Z kissing Blue," an audience member told Us Weekly.
"It was a sweet moment—Jay Z and Beyonce were both facing the screen watching the Blue videos while they sang 'Halo.' It was like they were singing the song to their baby girl. The two of them were beaming, smiling watching their little girl on the screen.
"It was incredible. Jay Z said [we're] 'celebrating love tonight' and you could definitely see the love between him and Beyonce on stage. Their chemistry is amazing."
Just one night in and the tour is already on track to become the second most successful in history—second only to U2's 360 Tour back in 2011.
According to Forbes, the Carters have already racked up a gross profit of $100 million for their scheduled twenty shows.
And, if that isn't enough Jay-Z and Beyonce are taking the tour to Europe—announcing two dates in Paris, September 12 and September 13. The next four shows will be in Cincinnati, Foxborough, Philadelphia, and Baltimore.  If you're looking to attend any of these shows, you can find cheap hotels and flights from HipMunk, including prices as low as $110 for Baltimore hotels on HipMunk.
For the best deals on On The Run tour tickets visit TiqIQ.com