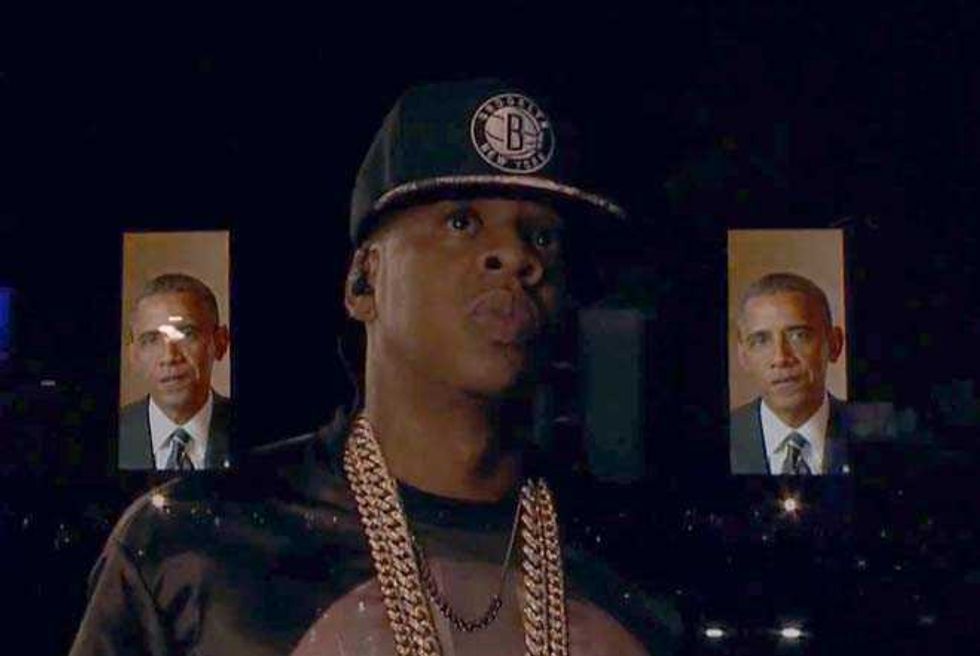 If expensive dinner parties weren't enough proof that Jay-Z runs in exclusive social circles, he's happy to remind you that he's tight with the current Commander in Chief—in addition to being supportive of his political platforms. A new video from the Obama 2012 campaign features none other than Shawn Carter describing the importance of the democratic process—something that, in his opinion, has become more inspired since Obama moved to Pennsylvania Avenue. "I think it was a voice that was silent because people had lost hope. They didn't believe that their voice mattered or counted," he says. "Now people are exercising their right, and you are starting to see the power of our vote. He made it mean something for the first time for a lot of people."
"He" would be the 44th president, who has previously praised Hov's own accomplishments in a public forum. "To me the idea of America is that no matter what you look like or where you come from, you can make it if you try. Jay-Z did. He didn't come from power or privilege. He got ahead because he worked hard, learned from his mistakes and just plain refused to quit," the POTUS told the crowd gathered in front of the Philadelphia Art Museum during Jay-Z's Made in America Festival back in September. It's good to see their mutual admiration for one another continues. Scratch his back, and Hov will scratch yours in return, Mr. President.
So that's Hov, Bey, Katy Perry, Waka Flocka Flama, Justin Bieber. It's just three weeks out from Election Day, with the second presidential debate getting underway in a few hours. Who's hiding in your corner, Mitt? We know it's certainly not Snoop Lion.