13th time's a charm for Sean Carter!

The American recording artist and multimedia mogul, Sean Carter, released his 13th, and arguably best, studio album on June 30th, 2017. The soundscape of this album is somehow post-contemporary and classic at the same time. We have genius music producer No I.D. to thank for that, though we know the album was produced largely from samples Jay-Z gave to No I.D. as records he listens to, and Beyonce even lent key advise.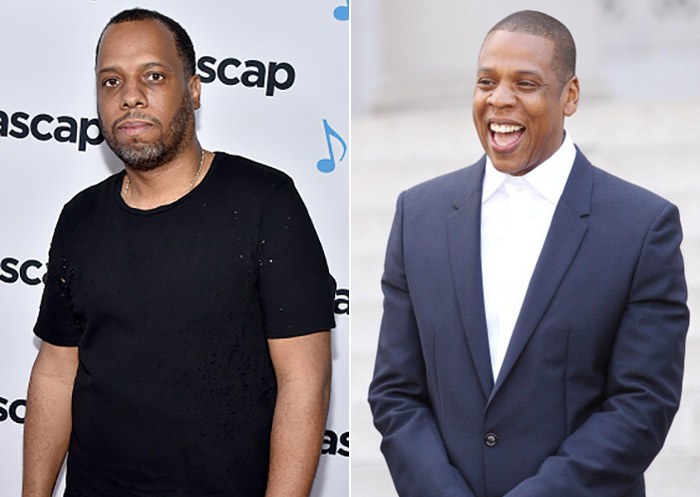 R to L: No I.D., the producer behind every track on "4:44" and Kanye West's early mentor. HOV.
The album got its title from Jay waking up at 4:44 a.m. and calling his engineer, Guru, to record.Wilson said he and the pair knew they didn't want to just craft an entire album of responses to Beyoncé's confessional "Lemonade," which touched on infidelity and marital hardship.But Wilson said he was blown away by Jay-Z's raw honesty in the single "4:44" in which he apologizes to his wife and says "Took me too long for this song/I don't deserve you."Related: Jay-Z apologizes to Beyoncé in one of his 'best songs'"I told him that's the best song he's ever written," Wilson told The Times. "Everything it covers about being a man, being in a relationship, being a father, how you affect your kids. These things don't really get touched on in music, especially in hip-hop."Jay-Z agrees that "4:44" is special. The rapper told iHeartRadio's The Beat that it was "one of the best songs I've ever written."
---
VIBE ranks the tracks

10. "Moonlight"
No I.D. samples The Fugees' "Fu-Gee-La" on the 4:44 cut "Moonlight," a selection inspired by the Oscar-Winning motion picture of the same name. Distorting Lauryn Hill's vocals from the 1996 hip-hop classic, which serves as the crux of the track, No. I.D. chops up and peppers them throughout the beat, complementing the low-end bassline that anchors "Moonlight." Although JAY-Z receives a production credit on "Moonlight," it is among the more pedestrian offerings on 4:44 from a production standpoint, with the familiarity of the sample being more of a hindrance than an enhancement.
9. "Bam"
Many of the soundscapes on 4:44 are more subdued and provoke more insular musings from Shawn Carter, the man behind the music. However, "Bam" is the alternative, a festive jam that finds Hov reverting back to JAY-Z and talking greasy over the No I.D.-produced beat. Interpolating dancehall legend Sister Nancy's signature record "Bam Bam," "Bam" also includes a sample of "Tenement Yard" by Jacob Miller, as well as live instrumentation, including electric pianos, guitars, synths, and various horns, all of which add to the sonic explosion. While the song itself is one of the most boisterous offerings, "Bam" falls short when compared to the more refined compositions by No I.D. that made the final cut.
8. "Smile"
JAY-Z gets optimistic on "Smile," a soulful number from 4:44 that samples Stevie Wonder's 1976 cut "Love's in Need of Love Today." Dominated by a voice sample, which appears throughout, and 808 drums, "Smile is a relatively sparse and straightforward backdrop that displays No I.D.'s brilliance as a boards man on what is the longest song on Hov's album.
7. "Kill Jay Z"
The Alan Parsons Project's "Don't Let It Show" gets flipped on the opening salvo on 4:44, and sets the tempo for the rest of the album. Classical pianos, digitized drums, and strings are all present here, as No I.D. crafts an expansive instrumental that adds to the lengthy list of legendary opening backdrops that JAY-Z albums are known for.
6. "Legacy"
JAY-Z co-produces and closes out 4:44 with "Legacy," which captures the mogul's thoughts on generational wealth and the lineage he sees for his offspring. Producer No I.D. mines Donny Hathaway's "Someday We'll All Be Free" for key wrinkles to tinker with, resulting in a stoic number that bookends the album and ties together Hov's message of financial liberation within the black community. Jimmy Douglass, who mixed 4:44 in its entirety, also recorded "Someday We'll All Be Free" in 1971, making his involvement in the making of the record even more historic.
WATCH: JAY-Z Is Turning A Lens On The Legacy Of Slavery In "The Story Of O.J."
5. "Family Feud"
Featuring a sample of The Clark Sisters' live performance "Ha Ya (Eternal Life)," "Family Feud" serves as a lively number produced by JAY-Z & No I.D. and powered by piano keys, drums loops, and vocal contributions from his wife, Beyonce. The sonic equivalent to the sounds of heaven's gates opening, "Family Feud" is a glorious soundscape from 4:44and among the stronger batch of records on the album.
4. "Marcy Me"
JAY-Z reminisces on his genesis in the Marcy Housing Projects and the current landscape of Brooklyn on the 4:44 cut "Marcy Me," which subtly pays homage to Marvin Gaye's "Mercy Me." Sampling "Todo O Mundo e Ninguém" by Quarteto 1111, "Marcy Me" also includes live instrumentation on the part of Nate Mercereau & Steve Wyreman, who employ piano keys, organs, synths and strings to boost the ambiance of the record. On an album loaded with incredible music, "Marcy Me" is a premier composition.
3. "Caught Their Eyes"
No I.D. comes with some of his finest productions in recent memory on 4:44, one being "Caught Their Eyes," a funky instrumental built around a vocal sample of Nina Simone's "Baltimore." Rollicking guitars and steady percussion, wrapped around synths fit for a blaxploitation flick, are a few of the parts that make up the sum of "Caught Their Eyes," a masterful sound bed sure to get beat-junkies salivating.
2. "The Story of OJ"
Keys from an electric piano greets listeners on "The Story of O.J.," one of the more impressive works on 4:44, and one that displays No I.D.'s skills at their zenith. A vocal sample from Nina Simone's "Four Women," which was handpicked by JAY-Z himself, is lifted and littered throughout various sections of the track, complementing the live instrumentation by Steve Wyreman, who does work with a bass, guitar, celesta, and synthesizer. Heavy in terms of its subject matter, the lyrics on "The Story of O.J." may get most of the attention, but No I.D.'s sonic contribution is also to be marveled at, as he cooks up what is arguably the album's finest soundscape with this tune.
1. "4:44″
His most ambitious effort in nearly a decade, the most epic moment on JAY-Z's 4:44happens to the album's title-track, on which he is at his most revealing and vulnerable, two traits Hov loyalists and critics alike swoon over when it comes to the god emcee. However, the testimonial would not have been possible without producer No I.D. drawing it out of him with a track that forced Shawn Carter to come clean. Sampling Hannah Williams' Late Nights and Heartbreak, No I.D. reworks the original, a song concerning infidelity, allowing JAY-Z to come to terms with his own, and spill his innermost thoughts and secrets over the epic collage of sound. No I.D.'s role as Maestro on 4:44 has been lauded in the wake of 4:44's release and this offering is the peak of his excellence, making it the best production on one of the best albums of the year. Hands down.
Click here to see a full list of samples used on the album

---
Jay-Z's Annotations
As part of Roc Nation's deal with iHeartRadio to stream the album countrywide on radio for 24 hours, Hov provided his own brief song descriptions. They are unsurprisingly vague, although somewhat useful. (Fun fact: 4:44 got its name from Jay-Z waking up at 4:44 a.m. to "write" the title track.) Here are his annotations for each song:
---
Notable Lines
All the water-cooler talk around the world on Friday will likely revolve around every line Jay-Z speaks on this album seemingly in response to Beyoncé's Lemonade, particularly his admission of infidelity (by way of a reference to Eric Benét cheating on Halle Berry, and the return of the infamous "Becky With the Good Hair") and that Solange's actions in that elevator were justified. These are just a few of the highlights you'll want to memorize and analyze before speaking to anyone this weekend:
"Kill Jay-Z": "You egged Solange on / Knowin' all along, all you had to say you was wrong / You almost went Eric Benét / Let the baddest girl in the world get away / I don't even know what else to say / Nigga, never go Eric Benét."
"Family Feud": "Yeah, I'll fuck up a good thing if you let me / Let me alone, Becky."
"4:44": "And if my children knew / I don't even know what I would do / If they ain't look at me the same / I would probably die with all the shame/ 'You did what with who?' / What good is a ménage à trois when you have a soulmate? / 'You risked that for Blue?'"
"4:44": "I apologize, often womanize / Took for my child to be born to see through a woman's eyes / Took for these natural twins to believe in miracles / Took me too long for this song."
"4:44": "You mature faster than me / I wasn't ready, so I apologize
I've seen the innocence leave your eyes / I still mourn this death, I apologize for all the stillborns / 'Cause I wasn't present, your body wouldn't accept it."
"4:44": "I suck at love, I think I need a do-over / I will be emotionally available if I invited you over / I stew over what if you over my shit?"
And then there are the lines that have (almost) nothing to do with marital drama, but are either just plain funny or memorable for their candor.
"Family Feud": "Ain't no such thing as an ugly billionaire, I'm cute"; "Al Sharpton in the mirror takin' selfies / How is him or Pill Cosby s'posed to help me?"
"Moonlight": "We stuck in La La Land / even when we win, we gon' lose."
"Smile": "Niggas'll rip your shit off Tidal just to spite you / Ahhhh what did I do?"
More "Smile": "Mama had four kids, but she's a lesbian / Had to pretend so long that she's a thespian / Had to hide in the closet, so she medicate / Society shame and the pain was too much to take"; "My therapist said I relapsed / I said, 'Perhaps I Freudian slipped in European whips.'"
"Legacy": "Your seed, married his seed, married my seed / That's how we keep Carter money all in the family."