Top Stories
Cocaine's a hell of a drug (not that JCVD would know anything about that, natch...)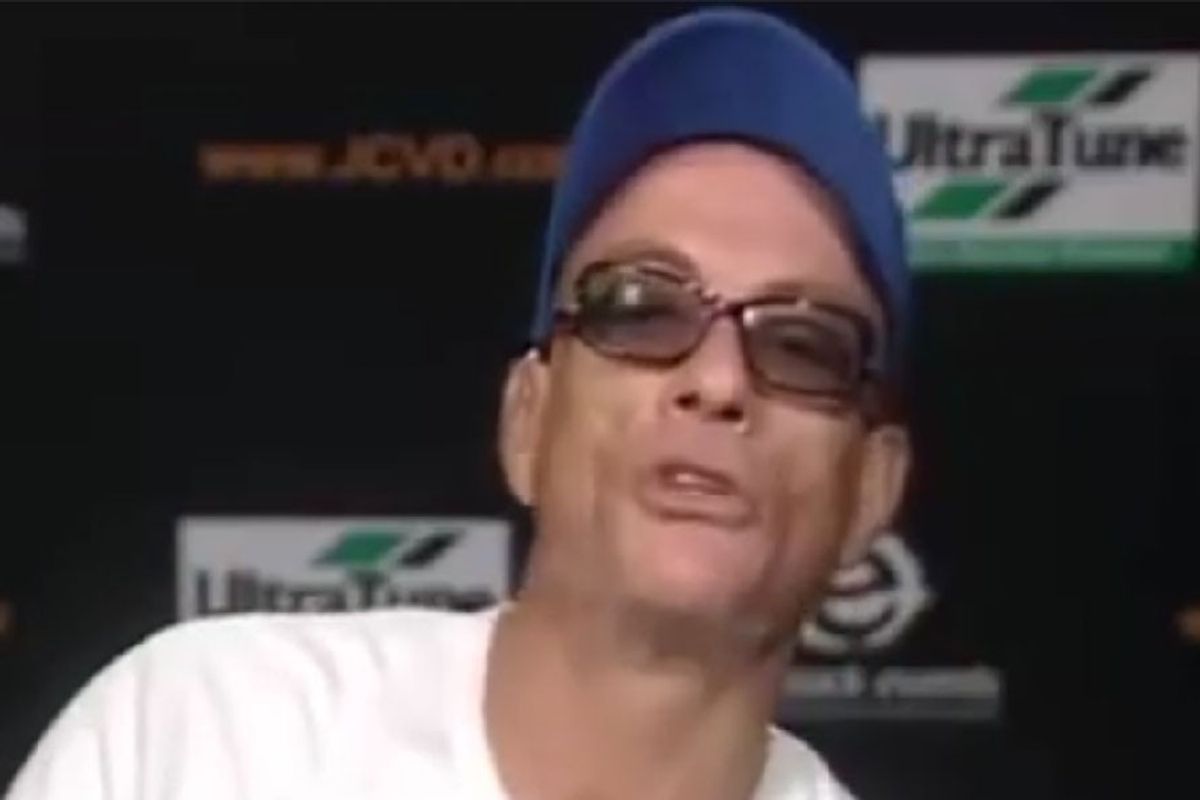 jean claude van damme storms out interview—the Muscles from Brussels has had enough of your stupid questions..

Jean Claude Van Damme is sweaty and bored.

Jean Claude Van Damme is sweaty, and he's bored of your stupid Kylie Minogue questions.

Jean Claude Van Damme is sweaty, and he's bored of talking about Street Fighter.

Jean Claude Van Damme is sweaty, and he's bored of your inanity and he's not taking it anymore, OK?!!!

The 55-year-old made it crystal clear that he's done with your stupidity and inanity during an interview Thursday.

Van Damme was conducting an interview with the Australian TV morning talk show, Sunrise, on Thursday, via a satellite feed from Bangkok, Thailand.

Things quickly turned terse after the Muscles from Brussels determined the hosts were asking boring questions.

But, the interview took an even worse turn after they dared to quiz Van Damme about Kylie Minogue.

For those non-JCVD aficionados out there, Van Damme had a brief fling with the singer-turned-Australian-treasure when they filmed Street Fighter, 22-years-ago.

Yeah yeah, we get it, 22 years ago… annoying, right?

But, it's not like JCVD has had such a stellar and amazing career ever since.

And it's an interview with Ozzie TV, and as we said, Kylie is a national treasure down under.

So, suck it up dude.

But no.
Not Jean Claude.

Instead, he acted like a butt sore little coked up bitch, and stormed off the interview set.

It all kicked off after Van Damme objected to what he thought was staff talking among themselves off camera.

Paranoia deep destroyer dude.

He addressed the issue:

Guys, you are talking behind the cameras.

I'm online talking to you and I have people behind that camera talking about …

Because I'm sweating and everything.
Then the hosts dropped the K bomb, and it all went decidedly Pete Tong.

Yeah, I like Kylie. I like everybody. …

Sorry, guys, I cannot do this anymore.

You are talking to a guy who's very rough, you know.

Let me talk.

The press, they have been asking me the same questions for the last 25 years.

How's Kylie?

How's the training?

How's your this?

How's your that?"

Those interviews you are giving me on TV right now, they are very boring because the questions are very boring.

I'm coming to Australia to maybe do something different with the audience

It's difficult for me to answer those questions so I start to sweat.

I don't feel good because they are boring and I knew this.

OK, next question.

You have something interesting to ask me?
Hmmm…. like what Jean Claude?

Maybe talk about your shit-tastic utterly amazing sitcom?

Yeah, maybe not.

JCVD had had enough.

JCVD was done with your bullshit!

JCVD stood up, ripped off his microphone and made his dramatic divatastic exit.

JCVD needed to go blow coke use the bathroom.

Off JCVD stormed, asking:

What the fuck is going on with Australia?

What the fuck is going on?

I cannot do this, I'm too natural, you can blow this stuff away.

What is this?
Hmmm…. the question is more, what the fuck is going on with you JCVD?
Scroll down to watch the jean claude van damme storms out interview video

For more entertainment, music and pop culture updates and news, follow Max Page on Twitter
---
READ MORE....

My Night With Jean Claude Van Damme—A Kilo Of Cocaine And A Bottle Of Lube
Jean-Claude Van Damme Wants To Show The World He's Still Got It
Kanye West Diva Antics Exposed By Ex Bodyguard—Megalomania, Tantrums!
Grace Jones' Tour Rider Is Suitably Diva-Tastic
Nicki Minaj Is VERY Particular When It Comes To Wiping Her Spectacular Ass

---
watch the jean claude van damme storms out interview video:
The family of Miriam Burbank knew she would never miss a party, so they made sure she was on the guest list for the blowout funeral celebration just prior to her own burial
Propped up in a chair and surrounded by a few of her favorite things: Busch beer, menthol cigarettes, and a disco ball flashing overhead, the New Orleans native was the life of the party!
Miriam Burbank's two daughters, who call their mom Mae Mae, said their late mother was a party girl and that they wanted a funeral that would make her proud.
And no party girl would attend a gathering without a perfect pedicure- Miriam had her nails painted black and gold as a shout out to her favorite team, The New Orleans Saints!