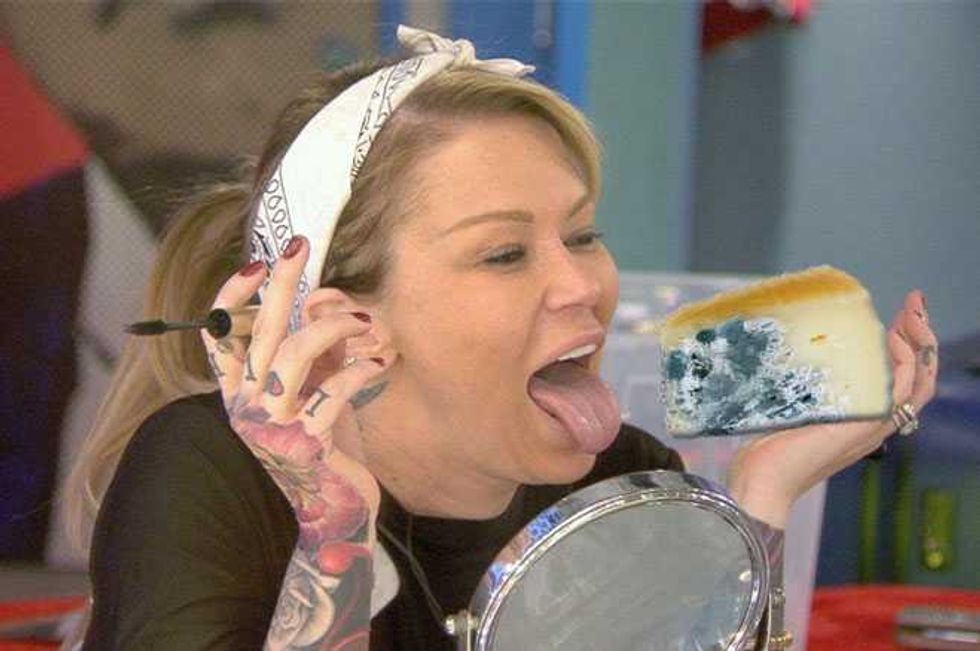 Jenna Jameson is currently taking part in the UK Celebrity Big Brother and has been left with 'health concerns' after a gruesome task to try to win some food for the house.
Jenna, aka The Queen Of Porn took part in the hilarious task that involved her having buckets of fish guts, cold vegetable soup and rotten cheese poured over her head whilst wearing a set of waders.  It was cringeworthy reality TV at its best, but Jenna was not happy.
Jenna Jameson 'Battling Addiction To Pills'—Friends Urging Her To Go To Rehab
She furiously announced to other bemused housemates in the bedroom, "I had rotten cheese in my vagina. There were like chunks! I swear if I get a yeast infection, somebody's going down. I have never gagged so much in my life, that's saying a lot!"
Well, she said it!
Jenna is the world's best known porn star and veteran of 178 adult films and we challenge her assertion that rotten cheese is the worst thing she's ever had in her vagina.  She's had Ron Jeremy up there FFS!
'Pill Popping' Jenna Jameson Is Faking Couples Therapy Relationship For The $$$
To add insult to Jenna's smelly vajayjay'd indignity, the stinking food drenched housemates then had to take to the dance floor to throw some shapes to Fatman Scoop's song Be Faithful—which given the amount plays it's had during the past two episodes of CBB, must have lined Scoop's pockets with more royalties than he's earned so far during the whole life of the song since it's release in 2003!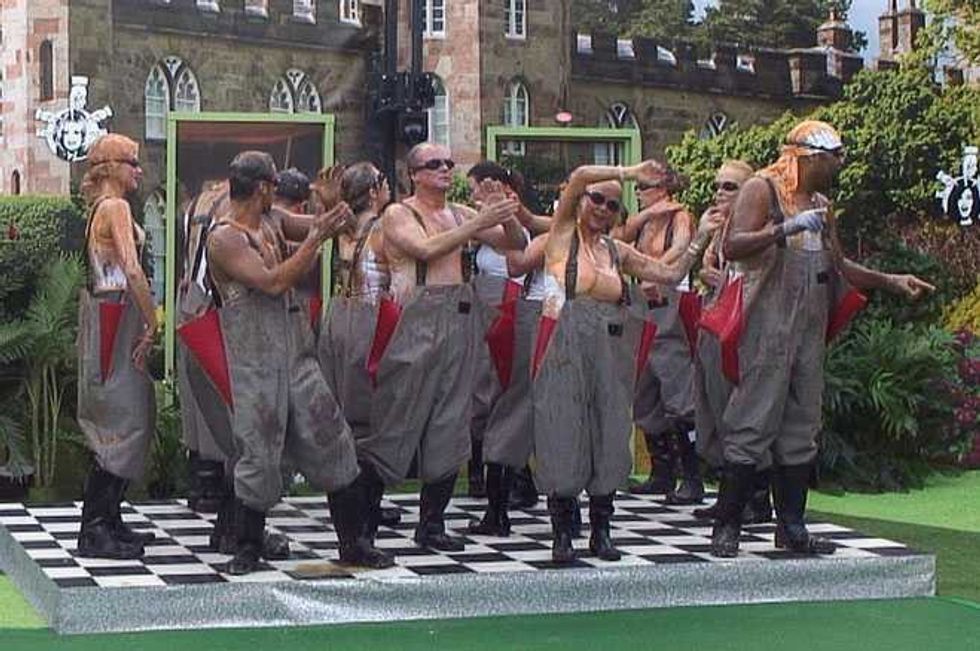 Housemates get their groove on..
Meanwhile, Jameson is holding her own (pun intended) in the CBB house which pitches the UK contestants against the U.S. housemates. She's formed an alliance with Teen Mom nutjob-turned-amateur-porn star, Farrah Abraham, which may prove her undoing as Abraham's behavior becomes ever more volatile, vile and unpopular.
Abraham has become increasingly ostracized in the house due to her rude, ignorant and downright cray cray outbursts—and she has taken to the diary room on several occasions to rant about her fellow housemates—on one occasion threatening to "kill them all".
Couples Therapy Dr. Jenn Fakes Shock At Jenna Jameson 'Suck A Cock' Advice
British comedian Bobby Davro hit the nail on the head during a face to face nomination when he told Farrah, "You are possibly one of the ugliest people I have ever had to have the misfortune of sharing my time with. Why you have so much vileness inside of you that comes spilling out every time you feel as though you are being attacked.  It's so unattractive, it's so dreadful to watch. No amount of lip gloss can disguise the ugliness inside of you."
Ouch!  He was spot on, and a clearly rattled Farrah responded by accusing him, and all the Brits of having Satan inside them.
OK then.