CULTURE
There Is No Better Time to Get the NuFace
Wanna be snatched like Bella Hadid? Ageless like Jennifer Aniston? Try the NuFace MINI+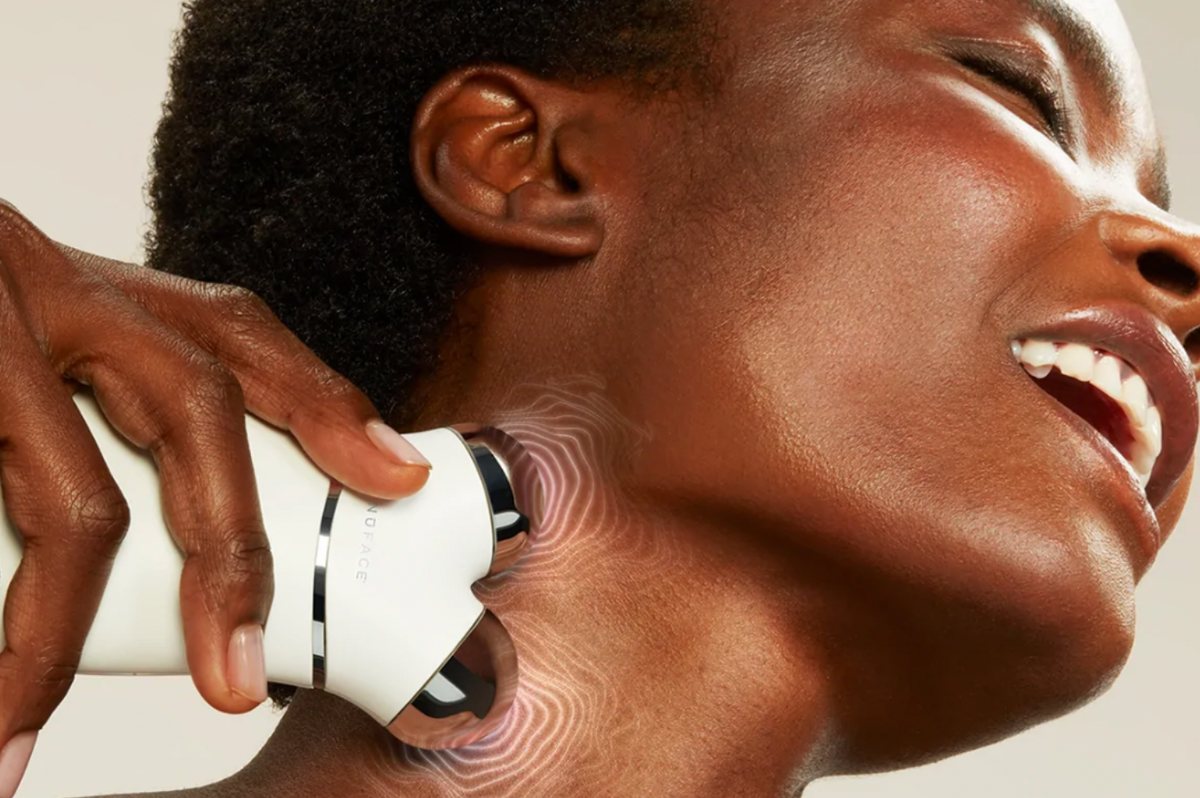 via NuFace
Alert! Alert! The bestselling microcurrent device from NuFace just got better — and smaller. NuFace's latest line of improved devices is here and most exciting is the NuFace MINI+. Let's break down this exciting news.
---
If you haven't heard of the NuFace, I'm about to blow your mind. This viral, TikTok-approved trend isn't merely an internet sensation. It's also a longtime favorite of skincare lovers and your favorite celebs.
Here's how it works:

The NuFace is not just a micro-current device, it's THE microcurrent device. Low-level microcurrents deliver gentle pulses of electricity that sculpts and stimulates the muscles in your face for prime lifting, toning and contouring. It's called the "5-minute facial" or "fitness for your face." I've tried it myself — and it works.
And if you needed yet another reason to be excited for the NuFace — it's currently on Sale at Sephora!
Gather all your Sephora insider points and go! Go! Go! This must-have item is barely in stock — let alone on sale — so you can't miss it. Treat yourself this fall. Think of it as an early holiday gift. You deserve celeb-snatched skin.
Celebrities, celebrity estheticians, and dermatologists alike sing its praises. Jennifer Aniston, Miranda Kerr, and Jessica Alba are just a few luminaries in the NuFace fanclub. And who wouldn't want to look like them? Plus, Riverdale star Madelaine Petsch also featured it in her Vogue Secrets interview — a series which I obviously live by religiously.
And now, the newNuFace collection is here. It's the same tool you adore, but with the latest technology that make it even more effective. And the NuFace MINI+ is at the top of my wishlist.
NuFace promises a 5-minute facial on-the-go with the clinically proven, FDA-Cleared MINI+ Device. Use it for 5 - 20 minutes every day to make the most of this technology, which targets your skin and muscles to instantly lift and sculpt. It also blurs fine lines and wrinkles to give your face a toned, contoured appearance over time.
Do you want that sculpted, snatched Bella Hadid look? Or that effortlessly ageless Jennifer Aniston look? All without surgery, botox or fillers? Run and get the NuFace to see results fast.
But does it really work? The TikToks say yes, I say yes, and NuFacesays this ingenious technology works better than ever.
Here are the FAQs and all the details you need to know about the MINI+ Device:
Does the NuFace actually work?
The NuFace has been clinically proven to work. But you have to be consistent. Luckily for you, the NuFace is my favorite step in my skincare routine — so I wouldn't dream of missing it. While you may see superficial results instantly, with continued use, this device is known for reversing signs of aging.
How do you use the NuFace?
The NuFace comes with its own priming gels and serums. Applying the priming gel helps your device slide across your face without snagging or causing irritation. Then glide the NuFace at your preferred power level for lifting and sculpting magic. Then, wipe off the gel and go about the rest of your regular routine. It's fast! It's easy! And in only 5 extra minutes, you'll boost your skincare efforts significantly.
How often should you use the NuFace?
Dermatologists recommend using the NuFace once every 24 hours. This means either morning or night — not both — to give your skin muscles time to recharge and reset. Remember, the more consistent you are, the faster you'll see results!