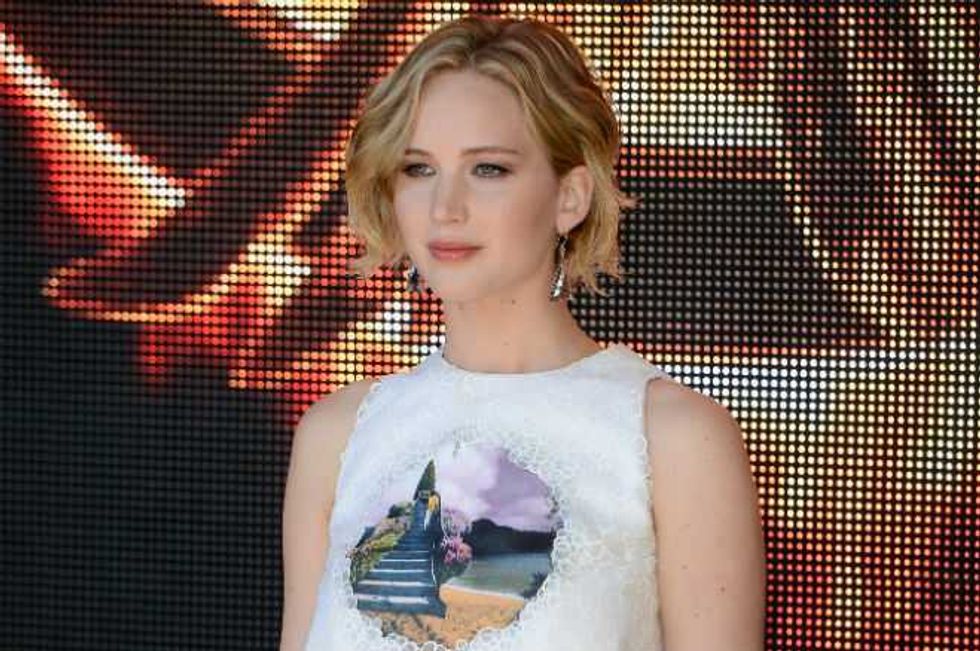 Jennifer Lawrence is finally speaking out about her nude photos being hacked this summer, saying she found the whole thing beyond disgusting and offensive.
As Popdust previously reported, Jennifer's photos were stolen and posted online after iCloud was hacked, along with a host of other female celebrities including Kate Upton and Ariana Grande.
Although Jen's rep made a statement at the time, the actress remained silent - but in a new interview with Vanity Fair, she doesn't hold back.
"Just because I'm a public figure, just because I'm an actress, does not mean that I asked for this," she said. "It does not mean that it comes with the territory. It's my body, and it should be my choice, and the fact that it is not my choice is absolutely disgusting. I can't believe that we even live in that kind of world."
The 24-year-old goes on to explain she refuses to view the incident as a scandal, saying it is a crime and not something she should be made to feel ashamed for. Jennifer also reveals the photos were taken for then-boyfriend Nicholas Hoult, who she dated for four years before breaking up this summer.
"It is not a scandal. It is a sex crime," she said. "It is a sexual violation. It's disgusting. The law needs to be changed, and we need to change. I started to write an apology, but I don't have anything to say I'm sorry for. I was in a loving, healthy, great relationship for four years. It was long distance, and either your boyfriend is going to look at porn or he's going to look at you."
What really hurt Jen was the number of people who looked at the photos knowing they were stolen - even friends and loved ones, who clearly didn't think they were doing anything wrong.
"Anybody who looked at those pictures, you're perpetuating a sexual offense," she fumed. "You should cower with shame. Even people who I know and love say, 'Oh, yeah, I looked at the pictures.' I don't want to get mad, but at the same time I'm thinking, 'I didn't tell you that you could look at my naked body.' "
Although the incident was horrible to deal with, Jen says she is slowly recovering from the shock of what happened. The FBI are still investigating the crime, but the Hunger Games star is determined to move on either way.
"Time does heal, you know," she said. "I'm not crying about it anymore. I can't be angry anymore. I can't have my happiness rest on these people being caught, because they might not be. I need to just find my own peace."
Jen's full interview is the November cover issue of Vanity Fair,on newsstands October 8.