Arts
THEATRE | Miranda Theatre Company tell the incredible story of Jerrie Cobb, the trailblazing feminist icon who should have been the first woman in space
Photos by Jeremy Daniel
The history of women is so often a history of silence. Or rather, of being silenced. We see this time and again in history, with women forced to write under men's names, or their signatures being left off great works of art. The Bayeux Tapestry, after all, is remembered as being a heroic memoir of William the Conqueror defeating King Harold in battle. It is not remembered as a work of art tireless slaved over by a large group of women, whose names have now been lost to history. We see this narrative in They Promised Her the Moon, a touching dramatic account of the life of Jerrie Cobb. In the early sixties, Cobb (a highly experienced, record-holding pilot) completed the physical and psychological tests required to train as an astronaut and, by rights, should have been the first woman in space. However, despite the national acclaim her work awarded her, the female astronaut program was not approved by the US government. Years later, most people are hard pressed to remember her, but this play aims to shed light on her fascinating life.
"Quaid's central performance is nothing short of a joy"
As stories go, this is a good one. Real life serves up all of the plot twists you could hope for in one killer story arc. Writer Laurel Ollstein frames Cobb's life before Mercury 13 (the female astronaut program) as a series of flashbacks whilst Cobb undergoes her isolation tank test. Afterwards we skip through the highlights of her journey through sudden fame to disillusion and relative obscurity in a gentle montage. This gives the show the feeling of a memory play, which enables Graham Kindred's spartan set to take on whatever form it needs to take through the strength of the actors' performances.
In terms of pacing, Moon is a few steps faster than pedestrian, but by no means breakneck. This feels appropriate given the amount of time the show needs to cover, any faster and it would be doing a disservice to Cobb's life. That said, as the the play wears on, a little added urgency from the cutting of the scenes might have spiced the action that little bit more. Nothing is enough to dull the edges of Amanda Quaid's performance as Jerrie Cobb, though. Her work throughout is pitch perfect. While the temptation must have been there to fit Cobb in to the neat box of farm-girl, good Christian, tough tomboy or similar, Quaid is able to generate a much more nuanced edition of the character. She is affecting, fearsome, and your heart goes with her wherever her journey takes her.
Surrounding Quaid are an able-bodied cast, consisting of John Leonard Thompson (Jerrie's father and others), Polly McKie (Jerrie's mother and others), Andrus Nichols (Jackie Cochrane), John Russell (John Glenn and others), and Edmund Lewis (Randall Lovelace and others). Their work bolsters Quaid's performance admirably, none more so than Thompson, whose scenes with Quaid form the heart and soul of the piece.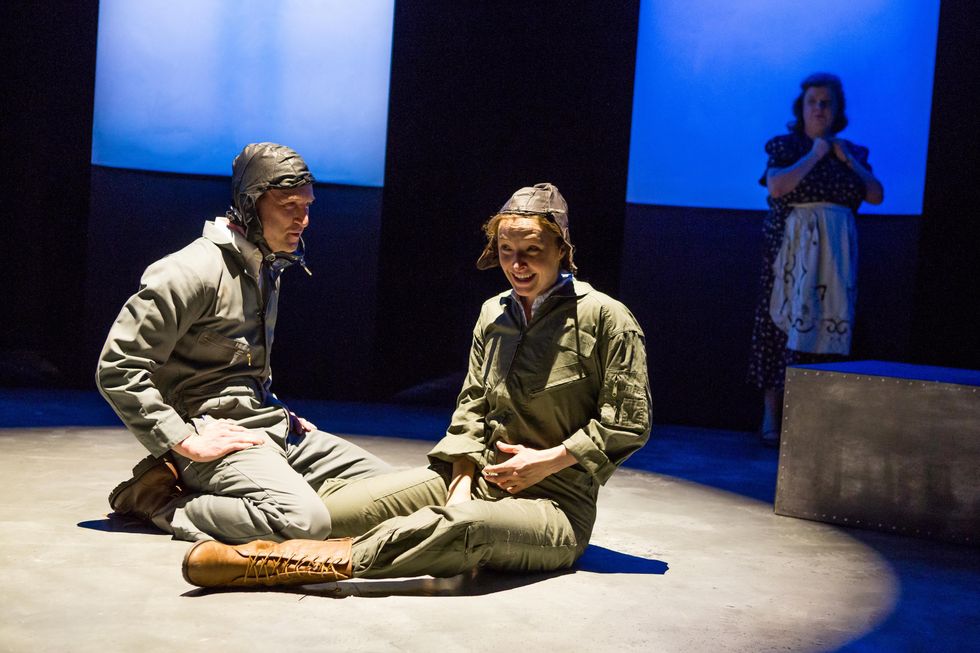 Photos by Jeremy Daniel
If the play has a flaw, apart from the afore mentioned pacing issues, it's that it's a little by the numbers. While genuinely affecting, there are moments when it feels like a Lifetime Original Movie. It's a side effect of the script adhering so strongly to three-act story structure. Presented as the play is, this serves to highlight cliche. It makes its hero a little too pure, and the forces stacked against her ever so slightly less subtle than they could be. This does not affect the overall sway of the story, but is, nevertheless, worth noting.
Barring minor complaints, They Promised Her the Moon, is an excellent piece of theatre. A story that deserves to be told, and that feels increasingly relevant given the gender politics of our age. Laurel Ollstein's text captures dialogue that feels natural, and finds room for some play and humor as well. Valentina Fratti directs her cast well, and Quaid's central performance is nothing short of a joy. Of course, the true star is Jerrie Cobb, who's under appreciated life and work finally takes centre stage here. A woman worth knowing about, and a play worth seeing. If you like aeronautics, feminist theatre or a good bio-play, then this is most definitely for you.