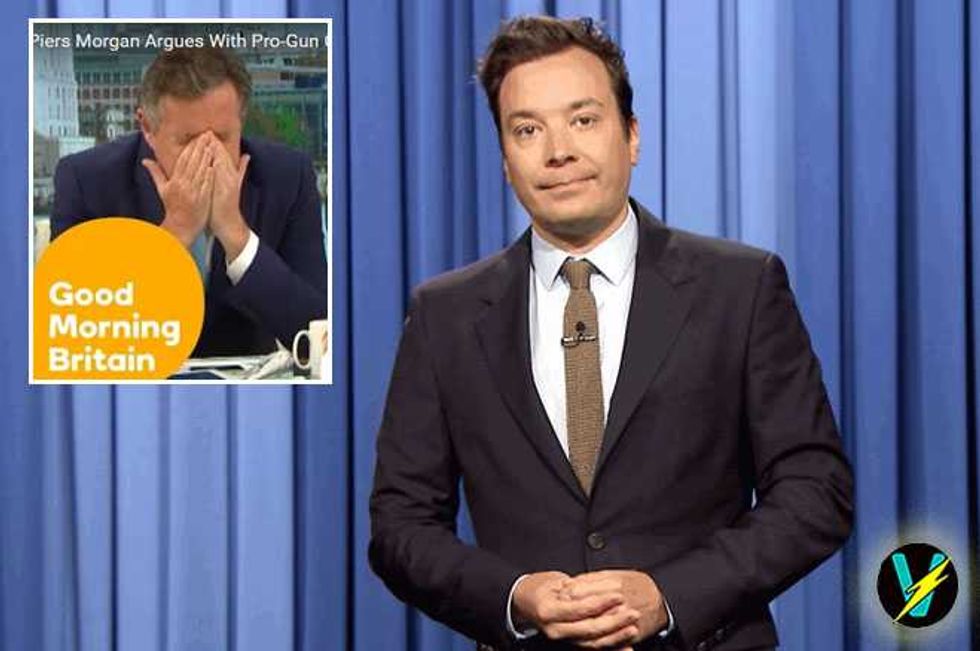 Jimmy Fallon Tribute To Orlando Victims
On Monday's episode of The Tonight Show, Jimmy Fallon paid an emotional tribute to victims of the Orlando nightclub shootings in is opening monologue.
He pretty much summed up the sentiments of hurt and anger that everyone is feeling right now.
"As you certai

nly know by now, early Sunday morning there was another senseless shooting, this time at a dance club in Orlando, Florida.  A dance club.  It left 49 people dead, which is the largest loss of life due to a terrorist attack on US soil since 9/11.

I know everyone is angry right now and doesn't know how to react, and this is a time when people are looking to us as a country and how we will react. This country was built on an idea that we don't agree on everything; that we are a tolerant, free nation that encourages debate, free-thinking, believing, or not, in what you choose.

I, as a new father, am thinking, 'What do I tell my kids?' What do I tell them about this? What can we learn from this? What if my kids are gay? What do I tell them?

Maybe there's a lesson from all this. A lesson in tolerance. We need to support each other's differences and worry less about our own opinions. Get back to debate and away from believing or supporting the idea that if someone doesn't live the way you want them to live, you just buy a gun and kill them. Bomb them up. That is not OK.

We need to get back to being brave enough to accept that we have different opinions and that's OK, because that is what America is built on, the idea that we can stand up and speak our minds and live our lives and not be punished for that, or mocked on the internet, or killed by someone you don't know.

This was just one bad guy here. 49 good people and one bad guy, and there will always be more good than evil.

When I think of Orlando, I think of nothing but fun and joy and families. If anyone can do it, you can. Keep loving each other. Keep respecting each other. And keep on dancing."
The horrific details of Sunday just keep coming.  49 innocent people murdered, 53 injured with six still in intensive care.  The gunman, Omar Seddique Mateen stormed into Pulse dance club and fired randomly, taking hostages before being killed in a shoot out with the authorities some three hours after he began the rampage that changed so many lives for ever.
The 29 year old US citizen had exhibited many signs of disturbing behavior in the past to both work colleagues and his ex-wife—he had even been questioned by the FBI about his extreme views in past years.
Yet he was still able to walk into a gun store and legally buy an AR-15 rifle and a handgun to carry out his slaughter.
---
Read more...
Another Day Another School Shooting—14-Year-Old Injures 4 Students
Snoop Dogg Takes A Stand Against Gun Companies
Company Makes Bulletproof Blankets For School Children
---
Piers Morgan argument...
Piers Morgan, who is well known for his views on US gun laws had a tense interview with pro-gun campaigner Dan Roberts on the UK's Good Morning Britain this morning.
Whatever you think of Piers Morgan, his impassioned arguments about gun violence are spot on.
The Orlando victims
Edward Sotomayor Jr., 34
Stanley Almodovar III, 23
Luis Omar Ocasio-Capo, 20
Juan Ramon Guerrero, 22
Eric Ivan Ortiz-Rivera, 36
Peter O. Gonzalez-Cruz, 22
Luis S. Vielma, 22
Kimberly Morris, 37
Eddie Jamoldroy Justice, 30
Darryl Roman Burt II, 29
Deonka Deidra Drayton, 32
Alejandro Barrios Martinez, 21
Anthony Luis Laureanodisla, 25
Jean Carlos Mendez Perez, 35
Franky Jimmy Dejesus Velazquez, 50
Amanda Alvear, 25
Martin Benitez Torres, 33
Luis Daniel Wilson-Leon, 37
Mercedez Marisol Flores, 26
Xavier Emmanuel Serrano Rosado, 35
Gilberto Ramon Silva Menendez, 25
 Enrique Rios, 25
Miguel Angel Honorato, 30
Javier Jorge-Reyes, 40
Joel Rayon Paniagua, 32
Jason Benjamin Josaphat, 19
Cory James Connell, 21
Juan P. Rivera Velazquez, 37
Luis Daniel Conde, 39
Shane Evan Tomlinson, 33
Juan Chevez-Martinez, 25