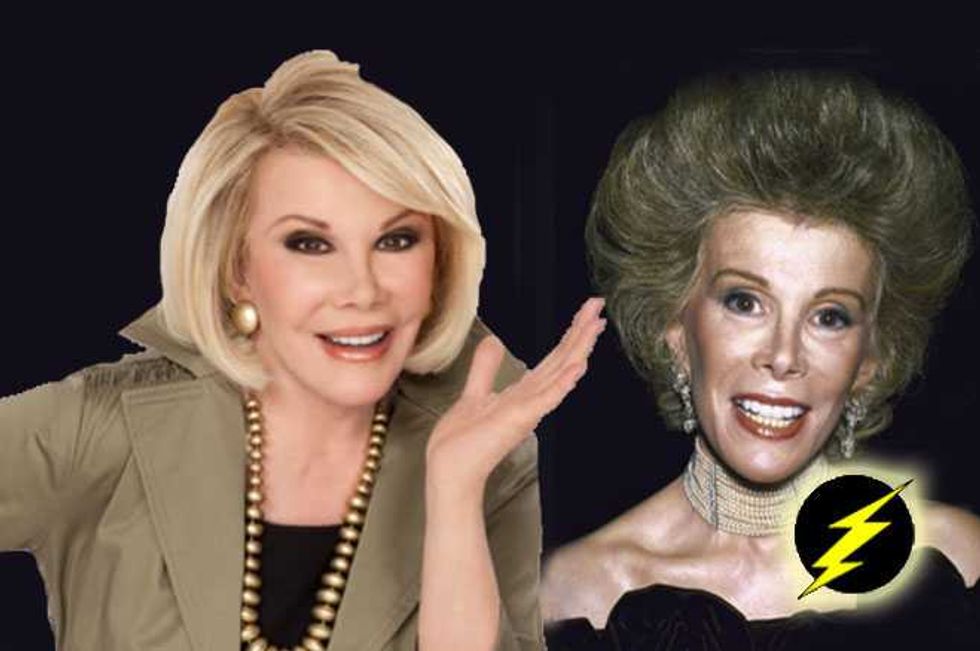 Joan Rivers died today, Thursday September 4, 2014, age 81.
As Popdust previously reported, Joan was rushed to Mount Sinai Hospital in New York, last week after she stopped breathing and then went into cardiac arrest, during out patient throat surgery.
Daughter Melissa announced yesterday, that her mom had been released from intensive care and was being kept comfortable in a private room—sadly, Melissa announced this afternoon, that she had passed away.
"It is with great sadness that I announce the death of my mother, Joan Rivers. She passed peacefully at 1:17 p.m. surrounded by family and close friends. My son and I would like to thank the doctors, nurses, and staff of Mount Sinai Hospital for the amazing care they provided for my mother."
In her later life the comedienne was best known for her acerbic red carpet coverage, co-hosting E! TV's Fashion Police and starring alongside her daughter in the reality show Joan & Melissa: Joan Knows Best? But, she shot to fame as a stand-up, and with her fearless, no-holds barred, in your face brand of comedy, Rivers was a trailblazer who set the stage for many a female comic that followed.
Popdust takes a look back at Joan Rivers' amazing life and career—along with photos.
Born Joan Alexandra Molinsky on June 8, 1933 she made her career mocking Hollywood celebrities – lacerating them just as much as she joked about herself, her insecurities and love affair with plastic surgery.
The Fashion Police co-host once said of herself, "I was so ugly that they sent my picture to Ripley's Believe It Or Not and he sent it back and said, 'I don't believe it'."
Born in Brooklyn, New York Joan began her career in a play portraying a lesbian who had a crush on a character played by future star Barbra Streisand.
But it was making people laugh that had her heart. Back in the 1950s when Joan launched her career in Greenwich Village clubs, however, comedy was a man's domain.
In 2012, she said, "When I started out, a pretty girl did not go into comedy… Comedy was all white, older men. "I didn't even want to be a comedian. Nobody wanted to be a comedian!"
But, not only did Joan make a living at making people laugh, she excelled at it and soon booked appearances on TV.
In the '60s she beamed into the homes of millions of Americans by appearing on The Tonight Show – steered by the iconic Johnny Carson—as well as the legendary Ed Sullivan Show.
By the 1970s she was a regular face in Tinsel Town appearing on comedy and variety shows like The Carol Burnett Show and Hollywood Squares.
For all her talent and success though, Joan's life had tragic lows that left her suicidal.
Despite becoming Carson's permanent guest host in the 1980s they fell out in 1986 when she signed on to host her own talk show on Fox. The former friends never spoke again.
When that gig – The Late Show Starring Joan Rivers – flopped after just one year her second husband Edgar Rosenberg (the show's producer and father of daughter Melissa) committed suicide.
The tragedy left Joan wanting to take her own life by shooting herself. In her last ever interview she told TheDailyBeast.com, "It was about eight months later.
"Melissa wasn't talking to me, my career was in the toilet, I'd lost my Vegas contracts, I'd been fired from Fox.
"Carson and NBC had put out such bad publicity about me. I was a pariah. I wasn't invited anywhere. I was a non-person.
"At one point I thought, 'What's the point? This is stupid'."
Joan said it was her dog that saved her life by jumping in her lap. She said: "I had the gun in my lap and the dog sat on the gun."
Joan's life turned around and by the end of the 1980s she had a daytime talk show, The Joan Rivers Show.
But it was in the 1990s that she carved another niche for herself and won a generation of new fans by hosting the E! pre-award shows, cheekily terrorizing celebrities on the red carpet.
By the time of her death she was the co-host of Fashion Police alongside Giuliana Rancic and Kelly Osbourne.
All along the way Joan maintained a healthy standup career and wrote books including her 2012 New York Times bestseller, I Hate Everyone…Starting With Me.
She was currently promoting her latest book – Diary of a Mad Diva – which pissed Kristen Stewart off so much the Twilight star threatened legal action.
As the comedy world mourns yet another loss, less than a month after the death of Robin Williams, the rest of us are left to remember the tongue lashings and zingers Joan Rivers aimed at celebrities like Kim Kardashian, Kanye West, Chelsea Handler, Jennifer Lawrence and Adele.
Rest in peace Joan.