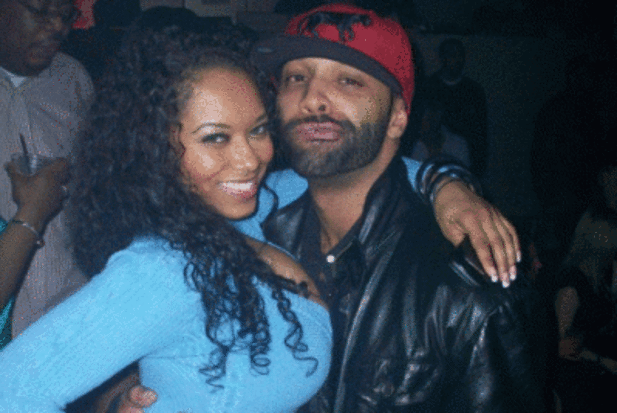 It's your typical hip-hop love story, really. Rapper falls for video vixen. Rapper and vixen move in together and try to start a family. Rapper and vixen get into altercation, leading to a miscarriage and an arrest. Rapper releases song describing incident in great detail and accusing vixen of cheating with NFL running back. Rapper calls into radio station to respond to vixen's allegations of him being a wife-beater and a murderer. It's been an absolutely ridiculous saga between Joe Budden and Esther Baxter this year, and this last part was perhaps the craziest yet, as Budden called in to New York hip-hop station Hot 97 to talk with DJ Funkmaster Flex about Baxter's recent statements about how Budden's abuse of her led to the death of their unborn daughter.
The interview started on awkward enough footing, as Flex brought up a past beef which he and Budden supposedly had related to the rapper's recent feud with the Wu-Tang Clan, which he casually laughed off, despite Flex making it clear that he thought there was legitimate bad blood there. He went on to discuss "Ordinary Love Shit, Pt. 3," the song that first aired out all his drama with Baxter, and addressed Baxter's allegations, saying "I never ever ever ever EVER hit her....I'd never do that to her." As for the photos that Baxter posted, supposedly showing the bruises that Budden inflicted upon her, the rapper was unmoved. "I'm a man," he explained. "If I woulda beat you, you'd be in the ER. Something would be broke, something would be hurt." Uh, touché.
The weirdness continued throughout, as Budden cited an incident with Baxter refusing to talk to him over Skype as the smoking gun in her cheating on him ("I'm like, the SLS is a damn near five-star hotel. You tellin' me the wi-fi's down?"), expressed sympathy for Chris Brown ("He really got put through the ringer") after undergoing a mini-twitter feud with the R&B singer, and unconvincingly claimed that the breakup was a "piece of cake" compared to his split years back with model Tahiry, saying "I just needed to detach myself—thank God I'm good at that." (Both quotes caused Flex to giggle incredulously, an extremely understandable reaction.)
Check out both parts of the interview below, and if you've missed "Ordinary Love Shit, Pt. 3" thusfar, be sure to rectify that situation as well underneath.
Part 1:
Part 2:
"Ordinary Love Shit, Pt. 3"