According the the actor's rider, details of which have been revealed to Page Six, The People V. OJ Simpson star allegedly has a few very specific demands when he stays at a hotel.
Lark Voorhies Urges Obama To Arrest John Travolta For Sexual Assault
The source reveals that amongst his requirements;
Every hotel room he checks into comes complete with a male masseur.
And that the windows must be blacked out with "aluminum foil and dark curtains".
And he brings his own sheets.
And the room also has to be vacant for 24 hours so that he is not forced to inhale the scents of previous guests.
Ha!
Just days ago, The National Enquirer interviewed a male massage therapist named Edward who claims to have had a 'gay tryst' with the Grease legend. He dished that he gave Travolta a 'happy ending' and even had sex with another A-list star in 2011. Sadly, Eddie didn't cough up the other name though.
Travolta And Gaga—Is There A Creepy Motive To Their Friendship?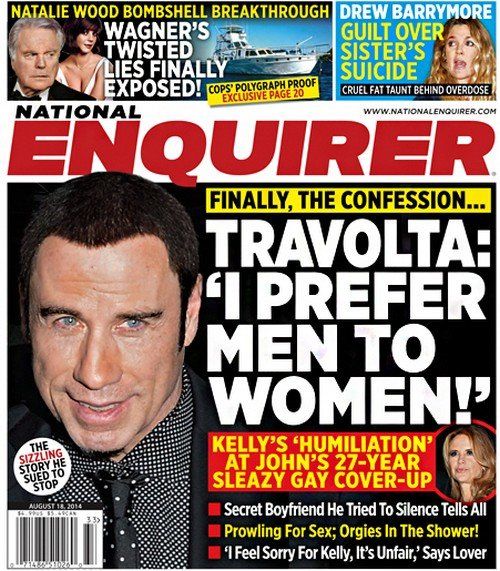 www.celebdirtylaundry.com
If it looks like a duck...

Rumors of Travolta's sexuality have been circulating from way back, and full on claims have been out in the open after a number of lawsuits were filed against the Pulp Fiction actor.
In 2012, two men sued Travolta for sexual battery lawsuits in court—both men were represented by high profile attorney Gloria Allred.
The first man, known simply as Jon Doe 1, claimed that Travolta groped him at the Beverly Hills Hotel in January 2012, the same month that the second alleged victim claimed the actor groped him at a hotel in Atlanta.
Official court documents state alleged victim number 2 claims;
"Travolta suddenly turned on his stomach with his legs wide open with a full erection. He then tried to force Doe Plaintiff No. 2's hand on Travolta's scrotum. Then, Travolta started to grab, rub and caress Doe Plaintiff no. 2's upper thighs and buttocks.
Travolta still had an erection and wanted his abdominals done, but Travolta's erection was in the way and he refused to have his penis covered by a sheet of a pillow case cover...Travolta started masturbating with about 15 minutes left in the session, and Doe Plaintiff No. 2, said he had to go."
John Travolta Speaks Out About The Whole Adele Dazim Thing
John Doe 1 and John Doe 2 eventually dropped their suits and Allred said:
"We believe that the lawsuit should be filed in another court and, therefore, the lawsuit was dismissed without prejudice. We will be conferring with our client regarding what will happen next in this case."

All at sea...
Three years prior to those claims, John was apparently getting freaky at on a cruise.
In 2009, Royal Caribbean International employee Fabian Zanzi accused Travolta of sexually harassing him.
In an Employee Discipline Form, which was obtained by TMZ, it claims;
"According to his own statement, Fabian proceeded to a guest stateroom to deliver a room service order as instructed by his supervisor. While in the stateroom the guest invited Fabian to take a seat to talk for a few minutes. Fabian accepted the offer and sat for a few minutes. When he stood up to leave the stateroom the guest asked him to give him a neck massage. Fabian clearly stated that he did so shortly and then told the guest he needed to leave."
From there, the encounter escalated. "According to Fabian, the guest then told him he was a beautiful person and invited him to return to visit him later that night. Fabian explained that he couldn't do so due to the strict company policy and despite the fact that the guest insisted, he left the room."
Tom Cruise And David Miscavige's Super Creepy Scientology Bromance
Travolta's lawyer Marty Singer said at the time; 'The incident report now confirms Mr. Zanzi fabricated his story about my client. He never stated that my client did anything wrong. Obviously, if he had engaged in any inappropriate conduct he would have reported it to his supervisors."
Zanzi has since dropped the lawsuit.
That's not all...
Plus of course there were the allegations from Travolta's former pilot Douglas Gotterba that he and his boss had enjoyed a six year sexual relationship. A lawsuit around a confidentiality agreement between the pair was due to come to a head in a courtroom face off in July 2014, but was suddenly dropped just one week before the court date.
So far Travolta hasn't commented on his purported rider requirements...
FYI—we think the aluminium foil may be to prevent the sun's rays affecting the wax and the weave?
ex