Jon McLaughlin paints a moody, vivid portrait on his forthcoming new album Like Us—it's sometimes heartbreaking but always honest. In many ways, it's a concept album on relationships, as he threads in his own emotional journey, too, with his wife Amy and two kids, Luca and newborn Liv. "I know you bring me to my knees. I know you're way out of my league," he sings passionately on the instant download track I Want You Anyway. The other song available upon pre-order is the poignant Before You, a haunting, ethereal performance that allows McLaughlin to tap into the sweet spot of his voice and musical instincts. "That song is such a good representation of the entire album as a whole," he shares with Popdust in an exclusive interview.
Like Us, which drops everywhere Oct. 9, is (creatively) the next logical step in McLaughlin's artistic evolution. "I would say I'm a piano player first, and I've always tried to bridge the gap. I have some records that are a little more singer-songwriter-leaning," he says. "My first record 'Indiana,' that's pretty [much in that lane], I would say. It's heavy on piano. I love the record, but it was my first one. Of course, years later, I think I would love to go back and make some changes. My second record 'OK Now' was very pop-leaning. It's definitely not as piano heavy. I really feel like this new record is definitely the best. It's like those two [previous] records came together."
Enlisting the talents of producer John Fields (who also produced OK Now), the singer was able to really dig into exactly what he wanted to say. "He's an insanely genius musician and producer. It was the most fun I've ever had in the studio. He and I were just on the same page. The songs are great. I spent a little more time writing this one than I did on my last record. It felt like the bar was set a little higher. One of the things I'm most proud of is I feel both sides of my personality (the classical pianist in me and the pop guy) are represented."
Speaking of "the classical pianist in me," he explains that he had to really strip back to the basics, in order to rediscover his piano man. He explains, "When I signed with Island/Def Jam back in 2005, they actually wanted to dumb down the piano side. They wanted me to not be labeled as just 'the piano guy.' I definitely understand that, but it's such a part of my music and the way I write. In the latter part of my career (so far), I've been trying to break into that box a little more. Rather than me trying to go out on the road and show people, 'hey, I'm not just a piano player,' I feel like the past few tours I'm actually saying 'hey guys, I AM a piano player.'"
While Like Us melds together two vastly different musical spheres, at its core, it's a grounded, authentic relationship arc. "I wanted to write an album that was all about relationships, not just love songs," he says. He then focuses the lens on his own story, which resulted in 11 powerful tracks that zip along with intensity and inescapable vulnerability. "I've been married nine years now, almost 10. My wife and I just had our second baby; it's crazy. I feel like I'm 20 years old and have two kids. I wanted to write a record that represented our relationship (and not just ours) but also dedicated to all the different angles, the ups and downs, the emotions."
He continues:
"[I didn't want] to write songs just about the day you met, you know, the feel good love songs. Although, those are on there, as well, of course. That's obviously a big important part of love. But you ask anybody that's been in a relationship (for any length of time), you know that it's so much deeper than that."
The album also touches upon some of life's more challenging moments. "There's a song called 'Down in History.' It's about how some days you're gonna have to go the extra mile," he says. "In a good relationship, each person is giving it their all every day. Some days, the other person is maybe not feeling it, so you're gonna have to fight for it that day."
Elsewhere, McLaughlin tackles the difficult, often painful, topic of divorce, with the closer Walk Away. "There's a lyric that's actually in [that song] that goes, 'we can take all of our stuff and divide it all in half, for so much was given that can not be taken back.' That would be a lesson for my younger self," he ponders of the one thing he wishes he could tell his 20-something self. "Any relationship that you have, you have to know that you are truly giving things to this other person. You are investing things that you can't just take back. Every relationship you have makes an imprint on you. That lyric is talking about tangible things, but you aren't walking away the same person as you were when you walked in."
More on Walk Away, he shares the backstory (which also happens to be his biggest lesson on heartache), "Anybody who is familiar with my music knows I am a sucker for a sad breakup song. I actually wrote [the song] about some friends of ours that have gone through a divorce. Anytime you get your heart broken and it knocks down on your knees, it strips away all the delusion. It makes you see things for what they really are. You walk away from any hard breakup learning a few things about yourself and how to love somebody better or co-exist with them."
Of course, McLaughlin and his wife's journey hasn't always been smooth sailing, but he does confess she taught him tremendous things about life. "The guy I was when we started dating compared to who I am now, it sounds cliche, but I didn't know anything then. I just didn't know about how women thought. I'm not saying I'm an expert now, but Amy is an insanely considerate person," he says. "I mean that in all senses of that word. I've never met anyone else who is as aware and concerned with other people's feelings as my wife. The biggest thing she has influenced me on is simply being aware of others. We started dating a long time ago; I was pretty young. I think any person naturally becomes less and less selfish as you get older. Her teaching me that and teaching me how to be aware of other people and to actually be genuinely concerned has helped my writing, too. It opened up my perspective on different things. She has had a profound impact."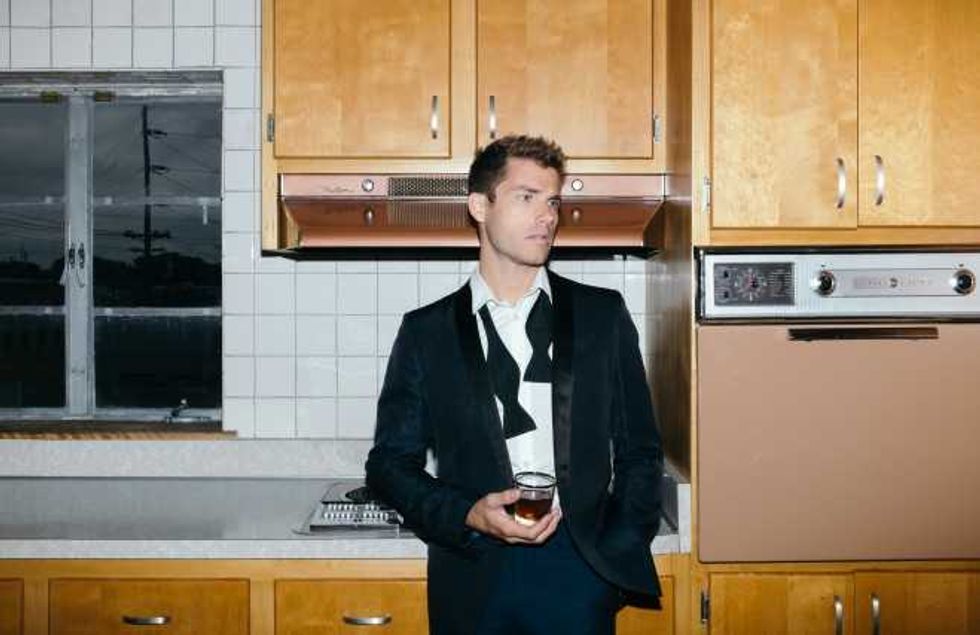 Last month, the loving couple welcomed their second daughter Liv into the world. Simply put, fatherhood the second time around is a bit different. "The first time, you have some white knuckles, like 'here I go, I have no idea what to expect.' The second time, there's still a little bit of that but also sort of remembering the first child and that part of not getting any sleep, at all, for awhile. But this is it for us," he says, admitting that they have the perfect little family. "We have our two girls and our family of four. The really cool thing about Liv is I feel like I'm really cherishing everything and letting it soak in a lot more. It's like with anything. When you go up on stage and play your first show, you're just trying to keep up with the moment. The second show, you can breathe more and let it sink in."
Recently, McLaughlin took part in a Tom Petty tribute concert at Nashville's City Winery and performed Don't Do Me Like That. "Tom Petty and the Heartbreakers have that documentary called 'Running Down a Dream.' It is amazing. My band and I used to have that documentary on loop when we were on the road. It's like a five-hour documentary. Tom Petty isn't an obvious influence on my music, but as a songwriter, he's really been a huge influence. He's the king of saying 10 things in one line in a very simple way. It was a great night," he says of the honor. "It was kind of cool to get up on stage and pay tribute to him. To be here in Nashville and be a part of something like that with a bunch of other artists was amazing."
In support of Like Us, McLaughlin has a string of shows already mapped out, beginning Oct. 15 in Dallas. "We start there, and we're hitting all the major markets. I think we're playing about 30 shows from October to December," he says. "Everything we do, we're planning about six months out. As I'm putting together the band for the tour and the setlist and figuring out what the show is gonna be, we're also looking at the spring and figuring out what that tour is gonna be like. There's a lot of touring coming up."
Nearly eight years ago, fans might remember McLaughlin's contribution to the Enchanted blockbuster, starring Amy Adams, Patrick Dempsey and James Marsden, with a song called So Close. Following the box office success (and subsequent soundtrack triumph), the singer went on to perform the song live on the Oscar ceremony. Looking back, he recalls the experience, "I remember we were in LA for a week, and we were doing rehearsals leading up to the Oscars. We spent the whole week in the Kodak Theatre. We would rehearse with the whole orchestra. That entire week was just as amazing as the one night. Like I was saying, when you do your first live show, I was just trying to soak in every moment of that whole night. As a musician, I spent my whole life thinking about going to the Grammys. Then, all of a sudden, this thing comes out of the blue, and I find myself there at the Oscars. It's the most nervous I've ever been, for sure."
Make sure you pre-order Jon McLaughlin's Like Us album on Apple Music.
Stay tuned for Jon McLaughlin updates. Be sure to follow @Popdust and @JasonTheScott on Twitter!