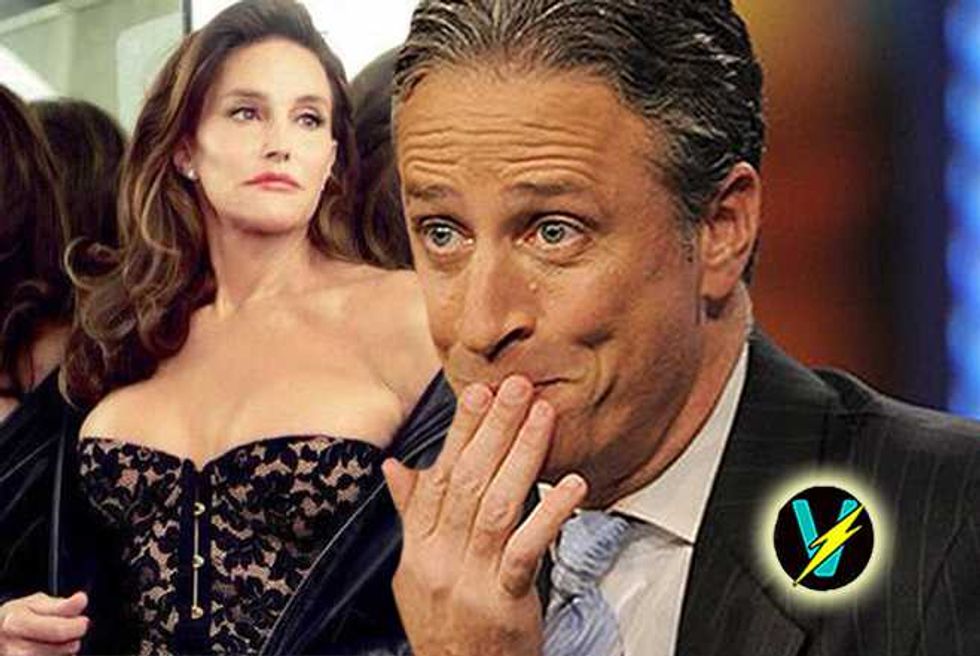 jon stewart sexist caitlyn jenner
Jon Stewart nailed it—as usual—with his take on the sexist media coverage of Caitlyn Jenner's big debut.
As Popdust previously reported, Bruce Jenner bid farewell forever to his male persona, and introduced the world to Caitlyn, the result of his female transition, on the front cover of the July issue of Vanity Fair.
Rose McGowan Slams Caitlyn Jenner For Showing Off Her 'Male Privilege'
Surprisingly, the majority of mainstream press, including even Fox News, reported the bold move in a positive light—hailing Caitlyn as "brave" "inspiring" "courageous" and calling her "a hero" for going public with the story of her struggle and transgender journey.
But, it was all about how she looked, what she was wearing, how sexy she is compared to other women, scrutinizing her outfit, her figure, her hair, makeup—the usual male critique bullshit that women are subjected to day in, day out.
Caitlyn Jenner Confronted By Protesters —Do They Have A Point?
A fact that wasn't lost on Stewart, who skewered the coverage in his usual humorous, sharp, hilarious way.
"It's really heartening to see that everyone is willing to not only accept Caitlyn Jenner as a woman, but to waste no time in treating her like a woman," Stewart kicked off the segment.
We Are Cait—The Caitlyn Jenner Effect™ Continues!
As evidenced only too well in a montage of clips Stewart played including various pundits discussing Caitlyn's transition, with comments like, "wow! so sexy it hurts"
"I got a couple of emails from friends yesterday saying, I feel a little jealous, she looks better than I do!"
"She looks like a movie star!"
"She looks like Rita Hayworth, so glamorous!"
"She's stunning, looks so beautiful"
Ellen Is Confused By Caitlyn Jenner's Same Sex Marriage Judgement
"Look at that! That is a hot woman!"
"Yeah, Caitlyn is hot... sexy... boobs.."
"Yeah, I mean, my mind was all like, this is a great milestone for the transgender community, but my penis was all like, yeah...titty-fuck!" Stewart mocks.
"You see, Caitlyn, when you were a man," he continues. "We could talk about your athleticism, your business acumen, but now you're a woman, and your looks are really the only thing we care about.
"Which brings us to stage two of your transition—comparable fuckability."
Why The Fuss About A Caitlyn Jenner Halloween Costume?
Cue yet more pundit discussions...
"I think she's look a lot like that chick from American Horror Story, Jessica Lange.... who's hot!"
"Do you think Caitlyn is actyually hotter than Kris Jenner?" and "I have to ask the most important question... does she have a better body than Kim Kardashian?"
"Look, we want to give a woman a compliment here," Stewart interjects, "We just need to make sure another woman gets taken down a peg in the process..it's how we maintain the balance. Well, we're almost all the way there... let's complete the transition.
"She looks good! I mean, specially for her age," opines one male pundit.
Caitlyn Jenner Helps Trans Homeless Pals
Bingo.....that good old backhanded compliment, especially for her age....
"There you go!" Stewart jumps in. "That's the caveat we were missing: Remind her she has an expiration date now! You came out at 65, you've got another two years before you become invisible to society. You better make the most of therm.
"And, you know what, as it's a special day, why don't we throw in a little slut shaming with a dash of, blah, she's probably not that hot in person..."
Caitlyn Jenner Pimps Out Her Plastic Surgeons As Backlash Simmers
"What about the outfit?" another female pundit weighs in. 'It's a white satin corset. Very Playboy bunny-esque. It show the amazing affects that makeup can have though."
Ok, and I'm wondering how much of this is photoshopped," a male counterpart interjects. "How much of this is airbrushed..."
"I mean, you take away the corset and the makeup and I don't know if anyone wants to bang her!" Stewart quips. "So, Caitlyn Jenner, congratulations on becoming a woman!"
The World's First Transgender Modeling Agency
So very funny, yet so very true, and so very, very sad…
I mean, let's face it, as any women in the spotlight knows only too well,  she better keep her "curves in check" her makeup perfect at all times, her hair constantly perfectly styled, and be very aware that whatever she wears from now on will be subjected to full on critique....too slutty, too frumpy, too young, too old....too just... whatever.....
The Saga Continues: Bill O'Reilly Challenges Jon Stewart to Debate of Common's Vileness
Surely, it will be no time at all before Caitlyn comes to the realization that it really is a man's man's world...especially when it comes to earning 77 percent less than her male counterparts....
ON A SIDE NOTE: Goddammit I love you Jon Stewart...