Humor
"I'm not good at being famous," Hill said at his "Supergood" event at NYC's SIR Stage 37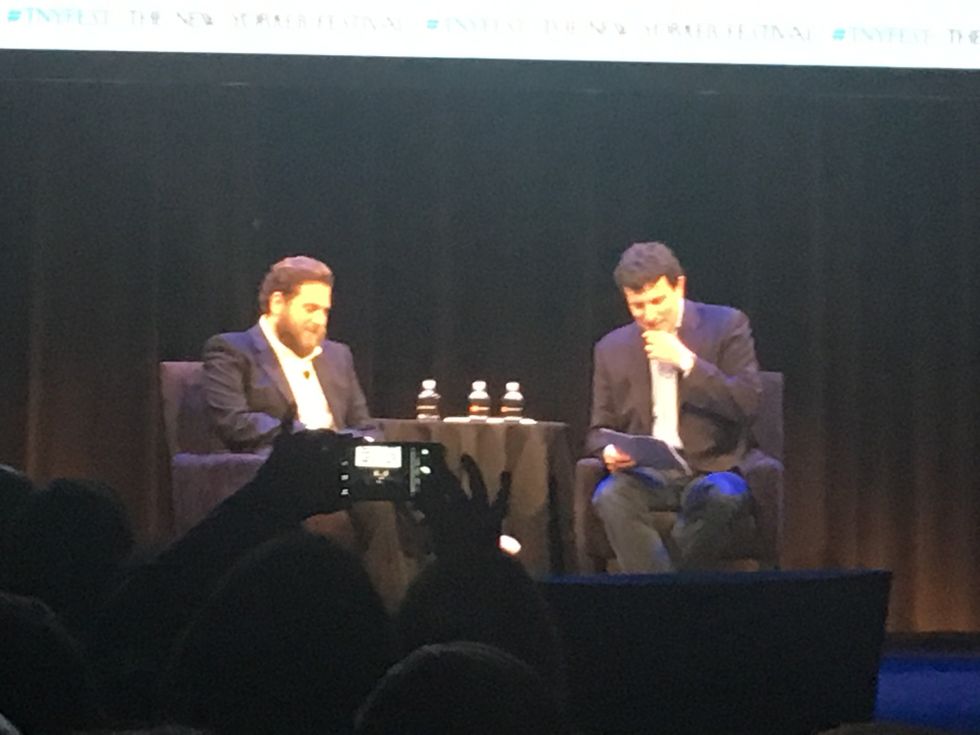 Jonah Hill joked last night that this morning he would wake up to dozens of conspiracy clickbait articles as to why he was sweating last night at the New Yorker Festival: "Jonah Hill Found Sweating Profusely After Drug Binge and Wild Orgy." But that couldn't be further from the truth. Actually, the "Superbad" star was nursing what he claimed to be "like a 104 fever" while talking with David Remnick, editor of The New Yorker. That wasn't the first misconception that people have had about Jonah Hill.

To start, Remnick, in a rare lapse of journalistic perfectionism, misreported that Hill went to Bard College. "I wish I had gotten into Bard," Hill responded. The 32-year-old Jewish L.A. skateboard fanatic spent a year at Boulder (an investment his mother referred to as "her $40,000 sweatshirt") before transferring to the New School, where he wrote obscene one-act plays that ended up banned -- one such play being about Hitler's college roommate. His forbidden plays gained major popularity among students at the East Village bar, Black and White.
Acting was not one of Hill's initial goals, but he dreamed of writing and directing. He was entranced by Martin Scorsese's Goodfellas, and cited it as a film that affected him as strongly when he was nine as it did when he was thirty-two. His major acting break came when he met Dustin Hoffman's sons and would entertain them (and later Dustin himself) with prank phone calls. One of his favorite stunts was calling a hotel as "Tobey Maguire's assistant," asking if the hotel could accommodate Maguire's ridiculous requests: one being that Maguire liked to travel with "mid-size dogs that were actually aquatic." And most of the time, the hotel clerk was agreeable, no matter how bizarre the request. Anything for a celebrity. It's a trick that he still does now to practice working on his characters.
Hoffman overheard one of these calls and was able to arrange an audition for Hill for I Heart Huckabees, in which the terrified Hill was granted a tiny role among some of the biggest stars in the industry. From there, Hill met Judd Apatow and his career took off.
"Superbad" was what Remnick's son described as a millennial cult classic. Papa Remnick asked if Hill was ever annoyed by the perception that people have of him in his less "serious" roles. He doesn't resent this perception because he gets to play all different types of characters, especially those he played in "Moneyball," "The Wolf Of Wall Street," (where he finally got to work with his hero!) and most recently, "War Dogs."
Hill said, "I don't smoke weed." He's already an anxious guy, he said, pointing to his sweaty shirt, and therefore doesn't need any more paranoia.
Perhaps the most surprising fact of the night to learn was that Jonah Hill is not always funny. While he got famous for his comedic roles, he has breakups too, and doesn't always feel like cracking jokes. He has a tiny sick twinge that he might win an Oscar one day, but the thought is immediately buried in self-doubt. He said to the crowd, "I feel like I'm being boring," and wondered how much The New Yorker would refund us for our tickets.
When asked about his relationship with the media, Hill said, "We're dating, but we're not exclusive." Of course he's hurt by the sting of the media, and was able to sum up the feeling profoundly: "Creative people are the least suited to being creative." He claims they are the most sensitive people, and the least capable of taking criticism. After reading a bad review or seeing negative comments online, Hill says he usually cries in his bed for a day and a half. "I get hurt by shit all the time."
The sweetness of Hill, which I think we can all love about him, is that he remains humble throughout the fame. He's still best buddies with Michael Cera, and is eternally grateful to Apatow for teaching him to laugh, Scorsese for teaching him how to combine technicality with emotion, and Bennett Miller for teaching him the most important advice of all: "the words don't matter."
What's next for Hill? He's achieving another lifelong dream of directing his first film, "Mid '90s", about a 13-year old who falls in love with the world of skateboarding in L.A. That's the work that really means the most to him: the work that gets him back to his roots. He's not out for the glitz, the fame, or the girls. He's out to show you he doesn't smoke weed, and he sweats a lot.