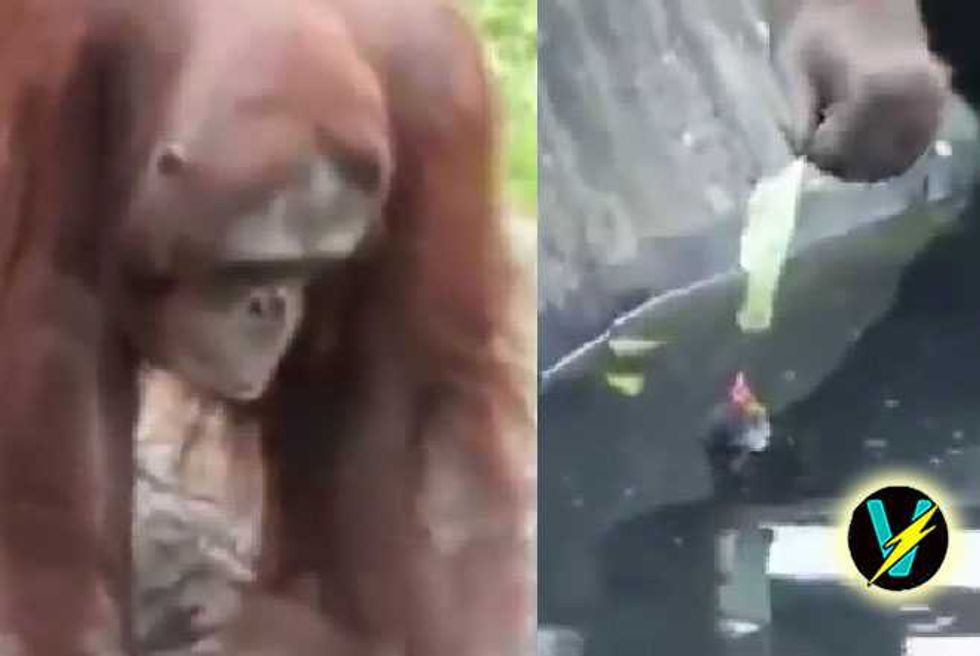 This orangutan saving baby chick drowning video is just adorable
OK, you can move along now folks..nothing worth seeing here... just an adorable video of an orangutan saving a baby chick from drowning.
Yeah, that's all.
It all went down at the zoo one day.
The orangutan was just hanging out—doing orangutan imprisoned in a zoo enclosure kinda stuff.
Picking his nose, scratching, licking some rocks...You know, just the regular run-of-the-mill orangutan things.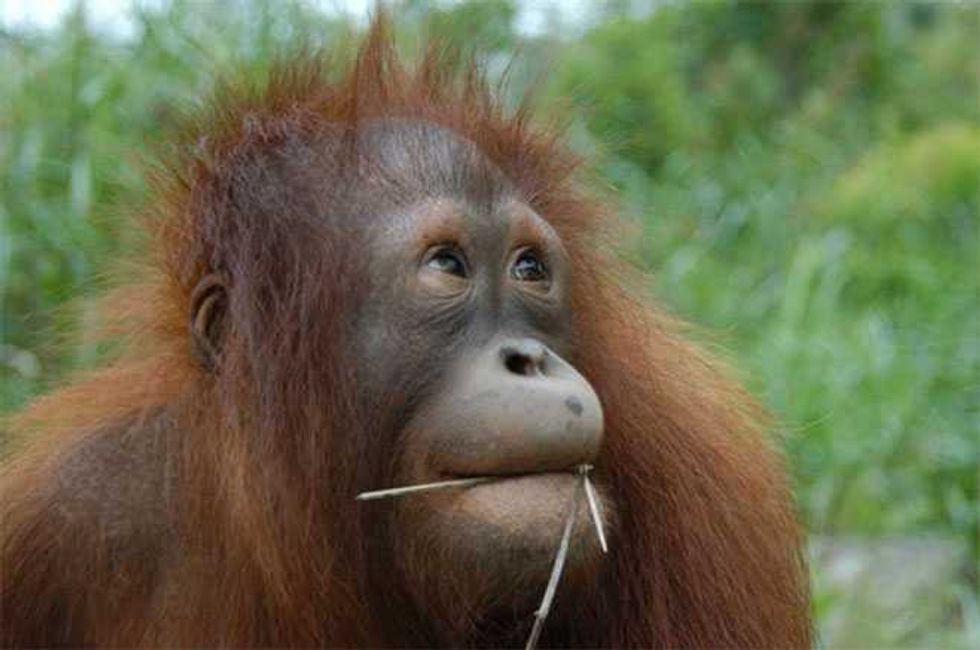 When suddenly, the orangutan notices a little, tiny, baby chick struggling in the water below.
The chick is drowning in the water as it fights to stay afloat.
Oh shit son!
But never fear, an orangutan is here!
And, he's going to save the day—as well as the little, tiny baby chick's life.
The quick thinking and resourceful ape quickly springs into lifeguard action—picking a leaf from a nearby branch and bending down to the water.
Then, the orangutan patiently and gently guides the baby chick out of danger, using the leaf to push the little bird to safety.
And, once the little chick is back on dry land the orangutan carefully strokes and pets it until he is sure the baby bird is OK.
At one point it even looks like the ape is attempting to perform CPR—but, we're pretty sure he's just prodding the bird to see if its alive still.
Oh, and for one heart stopping moment, it actually looks like the orangutan might be about to bite its tiny head off, as he picks the baby bird up and guides it towards his mouth.
But nope—this is a caring, loving, bird saving orangutan!
And sure enough, he just wants to give the little, tiny, baby chick a gentle kiss.
Talk about adorable overload.
For more entertainment, music and pop culture updates and news, follow Max Page on Twitter
Kittens Puppies Koalas Sloths Bunnies! Cutest Animal Video Ever Alert!
Cute Young Tiger Found In Texas Wandering Along The Street!
Watching Sleeping Pig Wake Up To A Cookie May Make You Rethink Bacon
This orangutan saving baby chick drowning video is adorable
All We Want To Do Is Watch This Adorable Guinea Pigs Eating Video
Micro Pig Twerking To Rihanna's Work Is Perfect Way To End The Week
Florida Dolphin 'Lover' Says Dolly The Dolphin Seduced Him—Yep Really
Costa Rica Stray Dog Shelter Is Heaven On Earth For Canines
ChaCha The Chimp Makes Desperate Break For Freedom From Japanese Zoo
Stop What You're Doing And Watch The Cutest Sloth Video Ever
orangutan saving baby chick drowning video is adorable