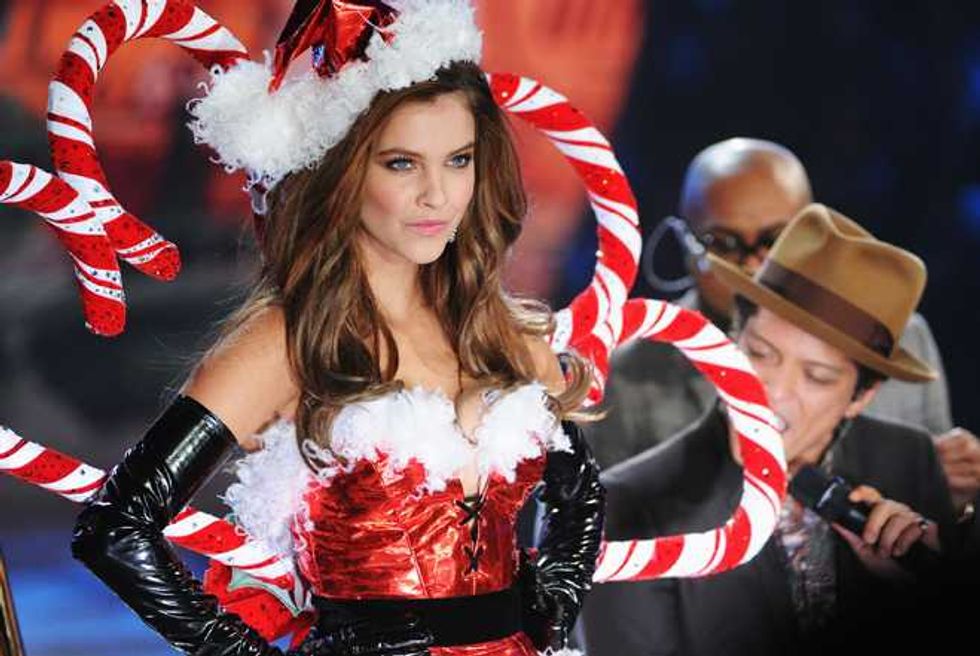 Victoria's Secret model Barbara Palvin is either having a really good week or a terrible one. The model is rumored to be Justin Beiber's new love interest after he and Selena Gomez recently called it quits. It's even been speculated that the romance began long before Bieb-Go officially split. Puppy love gone awry? Home-wrecking lingerie models? Sounds like the makings of an epic telenovela.
Bieber and Barbara backstage at the recent Victoria's Secret Fashion Show in New York
Barbara Palvin/Twitter
The Hungarian model made waves in the fashion world, garnering top spreads in glossies like Harper's Bazaar and the Victoria's Secret catalogue. She's also been photographed by noted photogs like Terry Richardson, and is the face of both Calvin Klein's Euphoria fragrance and Chanel Beauty.
Barbara takes a seat backstage before the Victoria's Secret shenanigans begin.
Getty Images
Giving us that "ever-so-popular/ever-so-seedy" Instagram glam shot a try.
Barbara Palvin/Instagram
Palvin showing some major leg on the "pink carpet."
Getty Images
Though until now, she hadn't quite unlocked the code for mass fame. Some Beliebers not wanting to accept the fact that "Bieb-Go" is no mo,' have already went a little H.A.M. on the beauty. So much so she's had to respond to the outcry twice on Twitter...
Clearly. The Beliebers are getting to her. And in case you didn't get the message the first time...
In model speak, that hashtag and smiley face mean business.
Yikes. We imagine Palvin has gotten the digital equivalent of pitch forks and angry townspeople chanting "off with her head." However, she's firmly admitted that nothing is going on and she and the Bieb are just really good friends. Perhaps she really is just another fan? Time will tell. Our only issue is if they are indeed a couple, what the hell do we call them? Bieb's Pal? Barb and Biebs? Yeah…we'll get back to you on that. Bummed about this breakup? Then have a good cry and take a stroll down memory lane with our slideshow.
Check out more images from the Victoria's Secret Fashion Show.