Trending
I mean it's nice and all that, but really?
Justin Bieber's Dad is incredibly proud of the size of his son's penis...
Am I missing something here?
Being only the parent of girls, I sent a quick query to my friends who are fathers to sons....
"Are you proud of your son having a big dick?"
Once they'd recovered from the shock of such a random question on a Tuesday morning (maybe I should have given them some context first), the general consensus was, that as their lads grow up, it's not something they look at—in fact they'll try to avoid it if at all possible (probably for fear of being shamed). And even if they did get a full frontal view, it is most definitely NOT something they would allude to on social media!
So apparently I'm not alone in thinking Justin Bieber's dad, Jeremy's latest comments on his son's junk is taking it too far yet again, and it begs the question;
Just wtf is Jeremy Bieber's deal with his son's penis?
Biebs is currently enjoying a Hawaii vacay with his girl of the moment, Sahara Ray. Having had a simmering rivalry with Orlando Bloom (over Miranda Kerr and Selena Gomez) for some years, when pictures emerged of Bloom naked paddle boarding with his (suitably attired) girlfriend, Katy Perry, Justin couldn't let the opportunity for a dig pass.
Making sure he had the bigger dick of the two of them (who wouldn't), Justin and Sahara frolicked around on the beach naked, first calling the paps to ensure Justin's junk was captured in all it's glory. Hey, boys will be boys, and of Biebs wants to get into a literal dick swinging contest, it's up to him.
---
READ MORE ABOUT THE BIEBS...
ManCrushMonday—Justin Bieber Is Yummy—Too Sexy For His Shirt
Justin Bieber's Dad Is Bursting With Pride Over His Son's Super Size Schlong
Justin Bieber Gets His Wisdom Teeth Pulled—Apologizes For Naked Photo
---
But what is super weird is his Dad's proud drawing of attention to the size of his son's penis following the publication of the photos!

He tweeted (and later deleted) a pic of a cactus with the caption "my boy", and he has also posted a photos on Instagram of the Toronto CN tower, and tagged Justin in a clear reference to the length of his manhood.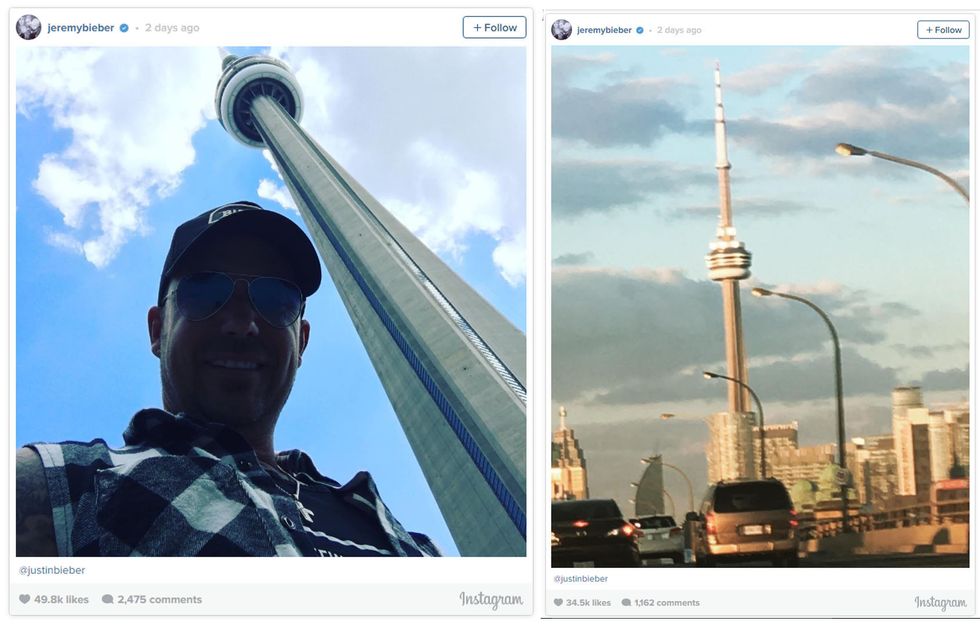 Jeremy Bieber's proud posts about his son...
Ewwww.
You could JUST about give Jeremy the benefit of the doubt that he was just pointing out a landmark if it was the first time he had alluded to his son's dick on social media—but it's not.
Last year when a full frontal of Justin in Bora Bora appeared, his dad tagged him in a post asking;
"What do you feed that thing?"
He even added the hashtag; #proud daddy.
Now I get that all fathers like to be proud of their sons. But bearing in mind the career Justin has had, it's not as if Daddy Bieber has to scrabble around to try to scrape up a morsel of achievement to be proud of.
Jeremy has always celebrated his famous son's career and so he should. But why the hell does he feel the need to publicly celebrate his son's penis size too? I mean a huge dick is just a quirk of nature, it's not something that has been worked at to achieve!
It's just weird. Creepy. Awkward.
Beyond cringe. But then again, Justin Bieber is a huge cock so I guess it runs in the family...