For some reason Justin Bieber decided to subject himself to a comedy roast (quite why anyone would do this is beyond us).
The four hour roast was taped on Saturday night in Los Angeles and was led by Roast Master Kevin Hart.  Also in attendance was the singer's nervous mom (glutton for punishment) and a celebrity audience.
Podium guests included Hannibal Buress, Chris D'Elia, Pete Davidson, Natasha Leggero and experienced roaster Jeff Ross. Making guest appearances were Shaquille O'Neal, Martha Stewart and Snoop Dogg.
With nothing off limits, his celeb friends let him have it. Big time.
It kicked off with Kevin Hart saying;
"This is possibly the beginning and the end for Justin Bieber"
The firing squad then took turns to shoot Bieber down, taking jabs at his brushes with the law, egging incidents, his Canadian roots and of course his ex Selena Gomez (who wasn't in attendance unsurprisingly).
Here are a selection of the best jokes;
"You're about to get fucked harder than Orlando Bloom fucked Selena Gomez."

"You acted so much like a pussy on that show that Ellen [Degeneres] tried to eat you."

"It seems like only yesterday you were discovered on YouTube. Time flies when you're a piece of shit."

"Selena Gomez had to fuck you. She is literally the least lucky Selena in show business."

"Justin Bieber really does have it all. I'm serious. He has a dick and a pussy."

"My castmate on SNL, Kate McKinnon, does a perfect impression of Justin. Right down to the clit."

"Justin's Canadian. He's actually considered America because no Canadian's ever been this much of an asshole."

"There's even a wax figure of Justin in Madame Tussauds in London. I've seen it, he's face down in a wax Usher's lap."
Snoop had no problem getting in the mood, lighting up a joint on stage and admitting;
"I don't need a warmup! I've been smoking and drinking' I feel real good"
He then proceeded to drop the 'n' word at least 20 times—don't expect to see that in the edited version broadcast on March 30.
Kendall Jenner and Kourtney Kardashian were in the front row of the audience and managed to smile gamely when there were a few quips about Bruce Jenner.
Martha Stewart proved to be a surprise hit, saying she was there to give Justin tips for when he "inevitably ends up in prison" and offering to teach him how to make a shank.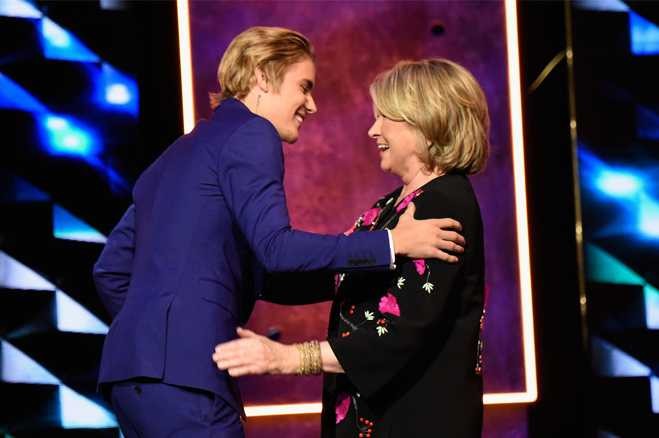 The biggest laugh of the night however was nothing to do with Justin—everyone cracked up when they saw Hart and Shaq standing next to each other!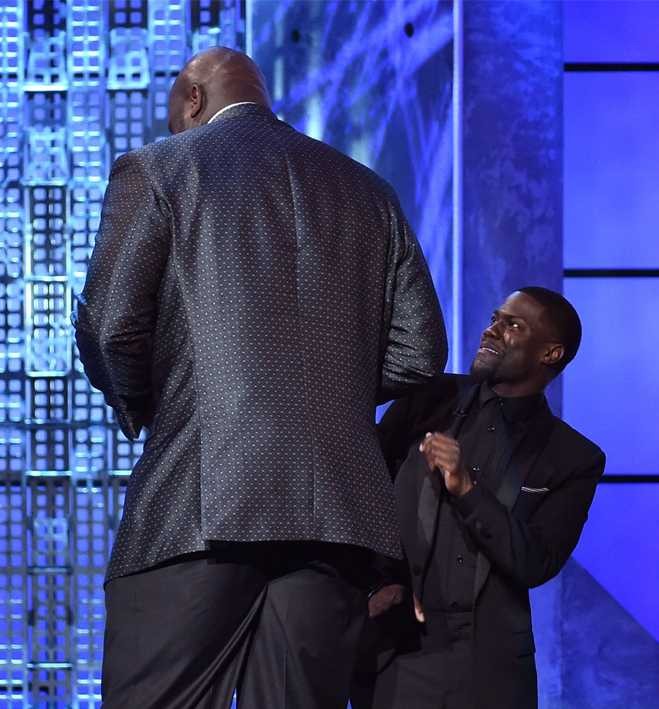 Bieber took to the stage at the end of the night and apologized to the world for his unending spree of embarrassing headlines.
"I've turned a lot of people off in the last few years. But I know I can still put out good music and turn everything all around.

There was really no preparing me for this life. I was thrown into this at 12 years old.  I didn't know what I was getting myself into. There were moments I am proud of. And there are moments I am disappointed with myself for. But the things I have done don't define who I am. I am a kind hearted person who loves people. And through it all, I have lost some of my best qualities. For that, I'm sorry."
Bieber called the celebrity roast, which comes just after his 21st birthday, "a turning point" in his life.
We'll see.