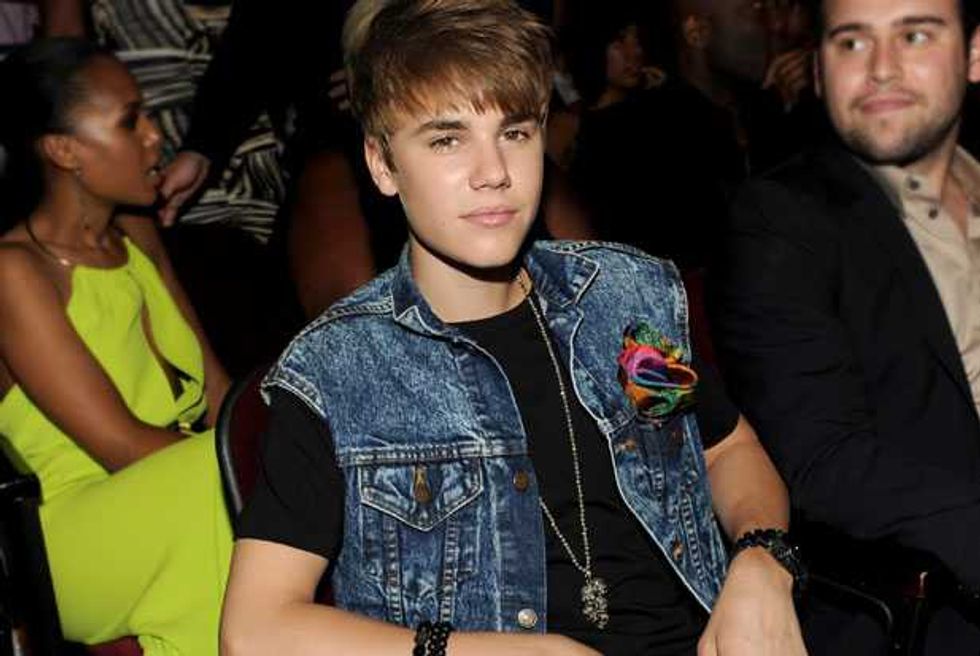 Let no one ever accuse Justin Bieber of false humility. When asked by the Hollywood Reporter to name five songs that inspire him to be such a wonderful human being, he named Michael Jackson's "Man in the Mirror" ("You can feel the emotion in what he's saying, and how it's about looking into yourself"), R. Kelly's "I Believe I Can Fly" ("Anything is possible, and you just have to believe. It's definitely uplifting.") and Boyz II Men's "Dear God" ("My mom has been listening to Boyz II Men ever since I was little.") All credible choices, and ones many other pop stars of his age would no doubt choose as well.
But there are only so many inspiring artists out there, and five is a pretty big number, and really, it'd be fairly disingenuous if The Bieb didn't at least mention himself. So he rounded out his list with two of his own songs—"Down to Earth" ("It's about my parents splitting up when I was really little...I think that's inspiring because so many kids' parents are divorced nowadays") and "Never Say Never" ("Basically about me, a small town kid, being able to live his dream and be successful"). And really, those obviously are two of the five most inspiring songs of Bieber's lifetime, so why bother pretending otherwise?
Good head on his shoulders, that Justin Bieber. Very practical.
For lots more pics, videos and up-to-the-second dish on Justin, be sure to check out his Popdust Artist Page.
min CONTEST (ONE WEEK ONLY) HAPPY 20TH BIRTHDAY, SELF.
Media Industry Newsletter September 27, 1999 (and you can get a "picture perfect" present) The Conde Nast monthly salutes its platinum anniversary with its largest October issue ever--the last for outgoing editor Rochelle Udell, who is being succeeded by Cindi Leive (ex-Glamour). The 147 ad-page issue features excerpts from the new hardcover book "Self-Defined" (Stewart, Tabori & Chang), available in bookstores in October. This tome includes unique interpretations of 'Self-words' by celebrated artists/writers/personalities like Cindy Crawford, Annie Lebovitz, Anna Quindlen (ex-New York Times), and Rosie O'Donnell. Self publisher (since 1994) Beth Brenner invites min-siders to join the party with two Self-gratifying prizes. Answer the two questions and tie-breaker and, Mick Jagger aside, you can get some (Self)-satisfaction. web site oasis day spa
1. Who was Self's first cover model in 1979? (circle one) A. Cheryl Tiegs B. Cybill Shepherd C. Diane Erickson 2. To mark its 20th birthday, Self has rolled back cover price of the October anniversary issue to 1979 levels. What was Self's cover price in 1979? [Hint: See Self cover illustration in last week's min.] (circle one) A. $1.50 B. $2.00 C. $2.79 D. None of these TIE-BREAKER: What was the #1 song of 1979, Self's launch year? (circle one) A. The Knack: "My Sharona" B. Rod Stewart: "Do Ya Think I'm Sexy?" C. The Police: "Every Breath You Take" D. Gloria Gaynor: "I Will Survive" GRAND PRIZE: The first correct entrant (with tie-breaker) will receive, courtesy of Self, the "Picture Perfect" package from New York City's Oasis Day Spa, which includes a 30-minute body-salt glow rub, a 60-minute seaweed body wrap, and a 90-minute deep pore cleansing facial ($500 value). web site oasis day spa
FIRST PRIZES: The next five correct entrants, with the tie breaker, will each receive a copy of the just-released book "Self-Defined" ($24.95 value).
(name and company) (daytime telephone number) Winner and runners-up will be revealed in our October 11 issue.
P.S. Employees of Self or Conde Nast's 16 other magazines, Fairchild Publications, and Phillips International are, alas, ineligible; everyone else is.
GOOD LUCK!