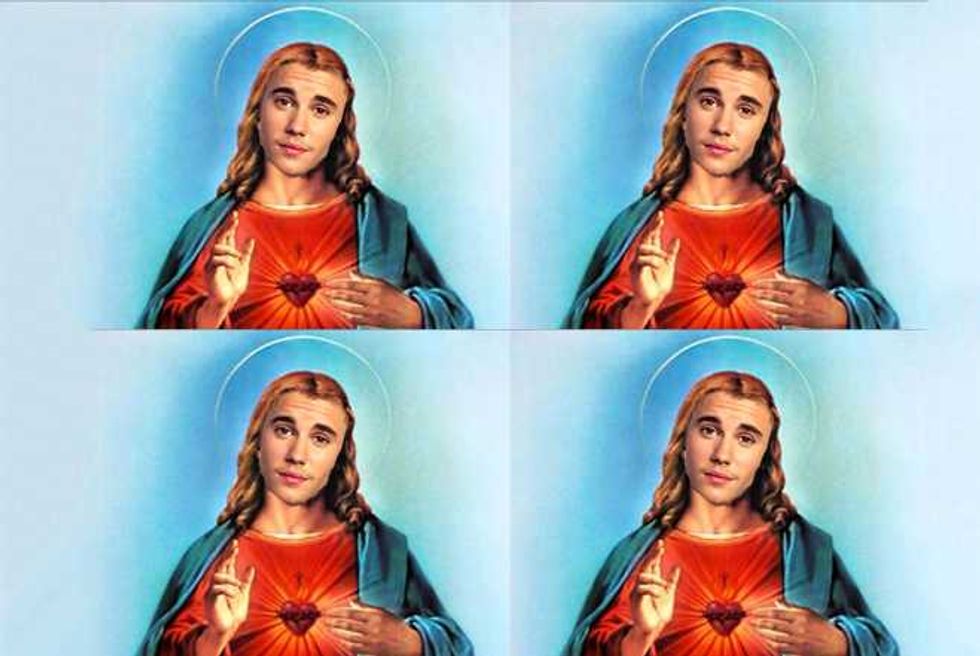 Justin Bieber jesus
Justin Bieber is getting deep—real deep—in his wise old age.
The Biebs sat down with Complex magazine recently to ponder life, love and religion—sharing his views on the eternal questions in life, and how he really wants to live like Jesus.
Save The Date—Noah's Ark Theme Park Opening In Kentucky July 2016!
Bieber is quick to clarify that he doesn't want to actually BE Jesus, because, that would be a bit weird, right? Bieber just wants to emulate Jesus, in all his awesomeness:
I just wanna honestly live like Jesus. Not be Jesus—I could never—I don't want that to come across weird. He created a pretty awesome template of how to love people and how to be gracious and kind. If you believe it, he died for our sins. Sometimes when I don't feel like doing something, but I know it's right, I remember, I'm pretty sure Jesus didn't feel like going to the cross and dying so that we don't have to feel what we should have to feel.
Toby Sheldon—That Justin Bieber Plastic Surgery Lookalike—Found Dead Age 35
The 21-year-old goes on to talk about God, and how the big guy upstairs is just like a "bomb girlfriend"…. OK, bear with him here:
It's like a girlfriend. If I have an awesome, bomb girlfriend, I'm gonna wanna show her off and go around and tell people my girl is the shit. I'm not gonna cheat on her because she's the best. It's like with God: The whole thing with religion is you present yourself holy and bring your offerings so that God can bless you, when the whole point of the relationship [should be], "No, I'm gonna do this because he loves me."
Model Claims She Was Drugged At Justin Bieber Listening Party In Australia
And, Biebs waxes lyrical yet further on the subject of love:
Love is a choice. Love is not a feeling. People have made it seem in movies that it's this fairy tale. That's not what love is. You're not gonna want to love your girl sometimes but you're gonna choose to love her. That's something in life that I had to figure out.
Lena Dunham Condemns New Justin Bieber Song As Too Rapey
Then shit gets REAL, as Biebs compares Christianity and Taco Bell:
Christians leave such a bad taste in people's mouths, even myself. I was like, I'm not gonna go to church. I had these church friends and I was like, you guys are cool, I like you guys, but I'm not going to church... It doesn't make you a Christian just by going to church. If you go to Taco Bell, that doesn't make you a taco.
Head over to Complex for more on the world according to Justin Bieber