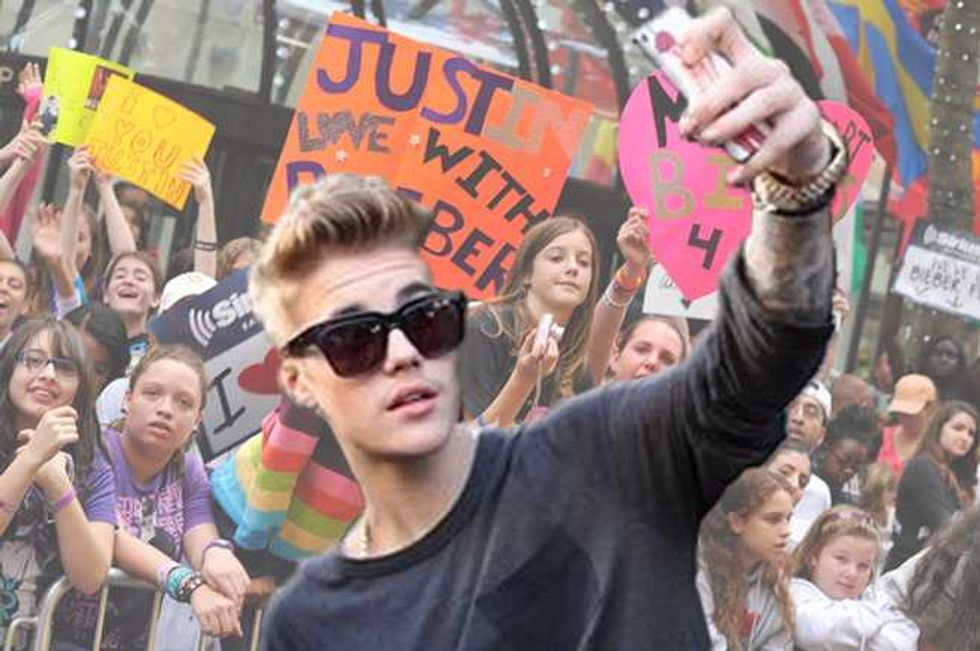 justin bieber fans meet
Justin Bieber is inundated with adoring Beliebers just hanging off his every word and dying to touch his flesh—and they're willing to pay for the privilege.
So in order to rock the worlds of his 100 zillion fans, Biebs offers meet-and-greet packages. The cost of a 1-on-1 meet and greet ranges from between $900 to $2,000. Group meetings go for less.
Fan Friday—Why Beliebers Will Never Ever Leave Justin Bieber
But the availability of Justin's packages have been biting him in the ass lately, and at his concert Monday night, an obsessed and possibly even dangerous fan got within 10 feet of him during a meet and greet.
A crazy got through
According to TMZ, the fan was on Justin's securities' "watch list". Justin had no idea he was so close to someone considered dangerous, but his security was pretty freaked out, and now some changes are coming.
Justin Bieber Gets Deep—Real Deep—Wants To Live Like Jesus
Bieber's team is overwhelmed with trying to manage the number of people who want to pay big bucks to get up close and personal with him either before or after his shows. His hair has been pulled, his clothes torn, he's been propositioned by mother/daughter teams, and one fan even gave him the flu!
But the amazing thing is, Justin's never even complained! The egg-chucking, Selena smooching, janitor-bucket-pisser has blossomed into quite a gracious young man.
It's over
But as for meet-and greets, they are donzo. From now on, the group meetings will consist of Justin jumping on a stage and talking to his fans. No 1-on-1 Bieb action.
Justin Bieber Mooned Mayan Memorial—Got His Ass Kicked Out
Justin will do premium 1-on-1's at his Vegas concert Friday, but anyone else who purchased special concert access will receive a refund.
On social media, Justin explained that the meet and greets leave him "drained and unhappy." He added;
"I want to make people smile ... but not at my expense, and I always leave feeling mentally and emotionally exhausted to the point of depression."
justin bieber fans meet

justin bieber fans meet