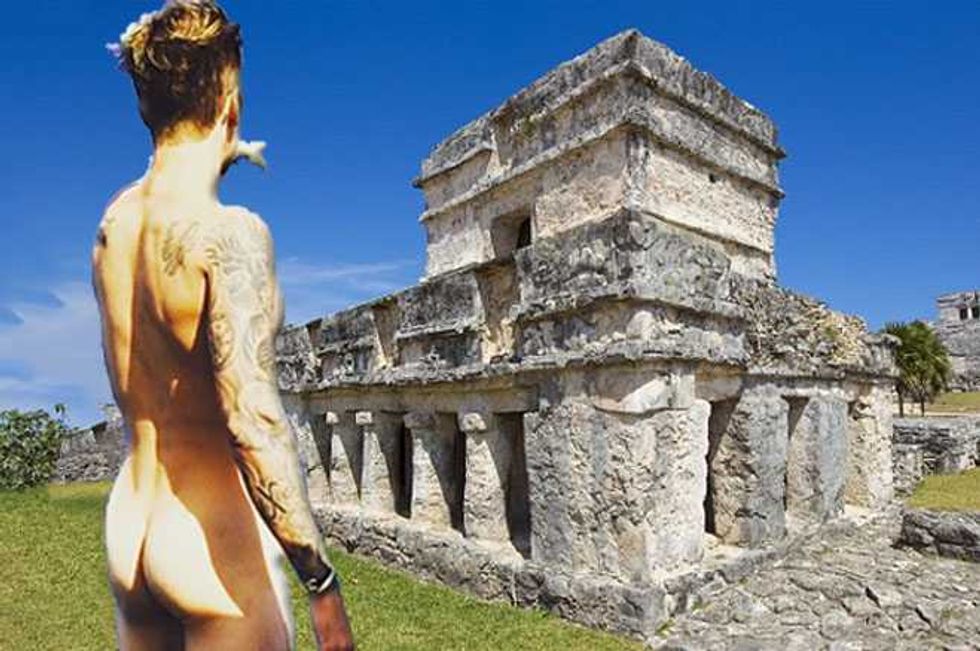 justin bieber mooned mayan
Just when we thought Justin Bieber was growing up a bit, he reminds us that he is still the immature, disrespectful little twat he has always been.
Biebs' entourage has moved on from their New Years celebrations in St Barts to Mexico and for some reason, they decided to visit a fortress in Tulum, just south of Cancun (maybe he was searching for the meaning of life or something).
Sean Penn El Chapo Interview—Best Literary Laughs
According to TMZ, the visit didn't last that long, as the temple guards booted him out when he dropped his pants for a selfie.  Yep that's right, Justin thought it would be appropriate to drop his trousers at a historical monument with, as usual, complete disregard for what anyone else visiting might think or feel, let alone the locals.
Justin Bieber Gets His Wisdom Teeth Pulled—Apologizes For Naked Photo
Police were called to the site after a 15 minute row during which Justin hurled insulting abuse at the guards who tried to stop him and he tried to climb onto the ruin.  Staff at the archaeological site say that Bieber, and his posse, which includes his latest hookup Hailey Baldwin, were refused entry at first as he appeared to be drunk and was carrying cans of beer.
Justin Bieber Is On Interpol's (Most Wanted Douchebags) Arrest List In Rome
It's not a first for juvenile Justin. In 2013 he pissed about at the Anne Frank Museum in Amsterdam and wrote in the guest book that he hoped she would have been a Belieber (sure she would). Later that year he had his bodyguards carry him on the Great Wall of China before they moved onto Buenos Aires where they were pictured assaulting a photographer.
Justin Bieber's Dad Is Bursting With Pride Over His Son's Super Size Schlong
What a fucking idiot.justin bieber mooned mayan
Sorry won't begin to cover it. justin bieber mooned mayan

Justin Bieber Mexico Moon