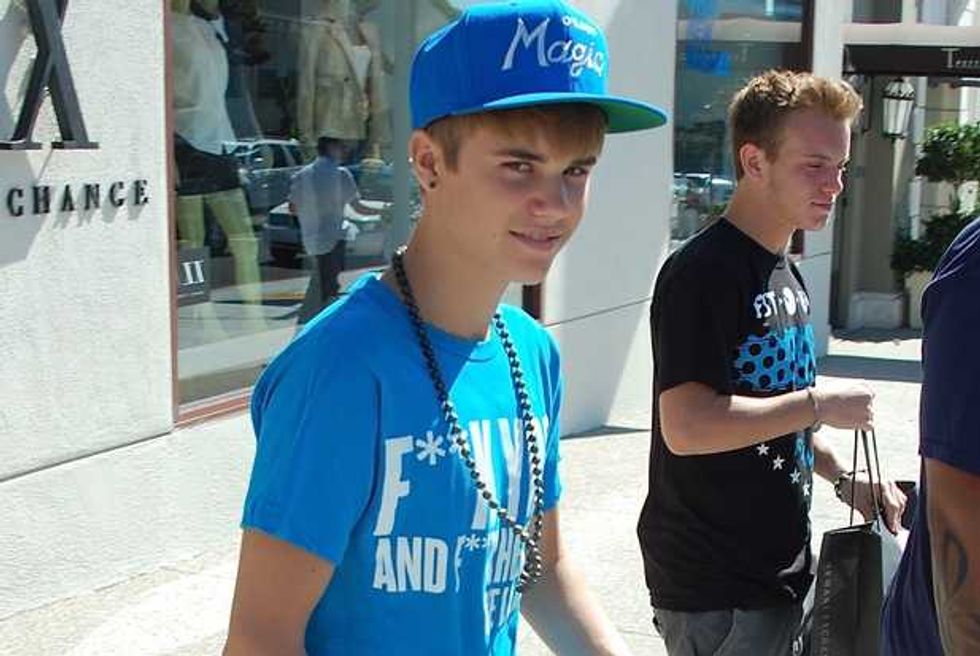 The Bieb raps! OK, it's not the first time—he'd freestyled over Cam'Ron and Vado's "Speaking in Tungs" before, and even taken on the Busta Rhymes rapping part on a live rendition of Chris Brown's "Look At Me Now." But to our knowledge, this is Justin Bieber's first officially recorded rap verse, for "Ladies Love Me," off buddy Breezy's upcoming all-rap Boy in Detention mixtape. The song is based off the "Ladies love me / I'm on my Cool J" hook from the previously-mentioned "Look," and features Brown and Bieber going in for a verse each over a rubbery David Banner beat.
Bieber proves once more on the track that his flow is actually fairly decent for a 17-year-old Canadian—he kind of sounds like Big Sean, actually—but the lyrical content is still struggling to catch up. "Baby I'm your doctor / I could be your rocker," "I am incredible / This is inedible," "Amazing / I'm blazing / Look over here, see that I'm amazing." Swagger has never been The Bieb's problem, and he has the confidence to make you believe like maybe he could be an OK rapper once the reins on his list of eligible lyrical subjects is loosened a bit, but for now, we don't think Lil Wayne is going to be giving him a slot on a Carter sequel anytime soon.
Meanwhile, Chris Brown—who lest we forget, only became a rapper fairly recently himself—gets off fairly easy by comparison, the sound of him laying verse no longer jarring by this point. Smart of him to pick up one of the few pop stars in the world with less hip-hop experience than he does to make him look like a wily ol' veteran by comparison. Not so smart, though: Bragging about double parking in his Ducatti. C'mon, Breezy, do you really want to give the neighbors more ammunition?
[Gigwise]
For lots more pics, videos and up-to-the-second dish on Justin, be sure to check out his Popdust Artist Page.