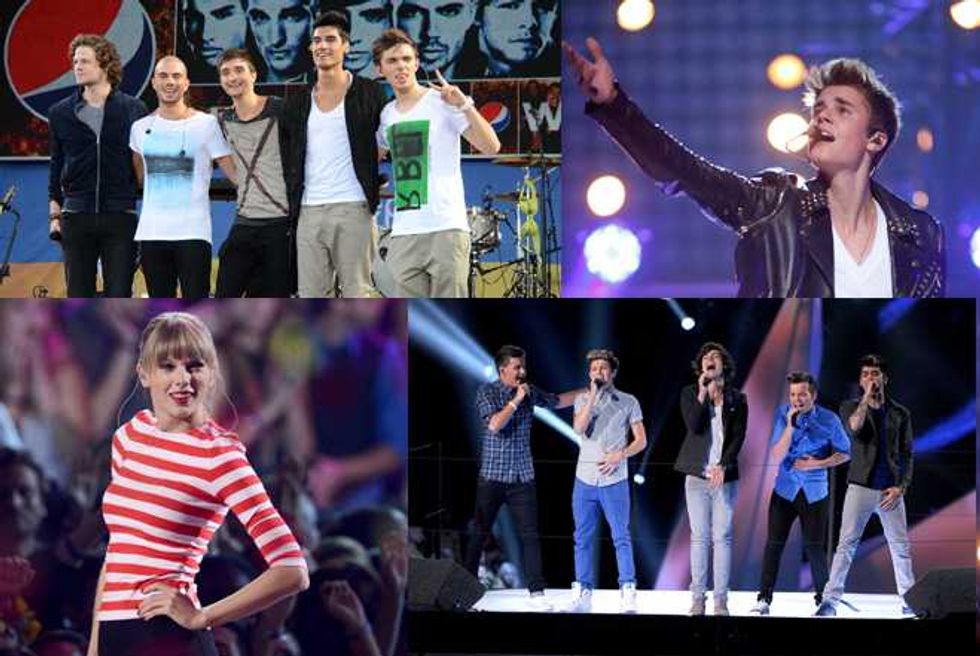 Thousands of visitors flock upon New York every winter in hopes of ice skating at Rockefeller Plaza or window shopping along Fifth Avenue. This year brings an entirely reason to bundle up and head to the Big Apple: Justin Bieber and Taylor Swift are performing at Madison Square Garden on the same night (!) along with One Direction, The Wanted and basically every other pop act you've downloaded or danced to in 2012. No, you're not dreaming. Someone up there just really, really likes you.
Jingle Ball, the longstanding pre-holiday concert hosted by New York radio institution, z100, which aims to bring the biggest names to MSG for one night of squeal-filled fun. It's a goal shared by stations around the country, most successfully executed by the newly established iHeartRadio Festival, an event which seems to have no problem luring the best of the best to Las Vegas, although the booze and gambling probably help. But for a local pop party held during a tremendously busy time, z100 really hit it out of the park with this year's talent roster. The full lineup for the December 7 event includes (drum roll, please): Taylor Swift, Justin Bieber, One Direction, The Wanted, Ne-Yo, fun., Ed Sheeran, B.o.B, Jason Mraz and Olly Murs. Admittedly light on hip-hop, its otherwise a roll call of the biggest major label releases (Bieber, Swift, One Direction) whose final sales numbers have yet to be seen, as well an endorsement for the plethora of promising talent emerging from the U.K. All we're missing is Rihanna—whose album Unapologetic drops in November—but it wouldn't be a truly big show without a surprise.
The Wanted were on hand in Times Square to ring in the fabulous news on Friday afternoon, with a live performance and preview of what's to come:
Excited to announce we'll be joining all the amazing acts at this years @z100nyc JINGLEBALL twitter.com/thewantedmusic…

— the wanted (@thewantedmusic) October 19, 2012
This one-night only spectacle creates an opportunity for that Justin Bieber-One Direction collaboration, or a live performance from Justin Bieber and The Wanted, The Wanted and One Direction, One Direction and Ed Sheeran, Ed Sheeran and Taylor Swift... the list goes on. Here's an idea: Why don't all the acts just stand on stage for four hours and jam together? We wouldn't be opposed—plus, The Bieb's had some practice with this.
Watch the z100's official unveiling, and TW's performance below.