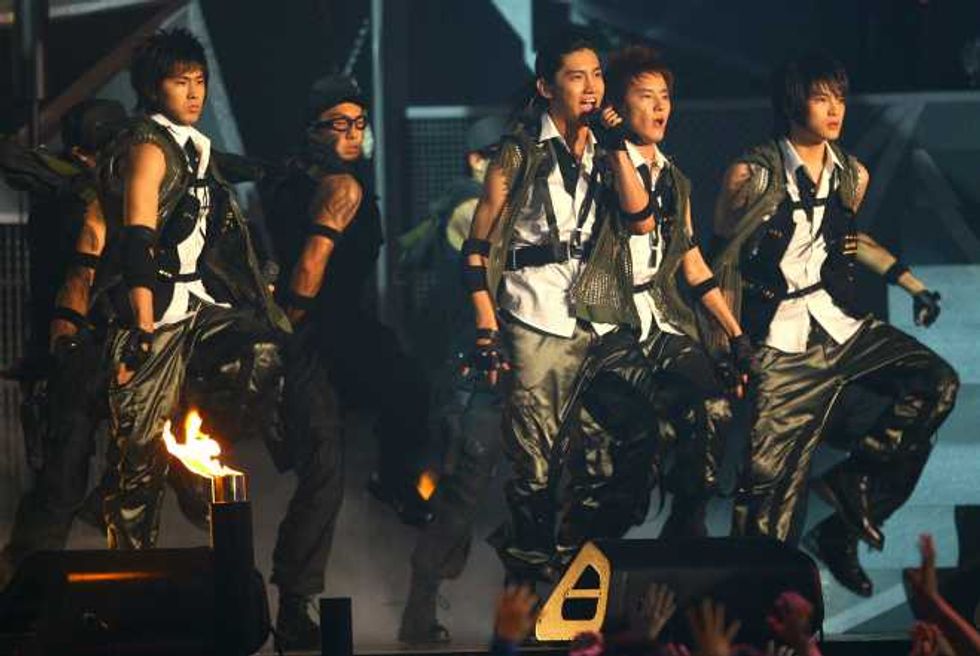 Gee, it's been one hell of a week for K-pop. First the Wonder Girls go on hiatus in the wake of Sun's marriage plans, and now JYJ and SM Entertainment have finally settled their infamous contract dispute. Or so it seems.
It's been over three years since Junsu, Jaejoong, and Yoochun filed a lawsuit for contract termination against their former label, subsequently splitting Asia's biggest boy band, TVXQ, in half. While the remaining two members of the group have been able to successfully continue on as a duo, the runaways, now known as JYJ, have been in and out of the courts trying to break free of their allegedly unfair contracts.
And now they finally have.
In an official statement released to the press, SM Entertainment said:
The trio [JYJ] stated that they have no intention of performing as members of the group 'TVXQ', so SM has come to the decision that we no longer have a reason to be in charge of management for the trio. We have come to a mutual agreement to not interfere with the other party's activities as our paths will not cross in the future, and the lawsuit has come to an end through this agreement. Also, we have come to the decision that the best course of action was to end this lawsuit to ensure that there will be no more additional damages or unnecessary issues that arise because of the lawsuit that may harm Yunho and Changmin, who are currently active as 'TVXQ.'
Sadly, JYJ's label, C-JeS Entertainment, aren't quite convinced that just because the legal issues have been laid to rest, that the drama will be, too. In a statement of their own, C-JeS seemed more than certain that SM will continue to cockblock JYJ's broadcast activities in Korea, just as they have been for the past three-plus years.
We believed that this was a battle that had already been won three years ago when the courts accepted our injunction. To be honest, we don't believe that there will be much change to JYJ's activities after the verdict because the interference of JYJ's activities isn't a legal issue, but a battle between David and Goliath.

We are currently walking down a path that only JYJ could take, and we will continue to pursue our own activities, as planned. We hope that the success of this agreement will rectify the various limitations placed upon JYJ that used the lawsuit as an excuse, and we would like to once more sincerely thank the domestic and international fans who have given JYJ their unwavering support from the start.
We probably won't know if JYJ will be allowed back onto Korea's music programs until they release their next album, which is tentatively due out early next year. Although, with speculation that they're hoping to target the U.S. again, we could be waiting even longer. Whenever their K-pop comeback finally does happen, SM should retract their claws and just let the trio go about their business. That way, SM can at least pretend that they were only doing it before for legal reasons, since JYJ were still technically signed to them. If they decide to continue their acts of sabotage from this point forward, they'll just look like big ol' bullies.
Regardless of what happens, JYJ are going to be just fine. Their last album, 2011's In Heaven, was still the fourth highest-seller last year, and Junsu's solo album, May's Tarantallegra, is the highest-selling solo album in the history of Korea's GAON chart. The local restrictions placed on JYJ also forced the group to tour and promote overseas, gaining them a much larger international following than many other K-pop acts. SM may have won a few small battles here and there, but overall, JYJ have won the war.