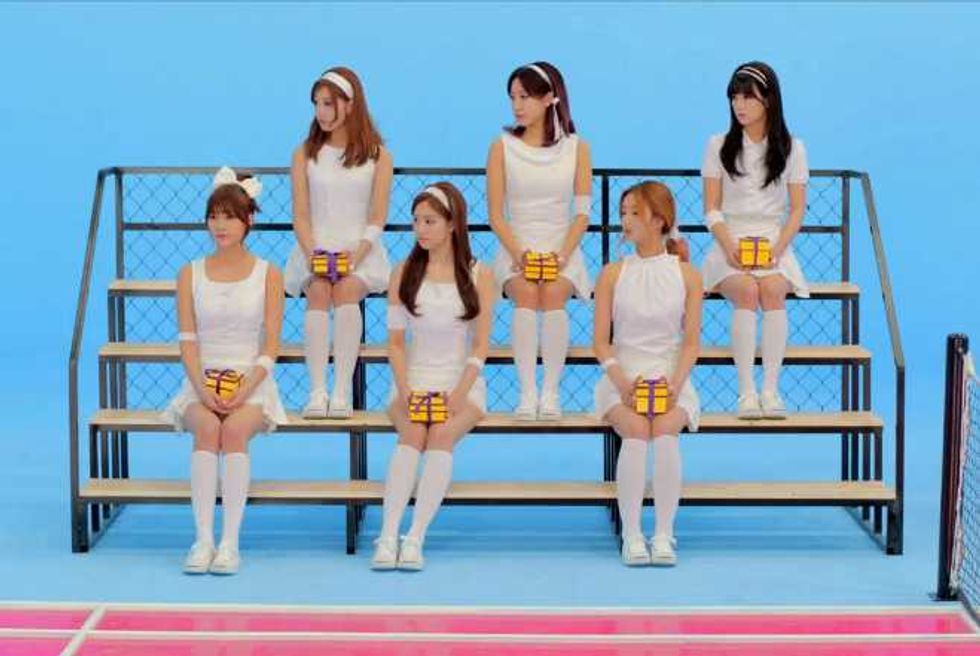 With spring now in full bloom in Korea, idol bubblegum pop has taken a backseat on the charts to make way for ballads and acoustic K-indie ditties. This week's No. 1 single belongs to esteemed balladeer Park Hyo-shin and his new single "Wildflower," which entered at No. 2 last week. He pushes last week's chart-topper, rookie singer Bro's "That Kind of Man," down to No. 5.
Girl group A Pink debut at No. 2 with Mr. Chu, which becomes the highest-charting song of their three-year career. Their previous best was "NoNoNo," which peaked at No. 3 last year.
Orange Caramel's "Catallena" sits at No. 6 again, marking the fourth consecutive week that it's held the position.
A few spots down is Crayon Pop, who debut at a solid No. 10 with the addictive "UH-EE." The song (which sounds like The Vengaboys gone trot) has been criticized for not matching the success of their signature smash "Bar Bar Bar," but it's actually the group's second highest-charting song to date, so it's really not doing too bad by their standards.
4minute's "Whatcha Doin' Today" continues to slide, slipping down to No. 12 after initially debuting at No. 1 three weeks ago.
There's some good news for struggling K-diva NS Yoon-G, who scores the second top twenty entry of her career with the sexy "Yasisi" at No. 17. While Yoon-G still hasn't broken through with a proper hit song yet, she's been slowly but surely improving on the charts over the past five years.
Further down we've got Super Junior-M, who debut at No. 28 with "Swing." Considering that Super Junior have never fared too well with digital sales, a top thirty single from their subunit isn't too bad.
Check out this week's key K-pop hits below!
No. 1. Park Hyo-shin - Wildflower
No. 2. A Pink - Mr. Chu
No. 10. Crayon Pop - UH-EE!
No. 17. NS Yoon-G - Yasisi
No. 28. Super Junior-M - Swing