Girls' Generation just can't stop snagging superstar boyfriends these days. First Yoona started dating Korean golden boy Lee Seung-gi, then Sooyoung revealed she was dating actor Jung Kyung-ho, and in April, Tiffany and 2PM's resident bad boy Nickhun went public with their relationship. Now it's Taeyeon's turn, with the Girls' Generation vocalist revealed to be secretly seeing none other than EXO's Baekhyun.
Taeyeon, 25, and Baekhyun, 22, were busted by Korean media outlet Dispatch while on a secret date in the front seat of Taeyeon's luxury Mercedes. According to reports, they've been together about four months now, confirming long-standing rumours in the group's respective fandoms that the pair are a couple.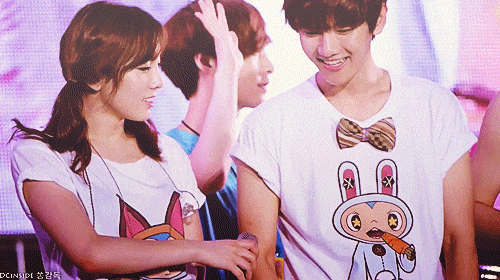 As far as Korean celebrity couples go, this one is pretty big. Girls' Generation and EXO are probably the two biggest pop groups in Asia right now, with both groups having expanded well outside of Korea to find huge success in lucrative overseas markets like Japan and China. Most K-pop couples keep their relationships private due to public backlash (primarily stemming from the media and overzealous fans), but given Taeyeon and EXO's high standing in the Korean entertainment industry, they should be able to weather this without receiving too much criticism.
Good luck you crazy kids. You're gonna need it!
[Via Netizen Buzz]