Culture Feature
After calling attention to empty accusations against Kamala Harris, it's become clear that Rush Limbaugh is the actual ho.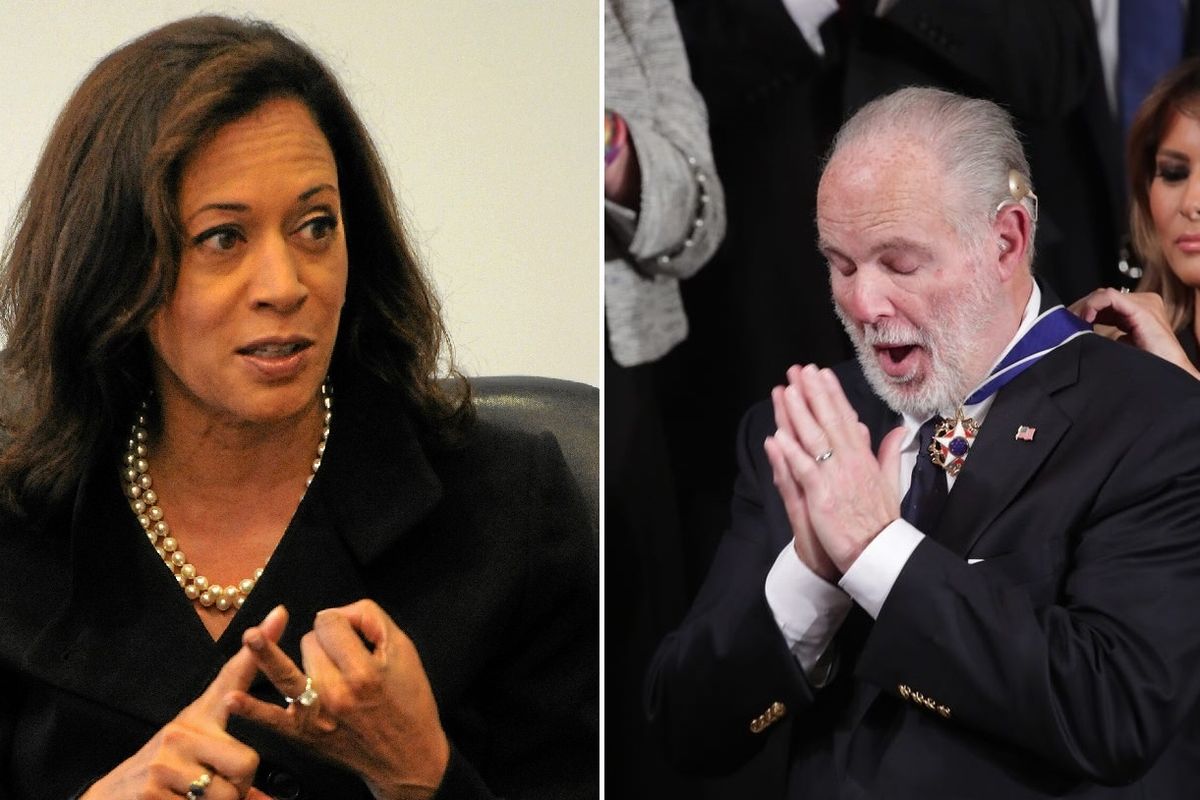 On Monday morning, radio loud mouth and Medal of Freedom recipient Rush Limbaugh shared two stories about vice presidential nominee Kamala Harris in which she was referred to as a "hoe [sic]" and a "mattress."
The first story was about a photographer who was fired from the NBA for labelling an image of Democratic running mates Joe Biden and Kamala Harris as "Joe and the Hoe [sic]." The second story that Limbaugh thought worthy of his audience's attention was a story in The American Spectator accusing Harris of having "slept her way up" as former San Francisco Mayor Willie Brown's "mattress."
---
Why Are People Calling Kamala Harris a "Ho?"
The basis for those labels seems to be the romantic relationship that Harris had with Brown more than 20 years ago, when Brown was the Speaker of the California Assembly. With less than three months left before the 2020 election to unseat Donald Trump, Harris and Brown's relationship is being framed as scandalous for two reasons: Willie Brown was married, and he appointed Harris to two political positions while they were dating.
If you wanted to ignore the reality of the situation, you could use Willie Brown's marriage to claim that he and Kamala Harris had a secret affair and she was his mistress. And if you also love dehumanizing women, you could then swap the word mistress for "mattress," a bit of wordplay that Limbaugh adopted, saying that these stories were "trading off the known fact that she was Willie Brown's mattress."
Exclusive: Ex-San Fran Mayor Willie Brown Explains Why He Revealed He Mentored & Dated Sen. Harris www.youtube.com
This is not the first time that Limbaugh has made suggestive allusions to Harris's former relationship with Willie Brown. Last week, responding to an op-ed in which Brown wrote that Harris would "work her backside off to get Biden elected," Limbaugh said, "If anybody knows her backside, it's Willie Brown. And I mean in the biblical, intimate sense ... Even though his backside is not as big as hers—but—but, look, I got distracted."

Clearly…
Why It's a Lie
Of course this would all be moot if Brown had been separated from his wife at the time. Oh wait, he was? For more than a decade? And neither Brown nor Harris has been secretive about the relationship?
Huh, so "mistress" or "mattress" should probably be replaced with the word "girlfriend," or "partner." But that wouldn't really have captured the sense of shame that Limbaugh plainly wanted to direct at Harris for having a romantic life before she got married in 2014—because being a 49-year-old virgin would have been much better.
Limbaugh has made that preference obvious in the past, as in 2012, when he called law student Sandra Fluke a "sl*t" and a "prostitute" for advocating that health insurers should cover birth control. But shaming women is particularly alluring for Limbaugh when race is also involved, as with Michelle Obama, whom he has referred to as "Moochelle" Obama—when he wasn't laughing at a caller comparing her husband to a monkey.
Of course, the really damning accusation is the claim that Harris used her relationship with Brown to get ahead in politics. It's true that Brown appointed Harris to both the Unemployment Insurance Appeals Board and the California Medical Assistance Commission in the mid '90s while they were dating.
Whether or not she was qualified for those positions, he should not have appointed his girlfriend. The appearance of corruption and favoritism is obvious and unacceptable. But did those positions actually boost Harris's career?

It's certainly possible. Her relationship with Brown definitely afforded her a lot of political connections that have served her in other ways. But considering Harris went from working as a Deputy District Attorney before those appointments to working as an Assistant District Attorney after those appointments… It doesn't seem like it did a lot.
In 2003, when Harris was running for District Attorney of San Francisco—long after her relationship with Brown—she acknowledged the issue of her appointment but argued that she "did the work" and "brought a level of life knowledge and common sense to the jobs." Adding, "I mean, if you were asked to be on a board that regulated medical care, would you say no?"
And, last year, Brown stated that Harris was one of many politicians whose careers he has helped—including speaker of the House Nancy Pelosi and California governor Gavin Newsom—but that "Harris is the only one who, after I helped her, sent word that I would be indicted if I 'so much as jaywalked.'"
So while there are a lot of things for which you can criticize Kamala Harris, the idea that she is a "ho" just isn't on that list.
Is Rush Limbaugh the Real Ho?
But there's another question that is far more important. Since Rush Limbaugh has so often been guilty of blatant hypocrisy and projection—attacking women for their weight, railing against illegal drug use for years before his illegal supply of pain pills was exposed in 2003, and decrying socialized medicine by promising that he would flee to Costa Rica…where medicine is socialized—is Rush Limbaugh the actual ho?
Is the acclaimed radio personality, in addition to being a racist, sexist, homophobic, transphobic, islamophobic assh*le, just a straight-up ho? To answer this question, we first have to define what makes someone a "ho" in the pejorative sense. Rather than shaming sex workers, we'll divorce the term from its most literal meaning and examine the undesirable qualities that earn someone that label and determine how well they describe Rush Limbaugh.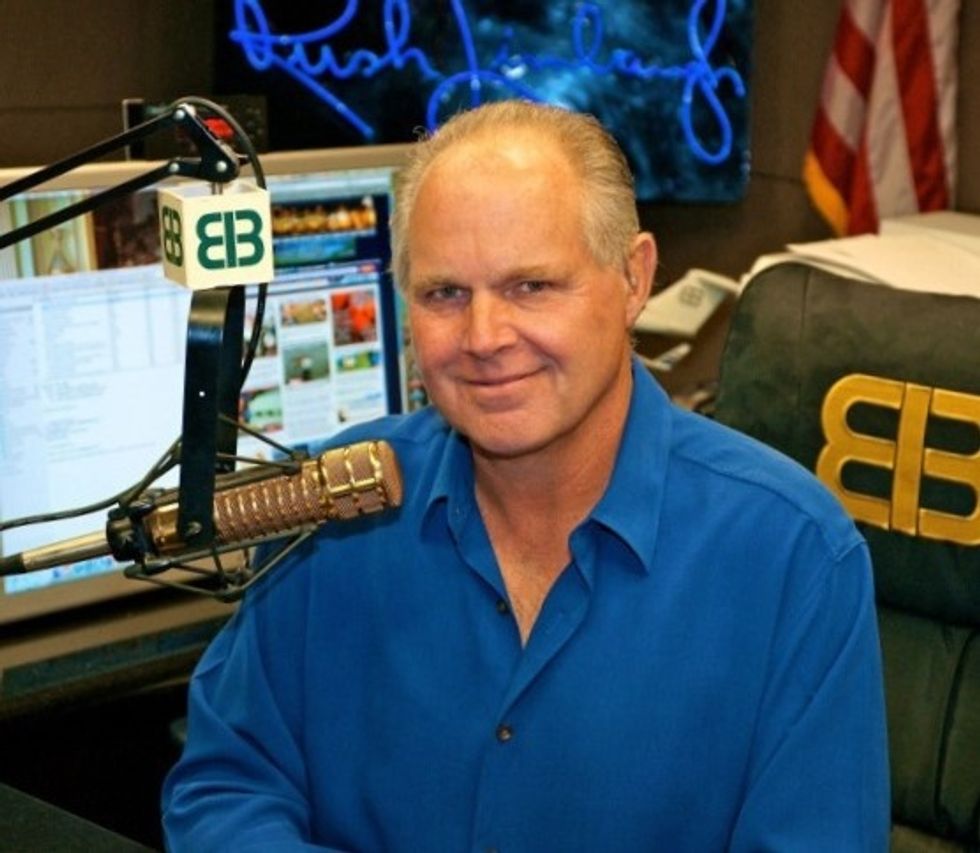 Is Rush Limbaugh Excessively Attention-Seeking?
While we shouldn't condone the tendency to judge women for their clothing choices, one of the primary ways that people tend to identify possible hoes is that they dress provocatively or otherwise go out of their way to win (usually male) attention.
Limbaugh's penchant for plunging necklines aside, basically his entire livelihood is designed around being as provocative as possible in order to win him male attention.

Is Rush Limbaugh Greedy?
Another supposed tenet of hoedom is greed. A ho will do anything for money. What Rush Limbaugh has done for money over the last three decades is shill for the politicians destroying democracy, the energy companies destroying the planet, and the tobacco companies destroying his lungs.
As a result, Rush Limbaugh's estimated net worth is around $600 million. Does that amount of wealth necessarily make him greedy? Yes. It also makes him possibly the most successful ho in America.
Is Rush Limbaugh Unfaithful?
Of course, the primary trait that people tend to think of as defining a ho is that they are unfaithful or excessively horny.
Rush Limbaugh has been married four times. That is not, in and of itself, proof of infidelity or hoedom, but toward the end of his second, and longest marriage to date—to Marta Fitzgerald, who first wooed him (while she was already married) by emailing him to call him "pompous"—he started dating his soon-to-be third wife, CNN anchor Daryn Kagan.
Granted, Limbaugh and Fitzgerald had been separated for a few months before he was officially linked to Kagan, but that's about 12 years fewer than Willie Brown was separated from his wife before dating Kamala Harris.
There's also, of course, the...Viagra incident (shudders). Three years after Limbaugh went to rehab for his opioid addiction, he was stopped by DEA agents at the Palm Beach International airport.
Limbaugh: The Left Is Obsessed With Consent | All In | MSNBC www.youtube.com
Limbaugh was coming back from a vacation to the Dominican Republic and carrying Viagra that was prescribed to someone else. He was not married at the time, which basically qualifies him as a "sl*t" by the standards he applied to Sandra Fluke—although his preferred sex pills would have been covered by health insurance if he'd just had the balls to tell his doctor that his dick didn't work.

Limbaugh joked to his listeners at the time that he "had a great time in the Dominican Republic. Wish I could tell you about it." Gross, Rush. Keep it in your pants, you ho.
In conclusion, Kamala Harris is not a ho. Rush Limbaugh is. So if you ever meet Rush out in the world and he doesn't seem ready to ho down with you, flash him some cash and remember his classic tip on consent: "'No' means 'yes' if you know how to spot it."
From Your Site Articles
Related Articles Around the Web