Imagine the joy Kim Kardashian felt upon opening 150 Christmas gifts from husband Kanye West, all procured by Kanye's faithful assistant!
Sooooo romantic!.
Kim discussed her Christmas haul via live stream on sister Kourtney's app and website Sunday night.
Kris Jenner's pretend boyfriend Corey Gamble is heard announcing,
We've got 'To Kim From Kanye', one hundred fifty gifts and counting.
The luxury gifts include a custom-made Yves Saint Laurent rainbow fur coat and other clothing from Prada and Louis Vuitton.
Kim was clearly thrilled and impressed with her booty, and boasted of her generous husband,:
He sent his assistant to Italy and shopped via Skype.
Kim was also sensitive to the impression that she might be just a wee bit acquisitive, assuring her fans.
I haven't shopped for myself in over six months.
WHAT THE HELL?? That is outrageous! Poor Kim! Thank God Christmas came along to break this drought!
Kanye himself did not go away empty handed. Adoring wife Kim presented him with a Can-Am Spyder bike in matte silver, valued at $15K. Let's hope he got something else, because do the math, people.
Unless you count baby Saint as Kim's gift to Kanye, then fine.
Here's a look at Kim's hideous fur coat: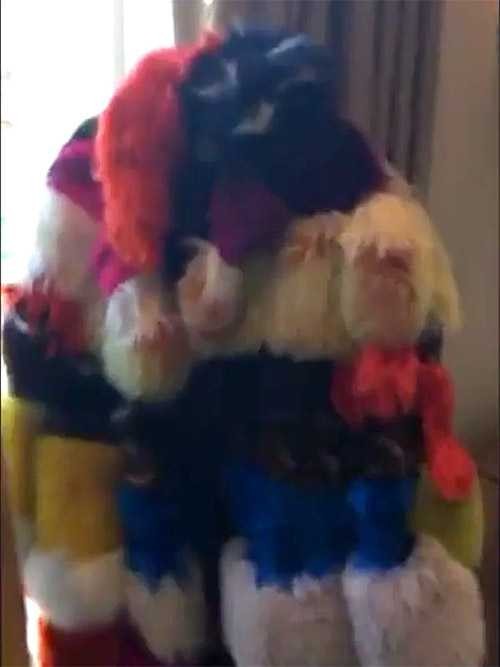 May all our Christmases be as warm and wonderful as Kim's coat, and may she hurry up to give us a complete inventory of her 149 other gifts!