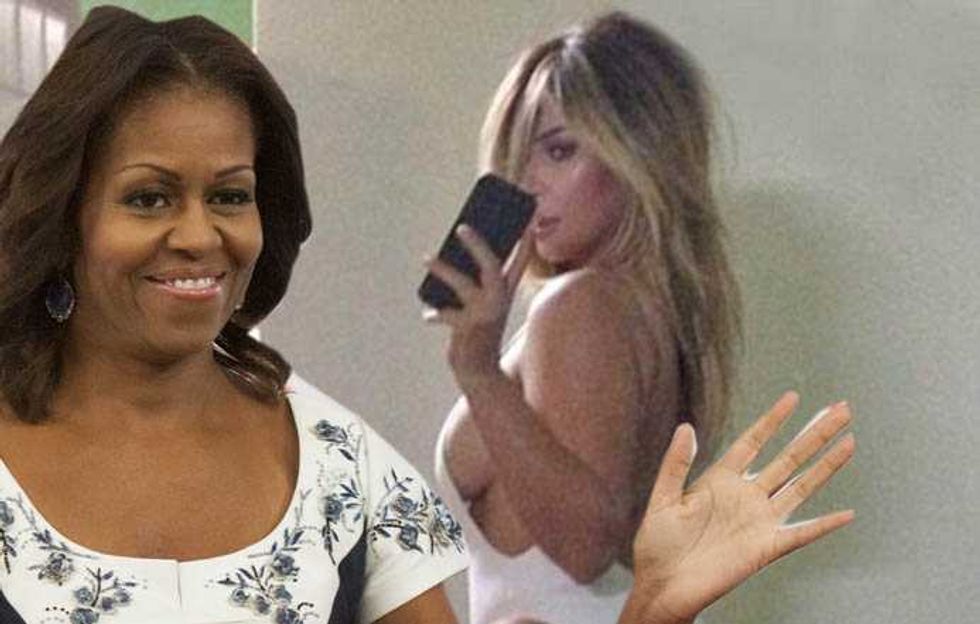 Kanye West was just oh so Kanye-esque during a radio interview Tuesday.
During his sit-down with On Air With Ryan Seacest, the 36-year-old weighed in on his proposal to Kim Kardashian, their wedding plans, how he's lobbying to score the reality star her first Vogue cover and how she's more influential than America's First Lady, at least when it comes to ass photos—and Popdust has the rundown.
"There's no way Kim Kardashian shouldn't be on the cover of Vogue," West told Seacrest. "She's like the most intriguing woman right now. She's got Barbara Walters calling her like everyday.
Kim Kardashian is the master of the 'ass selfie' as evidenced on Instagram
"And collectively, we're the most influential with clothing. No one is looking at what [President Obama] is wearing. Michelle Obama cannot Instagram a [bikini pic] like what my girl instagrammed the other day."
Well, he has a point.
On to....THAT proposal.
"Everybody that came in just thought it was a surprise party," he claimed. "As soon as [Kim] heard the [Lana Del Ray] song playing, she just figured I was going to have Lana sing and we were going to have dinner. Because at a certain point she just knows I'm going to do something turnt up."
For those not down with the lingo, you can find out what turnt means right here.
"So she was expecting something awesome," West continued. "The guy who organized it was talking about this romantic lighting and I was like, 'Enough already! We're at a baseball field. It has to be fully lit!' That was one of the things that was making me really mad. I was like, 'Let me do it like how I would do it.'"
And the wedding planning?
"I want to pick who is going to be in charge," West shared. "I'd like to get the people who do the Chanel shows."