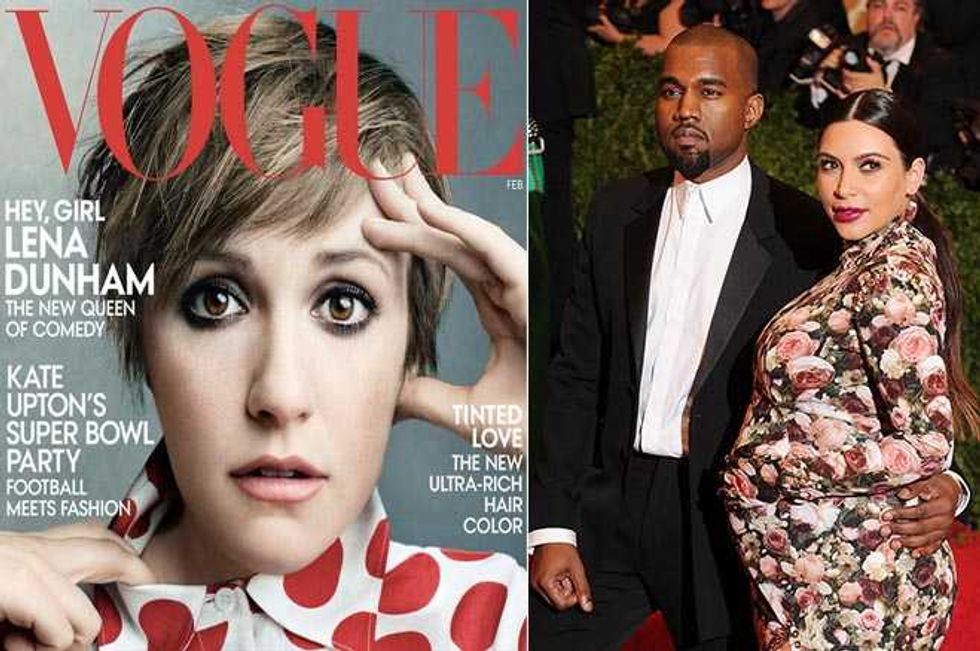 Kanye West is reportedly "outraged" that Vogue dissed Kim Kardashian in favor of Girls writer and director Lena Dunham and the controversial rapper allegedly confronted Editor, Anna Wintour on the issue at the Beverly Hills Polo Lounge.
A source tells Radar Online that Kanye believes Kim is a far more alluring candidate than Lena and argued she is 'just as talented as Lena, if not more so'.
Because Kanye, 36, considers Anna a personal friend, he is especially annoyed apparently.
'To Kanye, it's insulting that his friend Anna is still refusing to even consider putting Kim on the cover of Vogue. He thinks Anna is listening to a bunch of 'know-nothing' corporate haters," the source says.
"He's upset that Anna isn't willing to do him this personal favor and put Kim on the cover."
Kanye has been campaigning to see his lady on the cover of the iconic magazine for some time, and last year told Ryan Seacrest that Kim is 'the most intriguing woman right now' and said there was 'no way' she shouldn't have her face on a Vogue cover.
Wintour seems to disagree and was less than impressed with the top to toe floral ensemble Kim wore to the Met Ball Costume Institute Gala red carpet last May, conspicuously leaving her off Vogue's ranking of the best-dressed stars at the event.
And we're guessing the snub is the reason that, despite sharing a VIP box at a recent Kanye concert, Anna opted to sit as far away from Kim as possible, and Kim wasn't exactly trying to air-kiss the icy fashion icon any way.
But the  "Gold Digger" singer is not ready to throw in the designer towel just yet!
"Kanye knows that it's always been a huge dream of Kim's to be on the Vogue cover and Kanye wants to make it comes true. If nothing else, Kanye is persistent," the source tells Radar.
"Anna is no fan of Kim or any reality star appearing in the pages of the magazine," one insider previously spilled. However,  Wintour is "open to the idea" of having Kim  on the cover of the French or Italian edition of the magazine.
"She hopes that will get Kanye off of her back," the insider dishes.
"There would still be some backlash if Anna allowed that to happen, but not as much if Kim were to appear on the U.S. edition."