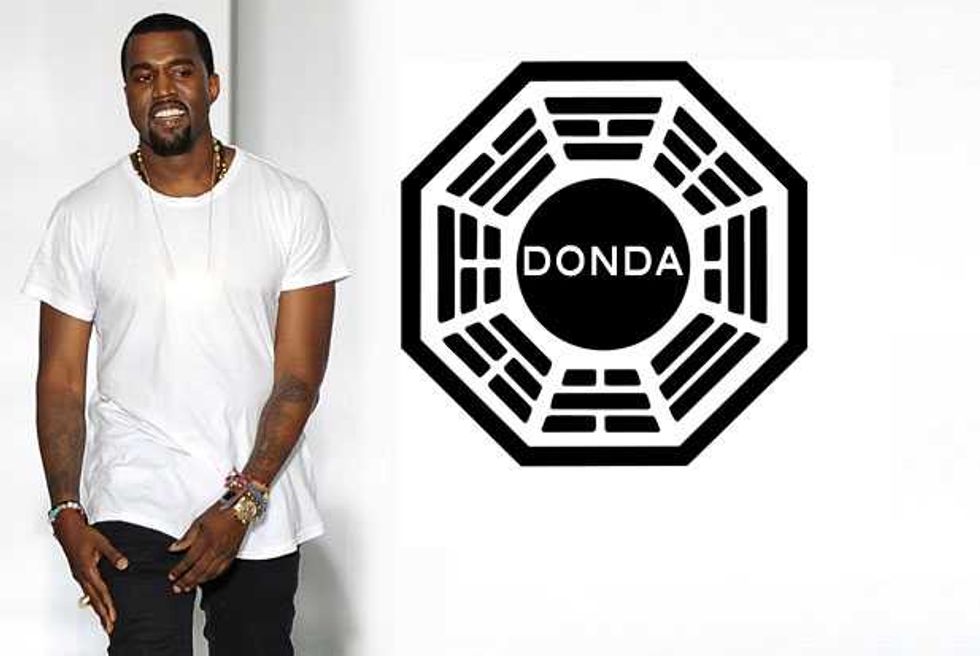 Kanye West's return to Twitter continues to be the gift that keeps on giving. Those of us periodically checking in last night were privy to an outpouring of Yeezy's thoughts, spread over 86 tweets in just three hours. Topics ranged from Wall Street to Cosby sweaters, but the biggest reveal was the announcement of his newest venture:  a company named after his late mother, Donda West. What followed was a lengthy rant about the ambitions and specifics of DONDA, an entity that is not easily defined and will not rest until it changes the course of creativity and human life as we know it, not entirely unlike the DHARMA Initiative on LOST. And once again, it all comes back to Courtney Stodden. In attempts to work through West's rambling, and comprehend exactly what the best-named company of all time (ALL TIME!) will really set out to do, it's time to play a little game: DONDA or DHARMA?
1. "A design company which will galvanize amazing thinkers and put them in a creative space to bounce there dreams and ideas..."
2. "Our mission is to study these properties for the betterment of mankind and advancement of world peace."
3. Conducts research in mathematics, communications, time and space travel, psychology, medicine and electromagnetism.
4. "Help education. School systems were designed to turn people into factory workers. Schools should be designed to prep human beings for real life."
5. "I wanted to put this in the world in hopes that the people who can actually make a difference will stand up and reach out."
6. "Remember, everything that occurs, no matter how minute or seemingly unimportant, must be recorded."
7. "We want to help simplify and aesthetically improve everything we see hear, touch, taste and feel."
8. The ultimate goal is to change the course of destiny and save the world.
9. "We need scientist and top world designers to directly affect governments."
10. "Namaste. And...good luck."
11. "...To dream of, create, advertise and produce products driven equally by emotional want and utilitarian need.. To marry our wants and needs."
12. "I want to put creatives in a room together with like minds that are all waaaay doper than me."
Where do we apply? Check out an answer key below, and try your best not to fall under the spell of Dr. Pierre Chang in the meantime.
1. DONDA
2. DHARMA
3. DHARMA
4. DONDA
5. DONDA
6. DHARMA
7. DONDA
8. DHARMA
9. DONDAA
10. DHARMA
11. DONDA
12. DONDA