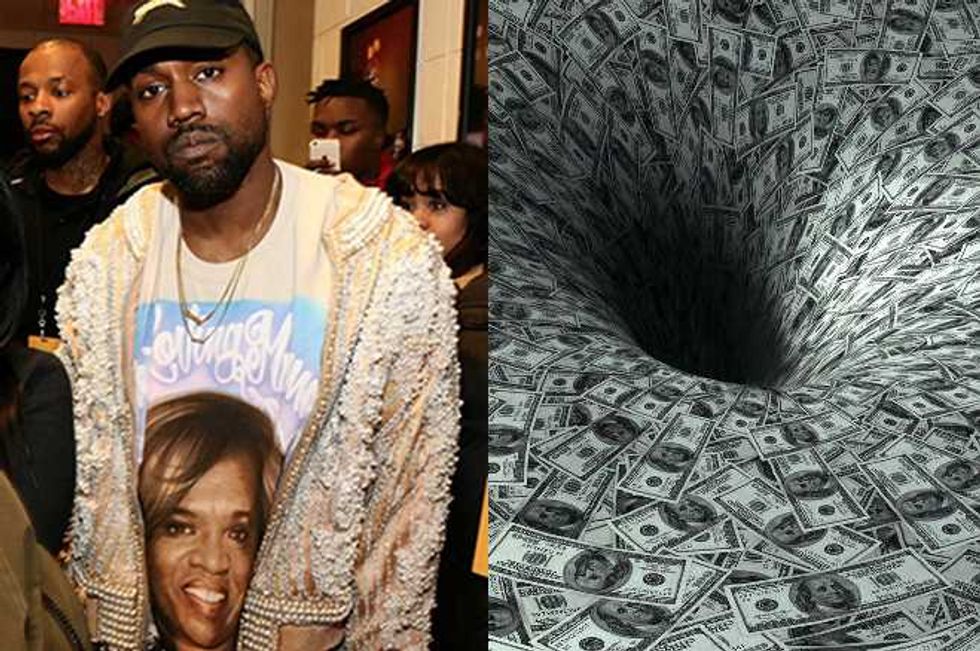 Kanye West has revealed to his 18.7 million Twitter followers that he is $53 million in personal debt, asking for their prayers even as he proclaimed himself the greatest living artist of all time.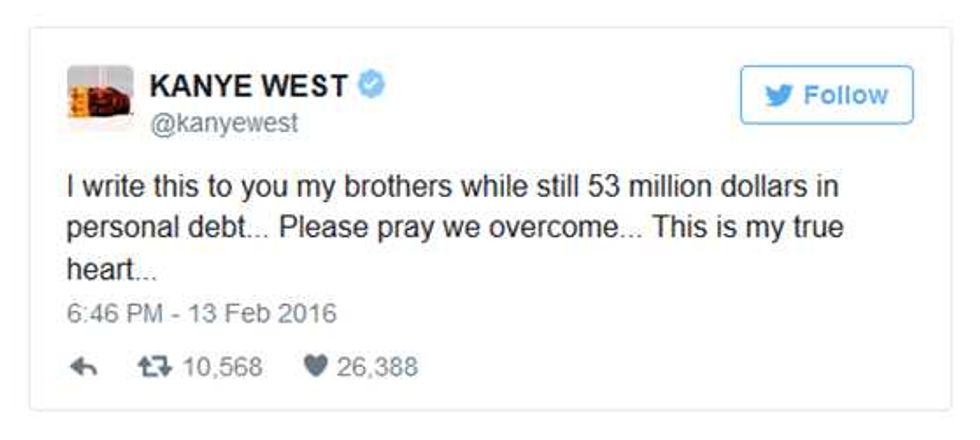 While he ranked No. 6 on Forbes' 2014 list of Hip-Hop Cash Kings, Kanye is now reduced to begging Mark Zuckerberg for a billion dollars via Twitter, and no doubt secretly feeling he should run Facebook and call it 'Yeezy Is Dope'.
Ironically, Kanye had recently ignored an offer of $10 million for his new album by pharma-fraud and lunatic Martin Shkreli, who then went into a deranged meltdown online, slamming Kanye's record and even reporting that he had been robbed in a Kanye-related scam.
How could Kanye be in debt for $53 million, one might ask, but there is actually a reasonable answer. Back in 2014, APC founder Jean Touitou revealed in an interview that Kanye was $30 million in the hole from his fashion line.
Last year, at a BET event, Kanye spoke about the fight to break into the fashion world, claiming he went $16 million in debt from his efforts:
I was trying to play a sport that's a billionaire sport. It's not a millionaire sport and I'm proud of the debt. I don't care about somebody's Ghost (Phantom) or somebody's house. I care about my vision.
Go that? Last year he was proud to be in debt. Whatever.
Still, others are wondering whether Kanye is just fucking with us, because when isn't he?
His Yeezy shoes for Adidas were an instant-sell-out, and his revenues from writing and producing music must be significant. Furthermore, why can't Kim pay off his debts?
Maybe, just maybe, Kanye West is out of his mind!
His long-time co-writer Rhymefest has reportedly stopped working with him, saying via Twitter that Kanye needs help, in the form of counseling. The Chicago rapper was asked by a fan on Twitter about working with Kayne and answered:
Nah his mind and spirit isn't right.
He continued in subsequent tweets:
My brother needs help, in the form of counseling. Spiritual & mental. He should step away from the public & yesmen & heal".

I love my brother. I pray for his health not our entertainment.
Maybe it's all too much for Kanye. A new baby, a new fashion season, new record, SNL performance and who knows what else.
Is Kanye cracking up? How would we be able to tell?
Stand by, this story is still developing!