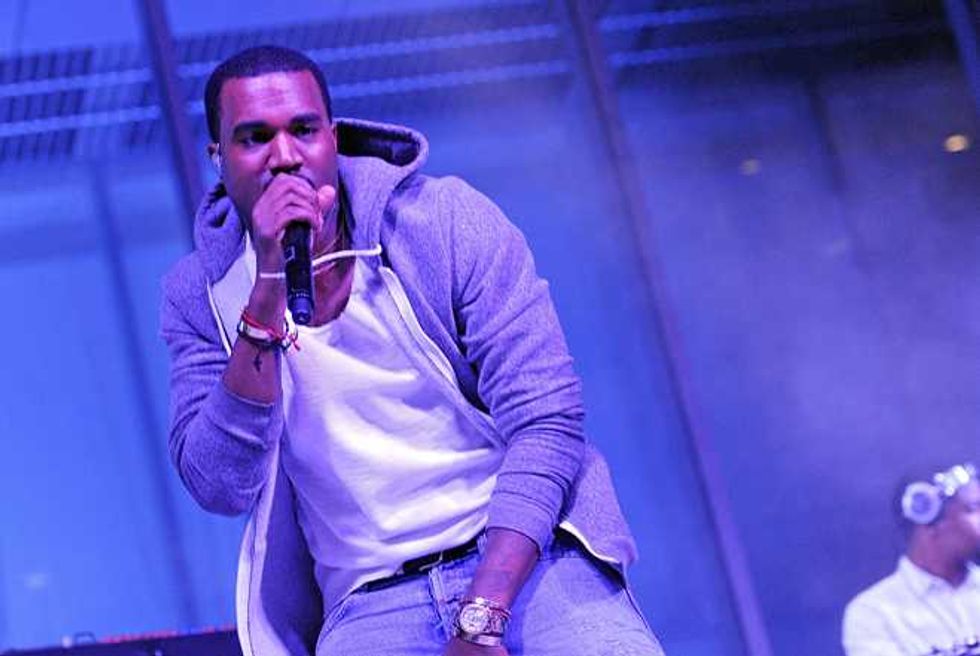 It hasn't been difficult to notice Kanye West's absence from G.O.O.D. Music promotion this week. While his friends and collaborators signed albums in New York, Yeezy's presence has been as fleeting and mysterious as one of his albums' vague video trailers. As the most well-known name of the roster and presumably the brainchild behind Cruel Summer, released on Tuesday, not having Kanye around to make sense of it all—or at least flash smiles to reflect his pride in the finished product—feels a little jarring.
But in typical Yeezy fashion, we've gotten his opinion on the subject—better late than never—through a confessional-style video interview posted to his YouTube account on Wednesday. West touches on the theme of empowerment within the album and who he ideally hoped to be making this music for. "Music that you listen to on your way to work so you can deal with your boss; music that you listen to cause you're the boss, so that you can deal with your employees!" he says. West also calls out the full list of artists on the album, sharing details about the happiness he created by playing matchmaker for younger acts and their idols (Pusha T and Ghostface Killah; CyHi da Prince and Raekwon and Common). "One track might have 30 people's opinions on it, but it's not just about a tracklisting of names, it's about the commune style of work," he explains. You'll notice he likes the word "commune," using it once again to describe the goals of G.O.O.D. along with a new term he made up on the fly. "We take it really serious that we make the best product we can, but also we're light with it, too. We just want to have fun and commune and festivalize—I'm not sure if that's currently a word but it will be afterwards."
While you add that to your dictionary, Yeezy gives us the DONDA version of what this all means, bigger picture-style: "It's our offering as a collective of a sonic snapshot of what's happening right now, 2012, this Cruel Summer," he says. Uh huh. Sure. Kim's made you so deep, 'Ye! Watch below.
[Rap-Up]