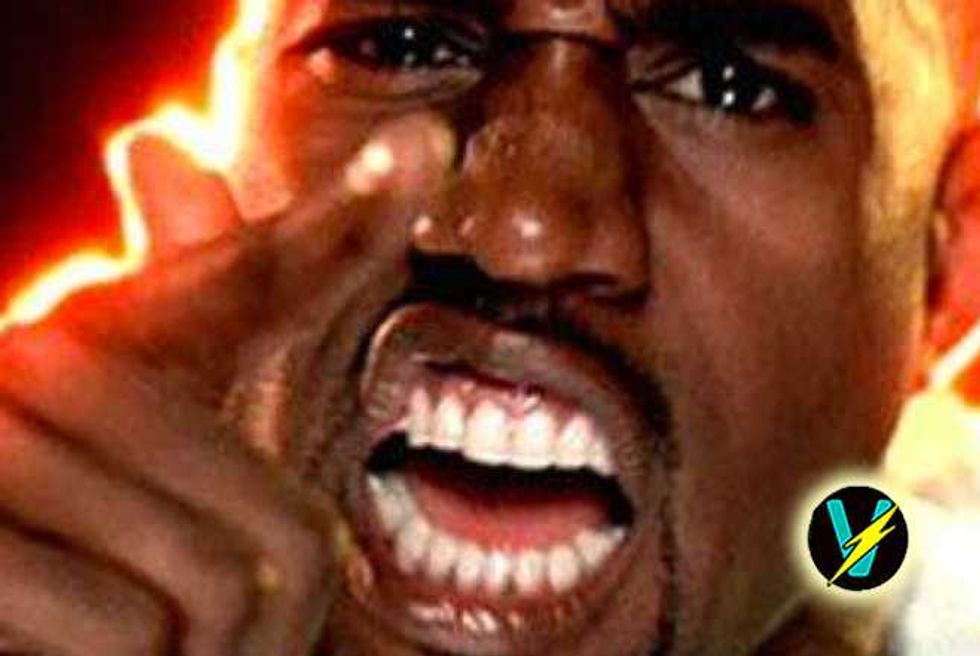 Kanye West rants regrets thinking pointless environment saving the world—and it's classic cray cray Kanye
Kanye West can't stop won't stop.
The 38-year-old unleashes an epic, classic Kanye rant on Ellen Degeneres during an interview that airs today.
His 7-minute-long impassioned stream of consciousness encompasses Twitter, thinking, Mark Zuckerberg and how he, the mighty Yeezy, can make the world a better place.
Yeah, OK, chill your boots Gandhi.
Scroll down for video.
It all kicks off after Ellen asks West if he regrets any of his infamously insane tweets.
Duh! Of COURSE he doesn't!
Just like Edith Piaf, Kanye West is firmly in the camp of, "je ne regrette rien…."
In fact, when Ellen asks Yeezy if he ever suffers post-tweet regret, after thinking it through at a later stage, he declares:
Absolutely not.

What's the point of thinking?
Indeed, what IS the point of thinking?!! Highly overrated.
Ellen goes on to tease Kanye about how it might have been better to beg for money from Mark Zuckerberg via Facebook, rather than Twitter.
Cue classic Kanye can save the world rant:
I understand Mark Zuckerberg doesn't use Twitter, even though I have had dinner with him and his wife and told them about how I wanted to help the world, and he said he'd help me, and blah blah blah.

That's how it feels though, it's like the pursuit of happiness, it's like you're trying to sell this bone density machine, you know in that movie....

I feel that if I had more resources, I could help more people.

I have ideas that can make the human race's existence within our 100 years better. Period.

Fuck the paparazzi, whatever perception you have of me, starting with the truth, started with what everyone's thinking, start there, put some dope shit with it.

I care about people. My dad lived in homeless shelters less than five years ago, to find out...he's a psych major.

My mom was the first black female chair of the English department of the Chicago State University.

I was raised to do something, to make a difference.
OK…. well, that's that then.
Nooooo….. of course it's not!
You didn't think Kanye was finished just yet did you?
He's still got Picasso, Steve Jobs, Walt Disney, Michael Jackson, President Obama and Leonardo DiCaprio to rant about yet.
And, off he goes:
Picasso is dead, Steve Jobs is dead, Disney is dead.

Name someone living that you can name in the same breath as them.

We're one race, the human race, we're a blip in the existence of the universe and we're constantly trying to pull each other down.

It's like I'm shaking talking about it, I feel I can make a difference while I'm here, I feel I can make a difference through my skill set.

I'm sitting with Obama, and Leo's talking about the environment, and I'm talking about clothes, and everyone looks at me like, that's not an important issue.

But I remember going to school in fifth grade and wanting to have a cool outfit. I want to take away bullying.
Ah, Kanye West, changing the world, one crappy overpriced fur jacket at a time.
Meanwhile, you might want to reconsider that whole thinking thing Yeezy.
For more entertainment, music and pop culture updates and news, follow Max Page on Twitter
Kanye West's Best, Worst, Most Kanye-Esque Moments Ranked By Greatness
Kanye West Ice Cream Means He Can Literally Lick Himself Now
Kim Kardashian Hair Extension Fail—Even Kanye Is Sad!
Does Kanye West Have Postpartum Depression?
Kanye West rants regrets thinking pointless environment saving the world—and it's classic crazy Kanye: watch the video:
Kanye West rants regrets thinking pointless environment saving the world
Kanye West REALLY Wants You To Know His Ass Is Still A No Finger Zone
Kanye West Vs Spencer Pratt—Who Is The Biggest Prick?
Kanye's All Day—I Feel Like That—Is Trip Down UnMedicated Yeezy Lane
Money Monday—How Much Is Kanye West Really Worth?
Kanye West rants regrets thinking pointless environment saving the world
Kanye West rants regrets thinking pointless environment saving the world
KanyeWest WizKhalifa Twitter Rant Is Yeezy At Insane Egomaniacal Best
House Tour Tuesday—Kanye West And Kim Kardashian's $20Mill Mega Mansion
Kanye Suffered Discrimination for Not Being Gay
This Photo Surely Proves Kanye West Actually Hates Kim Kardashian
Kim Kardashian—Most Hideous Semi-Naked Photo Shoot Ever, Styled By Kanye
Kanye West rants regrets thinking pointless environment saving the world