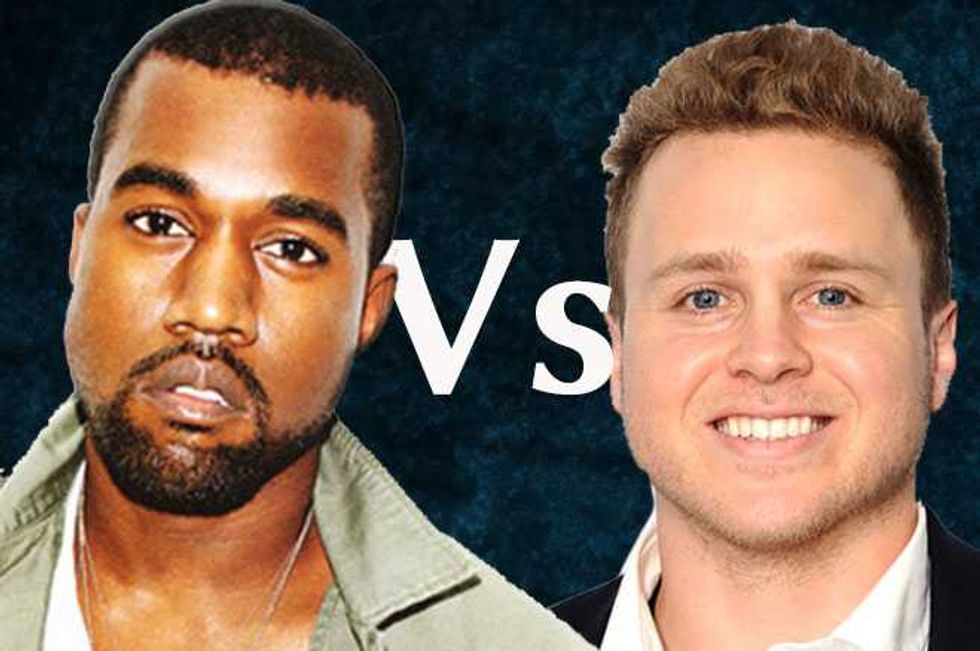 kanye west spencer pratt
Kanye West and Spencer Pratt have a lot in common.  They are universally ridiculed, have plastic wives and have both been in the press in the last week.
Kanye is actually always in the press thanks to being surgically implanted in the Kardashian Klan's asses and of course his off-the-meds Twitter rants that veer between offensive and just out and out bizarre. Spencer on the other hand, would love to be in the press more, but is obviously a little out of practice as he got it hugely wrong in an interview with Vice's Broadly last week that he's had to back pedal on (more of that later).
Having both of them hit our consciousness at the same time made us wonder....just who out of Kanye West and Spencer Pratt is the biggest moron?  Ever conscious of being fair, we have applied a scientific approach in our quest for an answer to out question and scored each contender out of 10 in the same categories.
Marriage Boot Camp Reality Stars—Spencer Pratt Forgives Reality Producer Who 'Tried To Destroy' His Life
Read on for our analysis and then let us know who wins the title of super-prick in your opinion.
Spencer Pratt
One half of what were the most hated duo in reality TV, that is until Kimye were born. Spencer and his wife Heidi Montag are most famous for appearing as the darstadly duo bad guys on The Hills which aired from May 2006 until July 2010.
Since it's cancellation, then they have flogged their reality asses out to the highest bidder, desperately and unsuccessfully trying to stay relevant. It hasn't worked.
Career
Spencer burst onto our screens as a fresh faced 22 year old on the short-lived reality show Princes of Malibu. He went on to be one of the primary characters along with Heidi in all seasons of The Hills until it's cancellation in 2010. His appearances earned him the title of 'Greatest Reality Villain', but it's all been downhill from there.
Guess Which Hills Star Was A Raging Meth Head!
Spencer, along with Heidi has continued to make the rounds of reality shows; I'm A Celebrity Get Me Out of Here, Marriage Boot Camp and Celebrity Big Brother, all the while becoming even more of a parody of his obnoxious self.
Generally viewed as a talentless joke.
2/10
Marriage—For Real Or For Show?
Weird dynamic. They eloped whilst on The Hills and then had a real wedding after realizing they were stronger as a pair than individually. When they appeared on the UK Celebrity Big Brother their relationship was the subject of both viewers' and their fellow housemates scrutiny, and the general consensus was that he was massively controlling and she was just a vacuous sheep.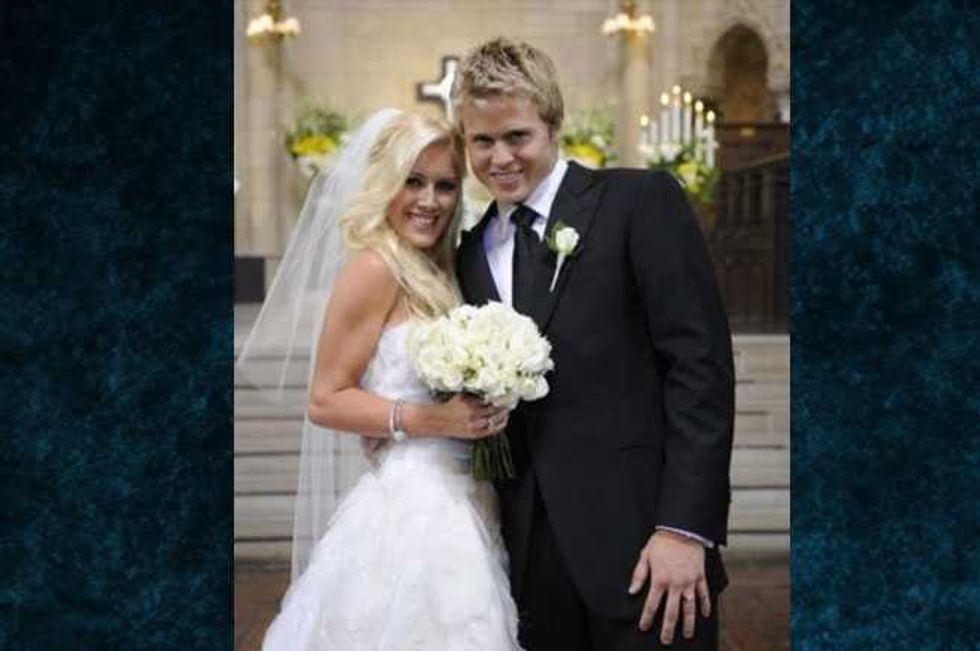 Love's young dream.
 

kanye west spencer pratt
They famously faked a break up in order to secure a magazine deal and try to 'relaunch' Heidi's career.  Even more bizarrely, Spencer claims that Kourtney Kardashian and Scott Disick based their own on-screen relationship on theirs.
Marriage Boot Camp Reality Stars—Spencer Pratt Forgives Reality Producer Who 'Tried To Destroy' His Life
They have been married a long time though (if you take out the fake break up) and seem to at least love each other (either that or they both realize that nobody else would put up with either of them).
On balance—we think the Speidi marriage is at the real end of the spectrum.
4/10
Money
Famously claimed to have blown through $10 million. Now are living rent free courtesy of his dad and living from reality pay check to pay check.
Small fry.
3/10
Ego 
Humble is not a word you would use to describe Spencer. He says he took so long to graduate from USC because he was too busy "being famous" and that he should "probably have a doctorate or two" by now. He also recently described himself as a poet.
Spencer has compared himself and Heidi to Jay-Z and Beyonce (I bet Mr & Mrs Carter do just the same thing) and claims Kris Jenner begged him to manage Kim Kardashian's career back in the days when Kimmy was trying to make it as a stylist to her famous friends in order to get on TV.
The couple have all their tabloid covers framed—apparently they are happy to be reminded of headlines like "Destroyed By Fame" and "Heidi's New Surgery Disaster".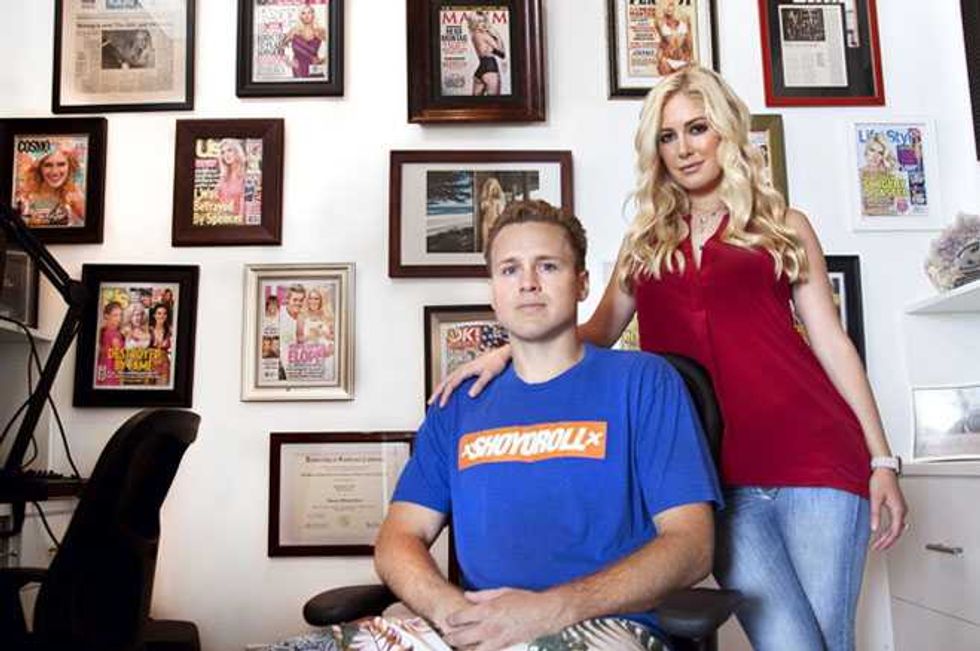 Speidi's wall of shame.
kanye west spencer pratt
Spencer does however at least have a tiny crumb of self awareness. He knows the public persona he and his wife have created and that when they get a gig they are being paid to be cartoon characters. They are happy to be controversial, stir up some shit, lob a few grenades into the mix and collect their pay check.
Heidi Montag, Spencer Pratt Defend Poor Bullied Farrah Abraham's CBB Insanity
At least knows that his ego is part of his USP.
6/10
Faux Pas
Pratt made a massive faux pas a few days ago by astonishingly comparing the trauma of the cancellation of The Hills after six seasons with 9/11. Yes that's right, 9/11. To be honest you have to admire the extremely high level of narcissism required to compare a scripted reality show about a bunch of airheads in California with the most shocking terrorist attack on US soil that cost over 3000 people their lives and pretty much changed the world.
I guess Spencer thinks there are dinner party conversations along the lines of "where were you when you heard The Hills was cancelled?" I am sure though, that those who lost loved ones in the twin towers can gain some comfort in the fact that Spencer and Heidi went through just as much pain as them.
Spencer at least feels some remorse for his insensitive comments—well he felt remorse after the interview was published and he found himself the subject of a huge social media backlash.
He held his hands up and tweeted his apology and at least appeared genuinely contrite.  
RE: my 9/11 comment: I want to apologize for making a such a thoughtless analogy. (1/5)

— Spencer Pratt (@spencerpratt) February 19, 2016
8/10
Kanye West
Where do you start with Kanye? Rapper / professional husband / clothing designer / father. Famously pursued Kim Kardashian for years before finally nailing her and marrying in to reality's royal family. But who is Kanye? In his own words;
"I am Warhol. I am the number one most impactful artist of our generation. I am Shakespeare in the flesh. Walt Disney. Nike. Google. Now who's gonna be the Medici family and stand up and let me create more!"
Career
What's annoying about Kanye is that he is actually universally accepted to be hugely talented and massively influential in the hip hop/ rap scene. He is one of the best selling artists of all time, having sold more than 32 million albums and 100 million digital downloads. He's won a total of 21 Grammys.
He first became known as a producer for Roc-A-Fella records, producing hits for artists such as Jay-Z and Alicia Keys. He went on to carve out an incredibly successful solo career and his latest album The Life Of Pablo has just been released after much hype and many delays.
#trollingstone: Kanye West Rolling Stone Cover Troll
Other ventures outside of music have had mixed success. In 2008 he bought the rights to Fatburger restaurants in Chicago and announced plans to open 10 new outlets. He opened two, both of which shut down in 2011.
West has established a creative content company named DONDA which he claimed would pick up where Steve Jobs left off. It's difficult to say whether this venture has been a success or not as West is tight-lipped about the operation and the company has no website or social media presence.
Kanye first dipped his toe into the designer world with collaborations with brands such as Nike, Louis Vuitton and Adidas. His launched his own clothing line, Yeezy in 2015 which has recently shown it's third collection at New York Fashion Week. Yeezy clothing divides opinion, but it's certainly not making him any money right now.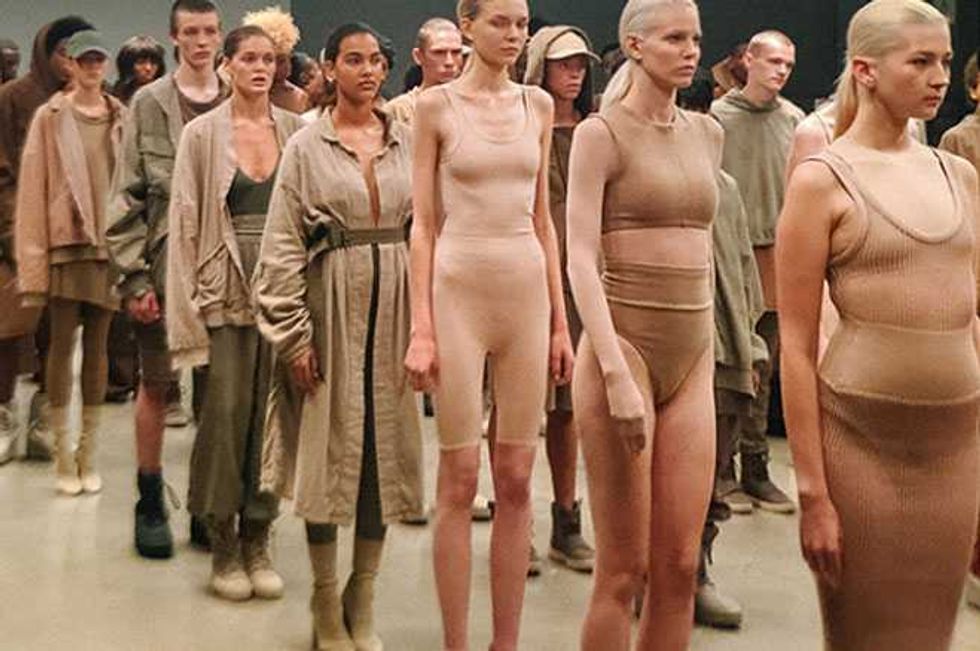 Yeezy collection—unflattering to say the least.
kanye west spencer pratt
In March 2015,  West was announced as co-owner along with Jay-Z, Beyonce, Rihanna, Chris Martin and Nicki Minaj amongst others, of the new music streaming service Tidal. Not much has progressed since then—after Tidal faced a backlash he seemed to distance himself, but who knows.
Kanye West Jumps Ship As Jay-Z's Tidal For All Flops Bigtime
Can't deny his musical talent.
9/10
Marriage—For Real Or For Show?
Seems a little...off.  Kanye has been dogged with rumors about his sexuality for years with many believing the Kimye marriage is mutually convenient.
Whatever you think of her, Kim is incredibly beautiful, but Kanye seems to style her in a way that demeans and undermines her. The bizarre skin-tight, unflattering outfits he squeezes her into seem designed to make her look bad. And who can forget that photo shoot he directed of her literally crawling around in the dirt in hideous flesh colored nylon looking like a top shelf magazine's reader's wife.
This Photo Surely Proves Kanye West Actually Hates Kim Kardashian
Their engagement was a public extravaganza, their wedding was a circus and they have such an altered reality of the world they think it's healthy to deck their daughter out in fur and designer outfits and subject her to the grown up world they have cultivated of constantly being followed by 600 photographers.
kanye west spencer pratt
Even she is rumored to be losing patience with his embarrassing rants, this marriage is definitely on the upper end of the fake/convenience scale.
8/10
Money
West recently tweeted that he was $53 m in debt, begging Mark Zuckerberg to donate $1 billion to "Kanye West ideas".
Kanye West Is $53 million In Debt And Asks For Your Prayers
The debt appears to have been accrued from the rapper's devotion to his fashion dreams. He's put his own money into his collections which have cost literally millions to share with the world.
As well as begging billionaires for money, there was a rumor that his fans, through a GoFundMe page, would be able to donate money to enable Yeezy to "bring more beautiful ideas to the world".  Thankfully this fell through.
If you are worried that Kanye is going to have to sell off some of little North's furs or actually live in a house he has carried out a multi-million refurbishment of before he starts the next one, fear not.  He reassures us he's still got enough personal wealth for all that. He just needs other people's money to help him "create".
Not as skint as he would like us to believe.  Plus he can always tap up the wife.
8/10
Ego
Kanye's ego knows no bounds. He calls himself the biggest rock star on the planet.
Yeezy is not afraid of stamping his feet and being a whining poor loser if he feels his brilliance has not been recognized. At the AMAs in 2004 he stormed out after not winning Best New Artist, saying he felt he was robbed. When nominated for a Grammy in 2006 he said that he would "really have a problem" if he didn't win the Album of the Year award. He went onstage at the 2006 MTV EMAs to interrupt the presentation of Best Video to another artist to protest that he should have won.
Then there was of course, his notorious stage invasion at the 2009 MTV VMAs where he grabbed the mic from Taylor Swift to claim that his close friend Beyonce should have got the Best Video award that Swift was accepting. He was widely panned for his overwhelming rudeness —even President Obama called him a "jackass" and the incident was his breakthrough jerk moment and inspired an influx of memes, tweets and jokes.
Kanye's SNL Backstage Rant Is Leaked—Taylor Swift Is 'Fake Ass" and Ye Is 'Fucking Picasso'
West did apologize in the aftermath of the incident but recently reignited the feud when he claimed in the song Famous on his new album that his actions put Swift on the map and gave her her career. Ego much?
West is an avid Tweeter and firmly believes he is omnipotent and that his opinion means far more than anyone else's. He announced last year that he plans to run for the presidency in 2020—something he truly believes he would be awesome at.
Kanye West's name is next to the dictionary definition of 'ego'.
10/10
Faux Pas
Most of the time West's controversial rants and comments are intentional and for attention, self promotion and born out of ego. Sometimes however, he veers into faux pas territory and has to beat a hasty retreat.
He recently realized he'd crossed a line when he brought ex-girlfriend Amber Rose's child into his ongoing online beef with the ex-stripper. He had to back-track fast though when Amber revealed salacious titbits about him and he realized that he maybe didn't want to poke that bear too much.
Kanye West Wants You To Know He Does NOT Like It In The Ass, OK?
Kanye also had to issue a quick apology after an interview in October last year after accidentally calling Caitlyn Jenner by her former name, "Bruce"—whoops! Bet that was #awkward at Thanksgiving.
The thing about about Yeezy is that he rarely realizes / admits when he's made a faux pas (like saying Bill Cosby is innocent). So most of what a normal self aware person would class as a faux pas goes under the heading of ego.
6/10
And the winner is....
.....Kanye West!
With a score of 23/50 Spencer came nowhere near Kanye's 41/50 on the dickhead scale.
5 Reasons Why Kanye West Is The Biggest Asshole EVER!
It's actually quite hard to believe there is anyone out there who would beat Kanye in a competition to determine who is the most egotistical, arrogant prick, but sometimes it's just nice to see it in black and white.
What do you think?
kanye west spencer pratt
kanye west spencer pratt