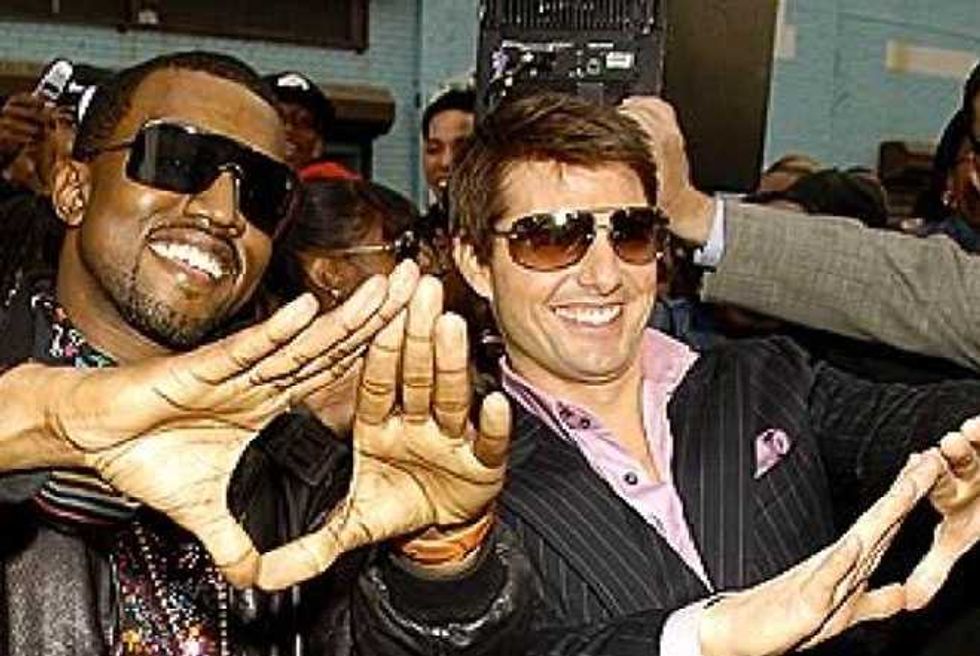 kanye west ass Kanye West Wants You To Know He Does NOT Like It In The Ass, OK?
Kanye West wants the world to know, he does NOT like it in the ass—OK? You got that everyone?
Well, that clears that up then.
West made the bewildering decision to tweet about his sexual boundaries late last night—following up with clarification of the "kind of love" he and his good and wholesome wife, Kim Kardashian, enjoy.
KanyeWest WizKhalifa Twitter Rant Is Yeezy At Insane Egomaniacal Best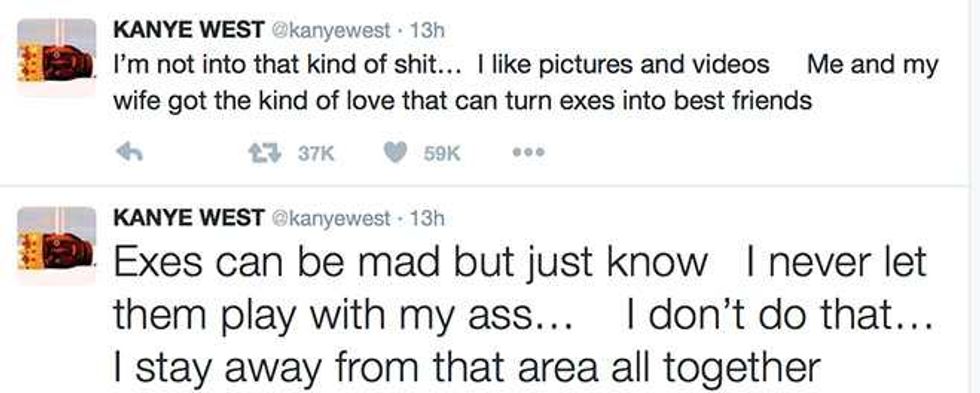 WTF does "the kind of love that can turn exes into best friends" mean?!!
Well, whatever it does mean—Ain't nothing wrong with a little bump and grind.
Kanye West's Best, Worst, Most Kanye-Esque Moments Ranked By Greatness
Kanye Ass-gate
Kanye, being Kanye, really never knows when to shut the fuck up—so, Kanye being Kanye wades right in with some serious overshare and makes the situation even worse, and even more comical.
Kanye's ass play proclamation was in response to a jibe his ex-girlfriend, Amber Rose, made yesterday, as she waded into the twitter war between West and her ex-husband, Wiz Khalifa.
Amber Rose Is A Bad Bitch Feminist—Wants Y'All To Stop Slut Shaming
Rose tweeted:
Awwww @KanyeWest are u mad I'm not around to play in ur asshole anymore? #FingersInTheBootyAssBitch

Lol @kanyewest Now u wanna delete ur tweets cuz Muva has arrived? #TwitterFingers #UrGettingBodiedByAStripperNigga
Kanye the Clown
Earlier in the day, during an Allegedly podcast, the ever fierce 32-year-old slammed West for bringing her young son, Sebastian, into his personal beef with Khalifa, who is the 2-year-old's dad.
I wouldn't have said anything if it was just between him and Wiz. That's two grown men hashing it out. That's their business. I would have kept it cute and just minded my business, but you don't bring in my baby. That's so corny.

I would never talk about kids in an argument. It just shows the type of person he is. Even him saying stuff about my son, I still didn't say anything about his kids. I'm not going to. This is ridiculous. They're innocent babies. You don't ever, ever talk about a baby, ever. That just shows how fucking ridiculous he is.
Amber Rose And Blac Chyna Launch Epic Shade Attack On Kardashian Sisters
And, when hosts Theo Von and Matt Cole Weiss asked Rose if she was surprised by West's low blow, she summed it up perfectly.
Um, no. Because I know him. I know he's a fucking clown.
Well you certainly can't argue with that point.
Meanwhile, Khalifa was sure to get the last word, while on stage in Argentina yesterday.
"Fuck Kanye!" He declared to the crowd.
Amber Rose Strips Naked—Bares All About Kardashians Feud, Being Kanye's Ex
Yeah, well, just make sure that's not in his ass, because Kanye does NOT like that, OK?
For more entertainment, world, music and pop culture updates and news follow Max Page on Twitter