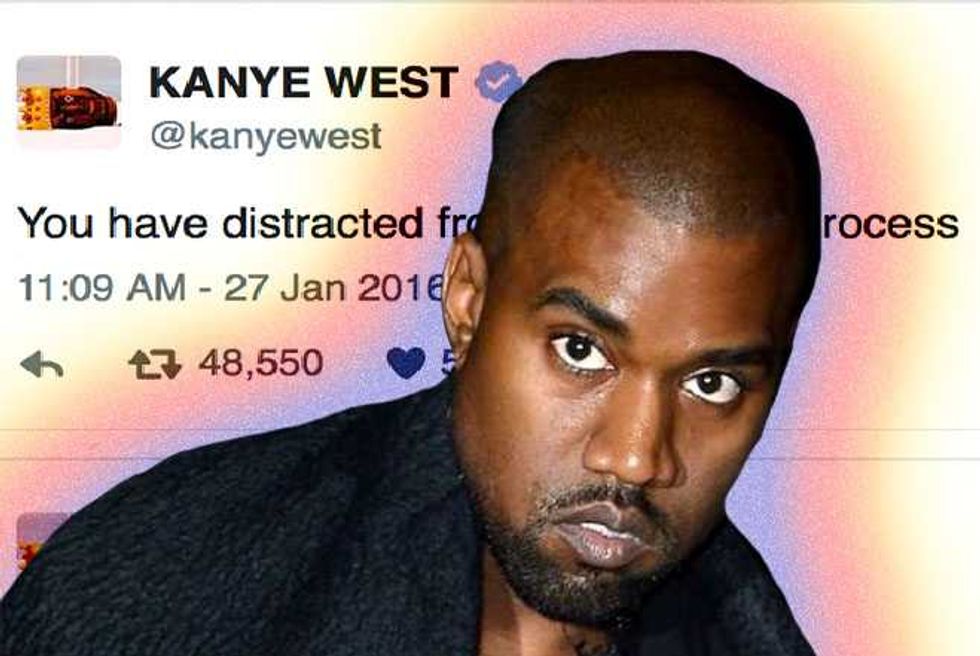 kanye west wiz khalifa twitter  Rant Showcases His Insane Egomania
Kanye West's Wiz Khalifa Twitter rant is Yeezy at his insane egomaniacal best—and kinda makes you wonder if he's gone off his meds.
Or, if he needs to go on some meds.
Either way, let's just say, it's pure Kanye West.
Kanye West's Best, Worst, Most Kanye-Esque Moments Ranked By Greatness
It all kicked off this morning after Kahlifa included a KK reference in a tweet.
The missive that started the epic war
Hit this kk and become yourself
Kanye, being Kanye, immediately assumed it was aimed at him—because, as we all know, it's ALL about Kanye—and assumed Khalifa was throwing shade at Kim Kardashian.
Dave Chappelle Describes Very Kanye-esque First Encounter With Kanye West
Let the Kanye insanity begin
Off West went—in a truly epic rant spanning 27 separate tweets over a thirty minute time span—taking Khalifa to task over his fashion sense, quality of music, cellphone number, and his baby momma (Amber Rose, who West used to date himself), taunting Khalifa over letting a stripper "trap him."
Because, presumably, in Kanye West-world, an amateur porn star trumps a stripper.
This Photo Surely Proves Kanye West Actually Hates Kim Kardashian
Meanwhile, in true Kanye style, he also manages to promote Kim's shitty emoji line, promote his new album, DEMAND to be respected, and proclaim himself to be the greatest artist of all time.
Behold the glory
Oh niggas must think I'm not petty cause I'm the best that's ever made music

Like, oh that's Ye and I can put his wife's initials on my twitter

Bro first of all you stole your whole shit from Cudi

Second, your first single was corny as fuck and most there after

work hard play hard pic.twitter.com/zp2P7FMtVp

You have distracted from my creative process

I went to look at your twitter and you were wearing cool pants

I screen grabbed those pants and sent it to my style team #Wizwearscoolpants

3rd no one I know has ever listened to one of your albums all the way through

4th you let a stripper trap you

5th I know you mad every time you look at your child that this girl got you for 18 years

6th don't ever come out the side of your neck at me

7th I am your OG and I will be respected as such

8th I made it so we could wear tight jeans

9th me and Cudi created this shit

10th don't you ever in your fucking life speak sideways about a nigga that's fighting for us I do this for all of us

11th I showed you respect as a man when I met you

12th You wouldn't have a child if it wasn't for me

13th You own waves???? I own your child!!!!

14th Nigga it's called creativity #youshouldtryitsomeday

15th Nigga I tried to call you and you changed your number

16th don't even hint at mentioning me my family or my wife I am your OG

17th I think you dress cool I wish I was skinny and tall

maybe I couldn't be skinny and tall but I'll settle for being the greatest artist of all time as a consolation

Don't ever ever ever come out the side of your mutherfucking neck bro or bruh or however you say it Mr. Waves

I'm YE and I ain't gotta say it the right way I'm Ye I'm Ye I'm Ye I'm Ye I'm Ye I'm Ye I'm Ye

Thank you for the extra promotion #WAVES available February 11th
Sadly, Khalifa re-surfaced at this point and threw a damper on West's indignant twitter rant fire.
House Tour Tuesday—Kanye West And Kim Kardashian's $20Mill Mega Mansion
Pointing out:
KK is weed fool. Reason's why your not wavy. Go bacc to Swish.
Hahahaha……..
West has since deleted his epic rant, after removing all the egg from his face we're guessing.
However, he's not apologized, natch, because Kanye West, bitches!
He settled the feud though:
Ima take these down cause it's all about positive energy blessings blessings positive energy blessings

Good energy positive energy

I love the world bottom line and all I want is peace and positive energy

What's sad is I love Wiz and I love all all my brothers and all people
Ah yes, humble Kanye! All he wants is peace and positivity.
He's just FULL of love for all. Truly the gift that keeps on giving.
UPDATE: OH shit son!
West just apologized.... APOLOGIZED! (while continuing to promote his new album)
I'm happy that I now know that KK means weed… please excuse the confusion … now back to #WAVES
Hell has truly frozen over!
For more entertainment, world, music and pop culture updates and news follow Max Page on Twitter