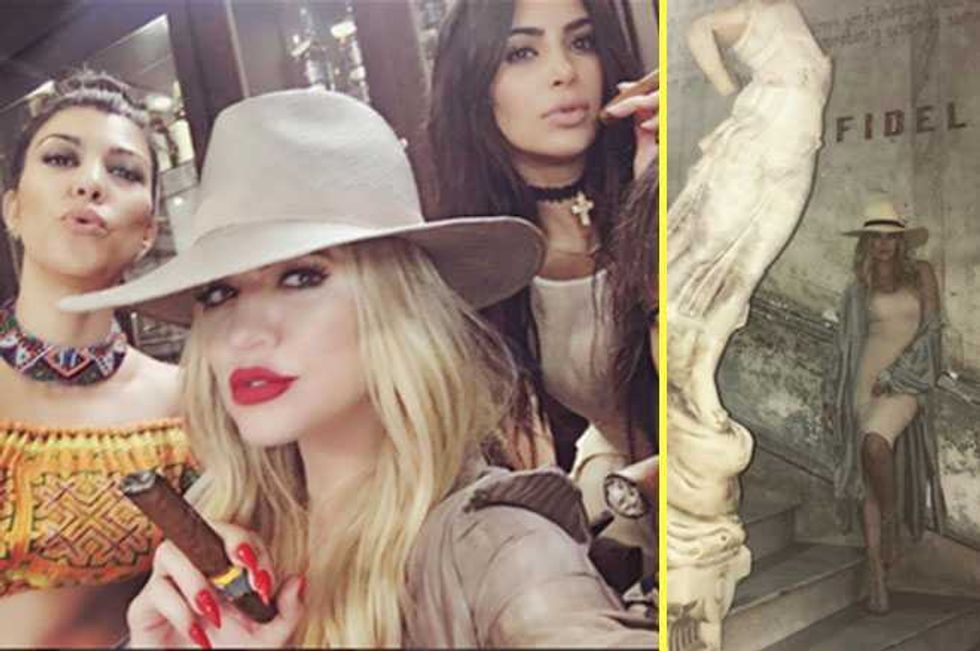 The ridiculousness of the Kardashian family has reached new heights this week with their well documented trip to Cuba.
Of course everything about this toxic family is well documented—not only is it all filmed, Instagrammed and papped, but their every move is fed to the press by their relentless PR team all under the watchful eye of puppeteer Momager Kris Jenner—and this week is no different.
Truly, their narcissistic, self-promoting, deluded behavior knows no bounds—you can literally feel the intelligence seeping out of you as you watch their show. It is beyond frightening that these women are some of the most influential figures in the world today.
The family's trip to Armenia (their homeland) was excruciating and self-indulgent enough, but this trip to Cuba is off the scale. Did they not get ANY advice on the political situation in the country and the sensitive historical relationship with the US before they boarded their private jet? No of course they didn't! They just saw it as an opportunity to garner yet more attention for themselves!
As with any family trip, the K-Klan are vying for most column inches, will it be Kim's cleavage, the sexy sistas sucking on a fat Cuban (cigar that is), or Khloe's wildly insensitive picture next to a Castro tribute that gets the most likes?
The Khloe/Kastro shot is incredible. I mean seriously, how self-involved do you have to be to post such a picture?
Congresswoman Ileana Ros-Lehtinen who was born in Cuba summed it up with her comments to People;
"I know it's cool for celebrities to go to Cuba, but the Cuban people don't experience the glamorous Havana that is featured on social media.

Far from photo shoots and fruity drinks, everyday Cubans experience a different, sad reality. Now, the Kardashians are parachuting into the island to tape their vapid TV show…

Haven't the Cuban people suffered enough?"
Haven't the rest of us suffered enough too?
We can only hope and pray that at some point, normal American people become sufficiently embarrassed by this spoiled, amoral family representing their country and stage a revolt.
Stop watching, stop buying and unfollow. It's time.