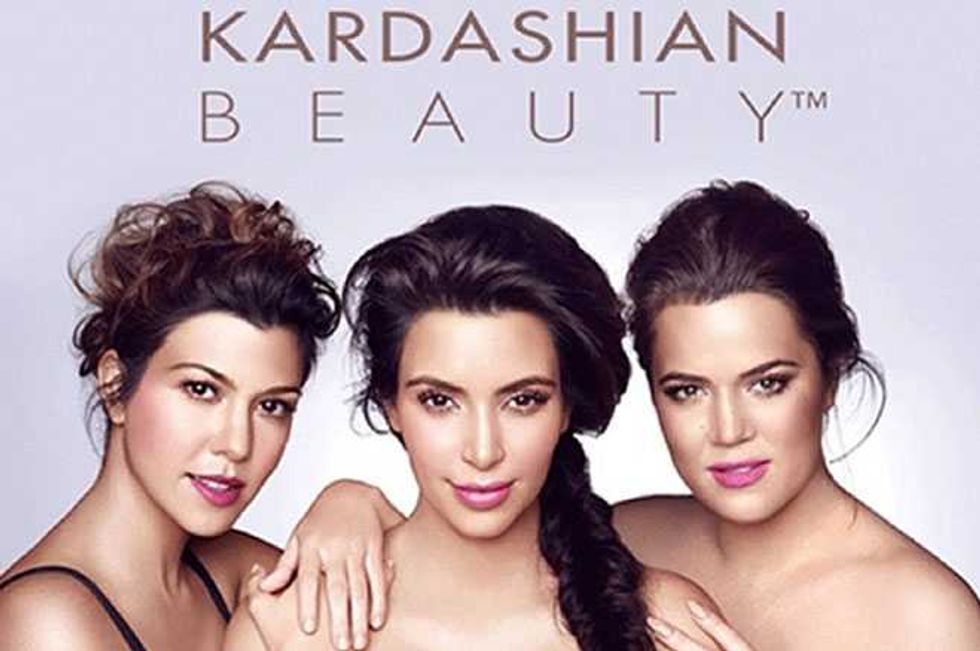 kardashians sued
Kim, Kourtney and Khloe Kardashian are being kollectively sued for fraud and deceit by an investor in their Kardashian Beauty make up line.
The project has been fraught with difficulty from the start.  In 2012, the sisters went  into business with a company called Boldface to produce a make up collection using the name Khroma Beauty.  This didn't work out so well as a year later they were forced to change the name of the comapny after a judge ruled against them in a trademark dispute over the name Khroma.
Kim Kardashian Being Sued For Being A Shitty Driver 
So they changed the name to Kardashian Beauty (why on earth did they go with the other stupid name in the first place?), but by then Boldface was in legal and financial trouble and needed an out.
Hillair Saved The Day
This is when Hillair Capital Management stepped in and threw more than $10 million into the company in what they thought was a two way deal.  However, things have gone sour, relations have broken down and this lawsuit has now been filed.  Court document allege that;
"The essence of the parties' bargain was that Hillair would put up millions of dollars to fund the continued distribution of the Kardashians' line, and the Kardashians would continue to be the faces of the line, and actively promote, market and support the line,"
Kylie Jenner Sued For Alleged Stalking Of Jaden Smith Love Rival
Hillair reckon that the K-sistas did not keep their end of the deal and stopped their constant Instagramming and Tweeting to their millions of followers on social media about the brand, in the hope of sabotaging the contract and getting a better deal from someone else.
"The Kardashians immediately stopped marketing, promoting, and supporting the line and began courting new potential investors to buy out Hillair's stake.  In short, the Kardashians wanted a better, more lucrative deal."
It's Unheard Of For The K-Girls Not To Self Promote
The sisters' (and for that read Momager Kris Jenner) didn't manage to find a new investor and then allegedly threatened to pull their names from the products.
Hillair want  back their original $10 million and also want the girls to cough up on their lost profits which they reckon could be up to $180 million!  The company are also seeking a jury trial, presumably counting on the Kardashian fatigue of normal people to back them up.
Caitlyn Jenner Mans Up To Charges Of Transphobic Comments
Given the family's social media presence and their promotion of everything they get a buck for, we reckon it will be a pretty easy case to prove.
kardashians sued
kardashians sued