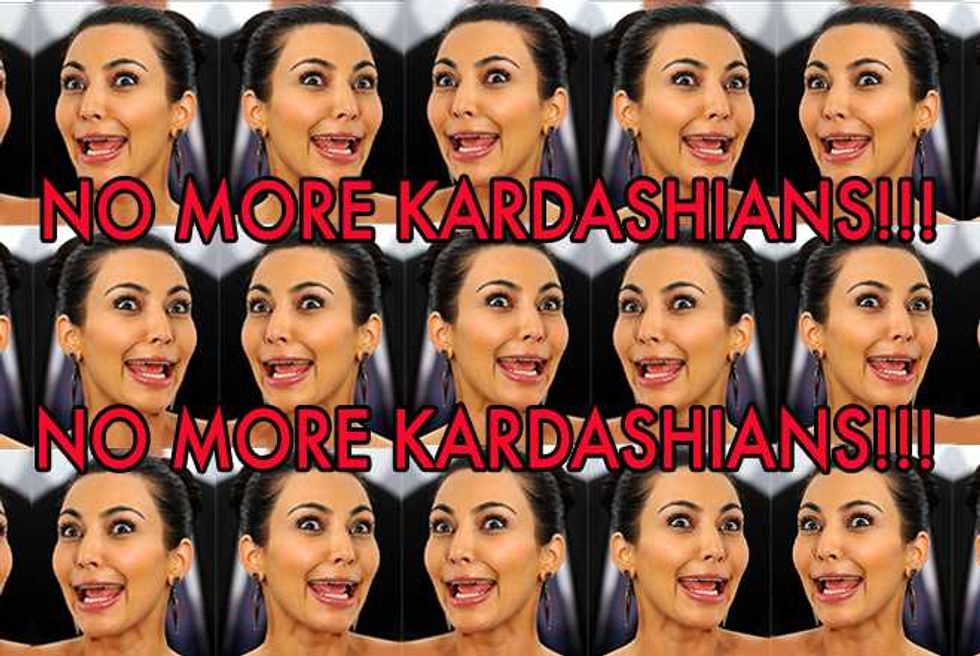 You didn't get the job you wanted, you gained 3 pounds on your weekend trip to Vegas, The Bachelor picked Whitney. Life's tough. It's one heartache after another.
But now, all of your sadness, all of your pain, all of your anxiety can be gone because of one simple app!
To those of you who don't want to Keep up with the Kardashians, your prayers have been answered.
For you have suffered under their narcissistic tyranny and cheap publicity stunts for far too long. It is time for Kardblock.
KardBlock is a first-of-its-kind Google Chrome extension that blocks any mention of the unholy Kardashians from the Internet for you, app founder James Shamsi told CNBC.
According to the Kardblock website:
If there's anything on your newsfeed, the website you're on, whatever... we simply make it disappear. You won't ever know the stories about the Kardashians are there, because you won't ever see them.

We don't care about how Kanye & Kim didn't care when Amy Schumer 'fell over.' We don't care about who the Kardashians are or aren't sleeping with. We don't care that Kim dyed her hair blonde. We don't care about the Kardashians
And they're not even trying to make money—they are just trying to enlighten the world that there is life beyond the Kardashians!
In fact, Shamsi plans to not only banish Kardashian-related content but also, to replace it with charity and donation links.
Kardblock launched today, and will post a donation page for the recent earthquake in Nepal, in place of any K-Klan Kontent.
Shamsi said so far they have received no pushback from the Kardashians or their representatives, because somewhere, deep down, even the Kardashians knew this was long overdue....perhaps?
Nah, perhaps not....