Sports
The former Chiefs running back says, "I deserve forgiveness."
Sports Illustrated
Kareem Hunt's bad behavior has tarnished his crown as the NFL's top rusher.
After leading the NFL in rushing last season with 1,327 yards, Hunt was released from the Kansas City Chiefs on Friday, only hours after TMZ released a surveillance video of the (now former) running back physically assaulting a woman in the hallway of a Cleveland hotel.
On Sunday, Hunt appeared on ESPN Sunday Countdown in his first interview since the video's release. The 23-year-old requested to sit down with Lisa Salters, live on air, to say his — frankly short and untelling — piece about the incident. He began by stating, "Honestly, I just want to let the world know how sorry I am for my actions. It's been a tough time for me. I'm extremely embarrassed because of that video."
Kareem Hunt addresses TMZ video, being released by Chiefs | NFL Countdown www.youtube.com
He also acknowledged lying to the Chiefs organization about the incident. "I didn't tell them everything," he admitted and voiced that he harbored no hard feelings over his release. "My actions caused this. And I really wish I could just apologize to [sic] them."

When asked to give his full account of the February night in question, Hunt opted to avoid direct answers by saying, "Honestly, it was just a long night. To be exact, it don't matter [sic] what really happened." He goes on to acknowledge that he should have "de-escalated" the situation and "taken responsibility" for his actions without resorting to violence.
Hunt confirmed that he didn't know the woman prior to her appearance at a gathering of friends in his room, but stated that was "no excuse" for his behavior. Salters urged Hunt to comment on the portion of the video that shows him kicking the young woman while she was on the floor. He vaguely repeated his regret, emphasizing that he was "raised better than that"' and that he's "not that type of person," citing his upbringing under his mother's and grandmother's care.
Most pointed is Salters' demand to know why Hunt deserves a chance at an unlikely comeback. The sophomore running back looked at her plaintively and simply replied, "I've worked for this my whole, entire life." Hunt continues, "I'm asking for forgiveness. I definitely believe I deserve forgiveness."
While Hunt is giving minimal due diligence to salvaging his PR, he remains on the Commissioner's Exempt List while the NFL conducts its own investigation into the assault. Previous outcomes of pros plagued by aggression off the field don't bode well for Hunt. Even though Joe Mixon's carved out a career in the NFL after a surveillance video captured him assaulting a fellow student during his college years (fracturing four bones in her face), everyone remembers Ray Rice's assault — also to the face —of his partner in an elevator four years ago; it ended his career. According to ESPN insider Adam Schefter, general managers within the NFL players give Hunt "no chance" to be claimed by another team.
KC Chiefs Running Back Kareem Hunt Brutalizes and Kicks Woman in Hotel Video | TMZ Sports www.youtube.com
But then, on Monday, word of another assault committed by Hunt became public. The NFL has reportedly launched a second investigation into an altercation with a man at an Ohio resort in June. If allegations of Hunt punching the unidentified man in the face prove true (there was no surveillance video this time), then the NFL may officially suspend him for the remaining five weeks of the 2018 season, possibly lasting through the 2019 season, since a suspension cannot begin while a player is on the Commissioner's Exempt List.

The deadline for another NFL team to put a claim on Hunt passed at 4 PM EST on Monday. After last season's rookie performance as the leading rusher in the NFL and earning a reported salary of $575,250, Hunt is now a free agent facing possible suspension–and an early end to his career.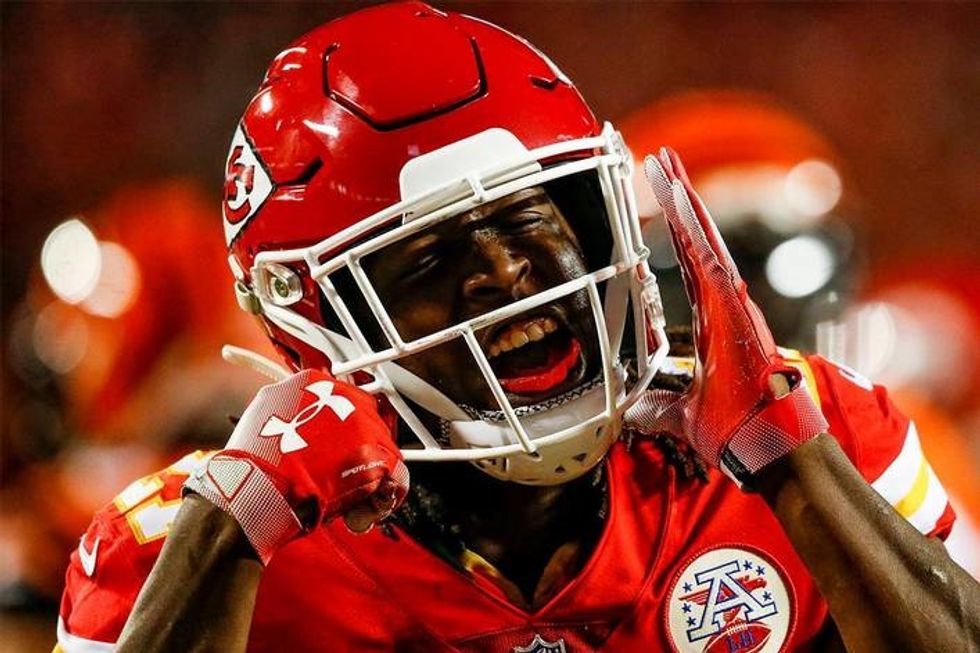 Mass Live
---
Meg Hanson is a Brooklyn-based writer, teacher and jaywalker. Find Meg at her website and on Twitter @megsoyung.
---
POP⚡DUST | Read More…
Kareem Hunt Seen Brutalizing Woman in Newly Released Footage
Roy Williams After UNC Defeat: "My Coaching Sucks"
Dwight Howard Accused of Harassment and Attending "Transgender Sex Parties"