Top Stories
Karl Lagerfeld's cat makes $4 million a year... $4 million.. just let that sink in for one minute..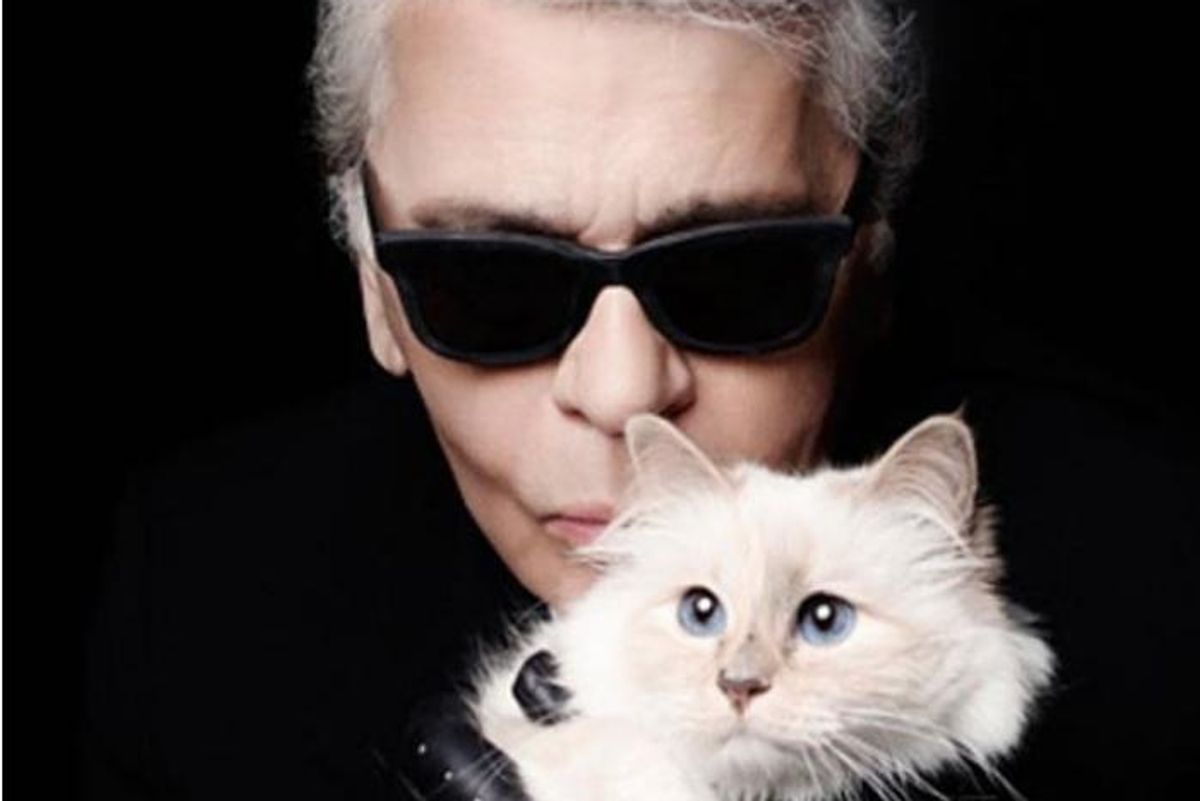 karl Lagerfeld cat choupette fabulous photos—Apparently, Choupette raked in an astounding $4 million last year

Karl Lagerfeld's kitty, Choupette, is one fierce and fabulous feline.
The 5-year-old is also one hell of a pampered pussy—Because one just simply isn't enough, Choupette has two full time "beloved" maids, Françoise and Marjorie, whose sole purpose is to cater to her every need and whim.
The maids spend most of their time grooming Choupette, in addition to keeping an in-depth diary of the moggy's moods and moves, for the reference of Lagerfeld and a permanently on-call vet.
Apparently, Choupette prefers Françoise, but we're not clear on exactly why....perhaps she paints her nails better than the other lowly staffer?
One thing we ARE clear about however is Lagerfeld's love for the four-legged fur ball, who has stunning, piercing blue eyes, which her proud papa describes as "blue, blue, blue, blue, blue."
Other things we know are that Choupette loves her iPad, antique lace, flying by private jet (natch) eating her dinner while seated on a specially designed throne at a table next to Lagerfeld, Colette shopping bags, Louis Vuitton and Goyard.
Choupette is always by Lagerfeld's side, jetting around the world to glamorous locale after glamorous locale.
According to her book (yes, of COURSE she has a book) Choupette favors Monte Carlo in the winter and Provence in the summer.
Because, duh.
Monte Carlo can be so very tiresome in the summer months, don't you know darlink?
When Choupette travels, she does not travel light, and she always travels in style.
Apparently she has both a Louis Vuitton and a Goyard trunk for all her purrrrfectly packed possessions.
Favorite maid, Francoise, tells CNN:
When we go on a trip, Choupette has almost as many bags as Mr Lagerfeld.

I'm not exaggerating, her litter tray, a fresh litter bag for each day, all of her food, bags of toys and beauty products -- eye drops and brushes for her wonderful fur, and a travel case made especially for her by Goyard, for enjoying her meals when she's on the plane.
Oh, and did we mention that she has a personal chef too?
How could we forget that little gem?!!
Chef Patrice is employed full time to whip up whatever kitty's little heart desires, including caviar galore and specially created dishes such as Croquettes a la Choupette, and Choupette's Egg.
Lagerfeld's love for the high maintenance mouser runs so deep that he's even previously expressed a desire to marry her.
As you do.
Back in 2013 the Chanel head honcho told CNN:
There is no marriage, yet, for human beings and animals…

I never thought that I would fall in love like this with a cat.

She is the center of the world.

If you saw her, you would understand.

She is kind of Greta Garbo.

There is something unforgettable about her, the way she moves, the way she plays.

She's an inspiration for elegance.

For attitude.
Well, they do say there's no love so pure as that between a man and his pussy.

OK, maybe not—but, whatever….
Anyway, turns out though that Choupette isn't just Greta Garbo.

Oh no, one enigmatic screen legend would not be adequate enough to describe this Birman-breed beauty.
According to Lagerfeld, Choupette also channels another golden haired Hollywood heroine from yesteryear:
Choupette isn't a typical Chanel woman.

She's more Jean Harlow.
Well, actually mate, quick reality check here......she's a fucking cat.
Despite Lagerfeld's obvious love for Choupette, the posh puss is no free-loading, gold digger—oh no, this is a kitty that earns her kibble caviar.
Apparently, Choupette raked in an astounding $4 million last year, courtesy modeling work and ad campaigns.
Just let that sink in one minute.
This cat earned $4 million last year.
FOUR MILLION DOLLARS.

Yeah, that's not depressing at all.
Like many of the modeling elite (cough, cough, Naomi Campbell anyone) Choupette is known to be slightly on the highly strung side when it comes to temperament.
Lagerfeld tells The Cut that his meowing muse is very picky about her modeling assignments—refusing to debase herself by starring in something as mundane as cat food commercials, because, says her proud papa, she's "too sophisticated for that."
He goes on to state that Choupette only graces the pages of the finest fashion mags and high end cat walks, because, he explains, "I'm commercial; she's not."
Oh, and she "hates children and other animals."
Choupette and Lagerfeld's paths first crossed when her then-owner, French male model Baptiste Giabiconi, asked the fashion icon to pet sit at the designer's (likely very) humble home back in 2011.
It was love at first purr, for Lagerfeld anyway, and after his pet sitting stint drew to an end he refused to return Choupette to Giabiconi.

She made her first social media foray by way of Twitter on January 16, 2012 before moving on to Instagram, where, at time of posting, she has a whopping 87,200 devoted followers.
The dashing Lagerfeld is used to being the center of attention, but, he's more than happy to share the spotlight with his future wife, explaining:

Choupette is a woman spoiled to death

People are stunned by her ...

Soon people will talk more about Choupette than about me!
Gasp! Perish the thought!

So, just how fabulous can one feline be?
Check out Popdust's pick of karl Lagerfeld cat choupette fabulous photos and find out for yourself.
---
READ MORE.....
21 Times Pumpkin The Raccoon Was More Moff Than You
Pudge The Cat's Grumpiest Photos
21 Times Hamilton The Hipster Cat Was Too Cool For School
Esther The Wonder Pig May Just Make You Rethink Bacon
15 Times MensWearDog Was More Stylish Than You

---