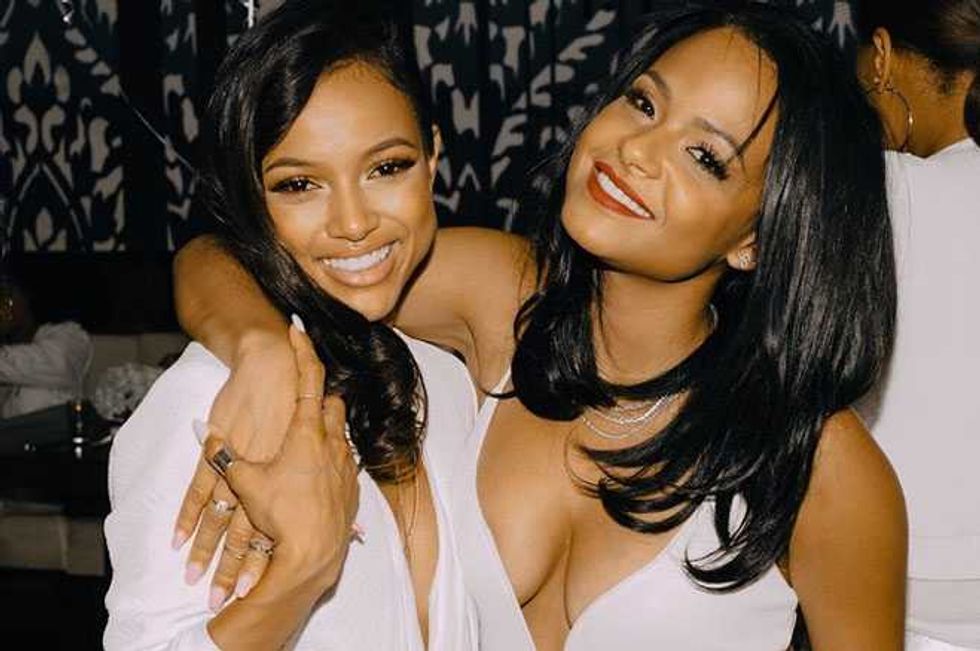 Karrueche Tran Christina Milian Kiss
The best way to get over Chris Brown is to get under a hot chick, so after locking lips with BFF Christina Milian at Hollywood hotspot The Nice Guy on Tuesday night, Karrueche Tran must be feeling a whole lot better!
Scroll down for pics!
The 34-year-old Emmy winning Milian planted a passionate smooch square on the lips of the 27-year-old model just outside the exclusive celeb haunt. Well, she got more of Karrueche's teeth than her lips 'cuz she was cracking an ear-to-ear grin as Christina leaned in for the kill. For some reason, the Like Me singer also had a wad of bills clenched in her hand, perhaps to tempt Tran further if her sexual advances were at first denied.  Or maybe they were on their way to Star Strip, the all nude strip club next door to Nice Guy.
Hollywood's BFFs—Surprising Celebrity Friendships
Christina looked fierce...
...in a Citizens of Humanity blue denim jumpsuit and snakeskin lace-up heels, while Tran looked totes adorbs in a cream-colored sweater dress and pale pink patent leather ankle boots!
After the quasi make-out, the gal pals headed into the club for what was likely a night of commiserating over their trifflin', cheating, lying exes. In 2003, after a 2 -year romance, Milian ditched Nick Cannon among allegations that the Americas Got Talent star cheated.
The long- suffering Tran...
...finally broke up with Chris after years cheating and abuse rumors. The nail in the coffin came when Brown impregnated former model Nia Guzman while they were together. Guzman and the 26 year-old rapper are co-parenting their daughter Royalty.
It's OK For Chris Brown To Stalk Karrueche Tran—"He's A Fool In Love"
On January 12, Tran alluded to her single struggles on Twitter:
Being single and trying to date I am so awkward and weird

— Karrueche Tran (@karrueche) January 13, 2016
Finding a place between being guarded and opening up is so hard but hey who doesn't like a challenge

— Karrueche Tran (@karrueche) January 13, 2016
Who needs a man when you've got friends like this!
Karrueche Tran Christina Milian Kiss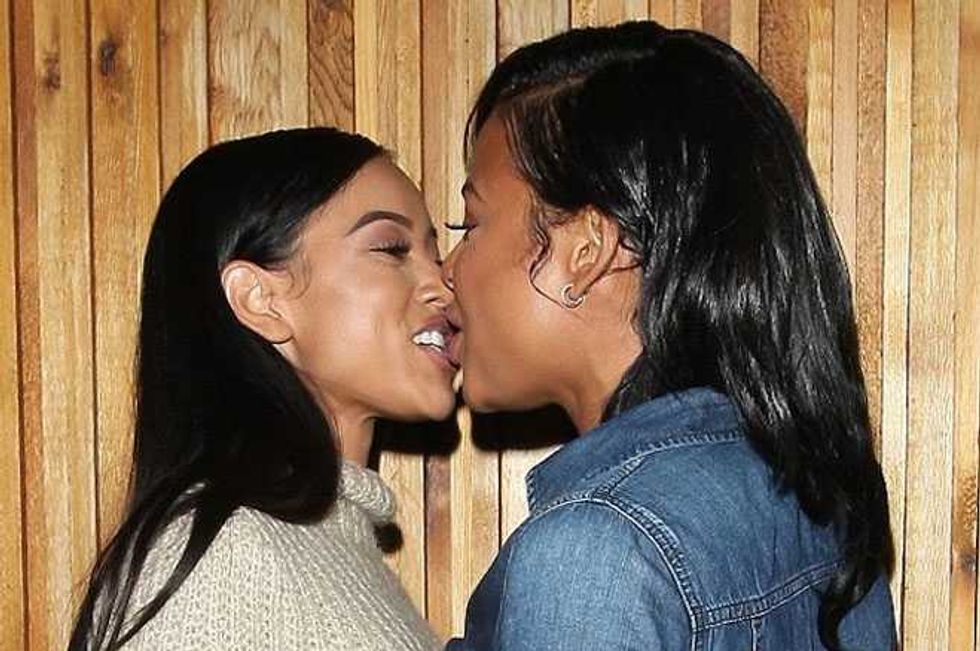 Locking lips....
Karrueche Tran Christina Milian Kiss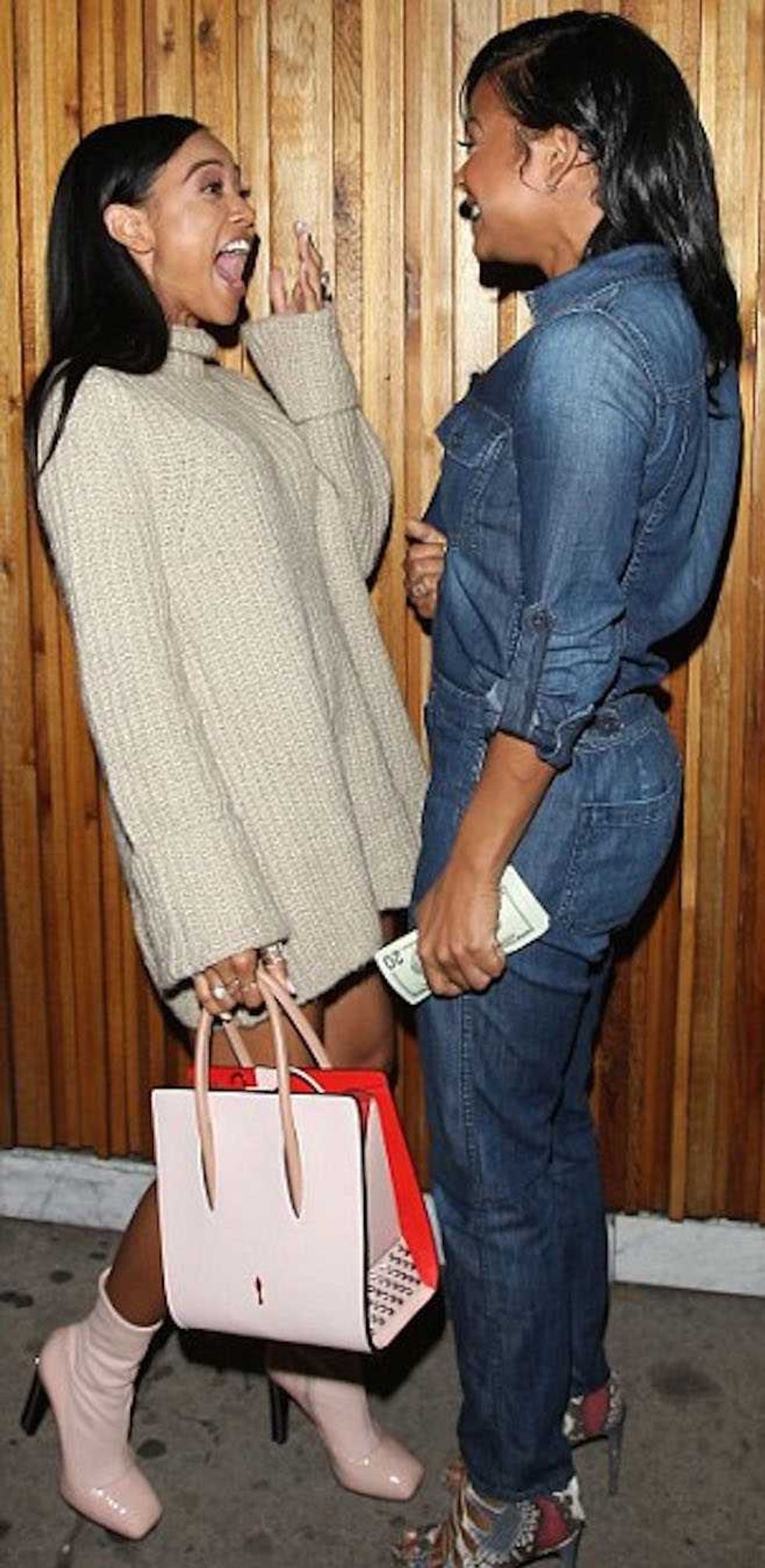 They obviously found it funny—very cute outfits.
Karrueche Tran Christina Milian Kiss